An approach focusing on using language that highlights personal strengths to aid in recovery, empowerment, and promote positivity.
About this event
The language we use represents the meanings we have constructed from experience; prompts attitudes, expectations, values, and actions; and should reflect unconditional positive regard for people. But too often our language shows our biases, stigmas, and learned behaviors. When stigma exists in a community it can become a barrier to mental health care, especially in rural and frontier communities where a lack of anonymity may increase the probability that someone who seeks care could be labeled negatively.
This workshop will encourage people to utilize language that embodies, models, and promotes positive non stigmatizing recovery and resiliency focused discussions that inform the development of interventions which decrease the stigma associated with seeking treatment for mental health in rural communities.
To do this, we must encourage people to identify and utilize people first, strengths based, recovery friendly language that promotes dialogue that supports a way to overcome stigma, negative messages, and negative self-talk in people, and about people. By doing so we foster hope and preserve dignity within people.
People first, strengths based, recovery friendly language encourages people to participate in community life while offering a hopeful perspective. A strengths based oriented language changes self-perception, creates a positive culture of healing, and promotes support from multiple sources. We must make a conscious choice to use Recovery Friendly Language by choosing words that don't stigmatize and disrespect people. This presentation will encourage people to find ways to stop speaking badly about those we provide service to, even if we are "venting" or "blowing off steam".
Compassionate words move recovery forward, and support resiliency! As people in the behavioral health workforce we need to be more diligent about setting the example and helping reduce the stigmas for people. This workshop will offer insights into how we can be leaders in this area.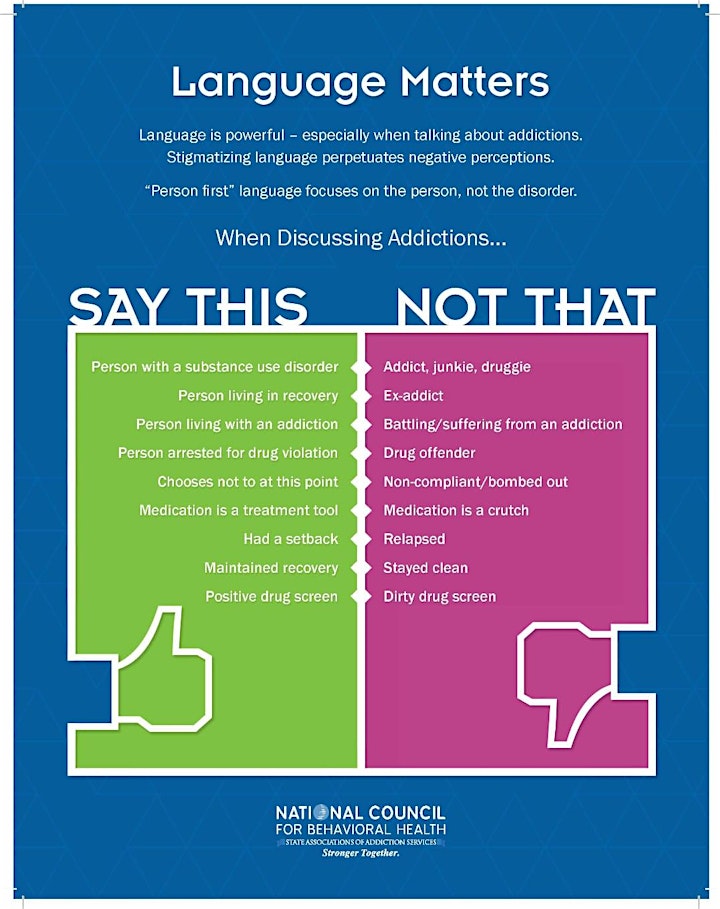 Goals:
• Learn language that embodies, models, and promotes recovery and encourages people to identify and utilize people first, strengths based, recovery friendly language
• Promote language in a manner that supports a way to overcome stigma, negative messages, and negative self-talk in people, and about people
• Foster hope and preserve dignity within people