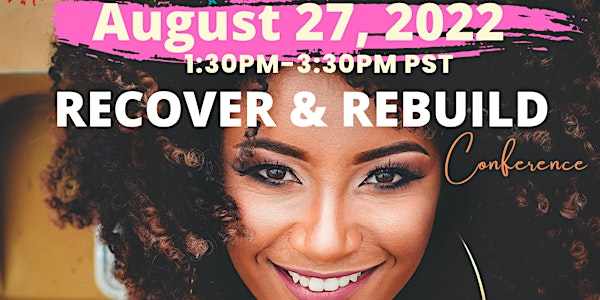 Recover & Rebuild from Burnout and Self-Sabotage
Recover & Rebuild Self Care and Wellness Conference
Refund Policy
Contact the organizer to request a refund.
About this event
RECOVER & REBUILD Virtual 1-Day Workshop (via Zoom)
Everyone can use a little R&R when comes to self-care. On August 27, 2022, we're hosting Recover & Rebuild and it's going to be transformational!!
if you've been faced with challenges that has prevented you from reaching your goals, get help now because we're going to help you BREAKFREE from self-sabotage!
We are focusing on outcomes because the past 3 years have put some of us in dark places and we need a little support getting out of.
RECOVER & REBUILD was created to support those that have been facing BURNOUT. This workshop is interactive, so come ready to participate and practice self-care, share your challenges in a safe space. Our goal is to help you recover from trauma and build your strength to help you unlock your purpose.
Are You feeling Burnt Out and have absolutely no energy to thrive?
Have you been feeling like you have no motivation to try?
Are you feeling empty and mentally exhausted?
Have you been sitting on the sideline wondering what to do next?
If you answered yes to any of these questions, you are just like the rest of us and Recover & Rebuild will help transition burnout to Recover & Rebuild.
SIGNS OF BURNOUT
ANXIETY....
LACK OF SLEEP AND GENERAL FATIGUE. ...
LACK OF CREATIVITY AND PURPOSE. ...
EMOTIONAL NUMBNESS. ...
A CYNICAL OUTLOOK.
Learn how to RECOVER your inner self and REBUILD resiliency and competency with 4-Steps (Strength Weakness Opportunity & Threats) to start feeling your best. This 4-Step results- based strategies will help you recover and rebuild from burnout and self-sabotage and reconnect to the better part of you.
NO REFUNDS
Register below because space is intimate and limited. This is a fundraising for event to support cancer survivor sponsored by 4Humanitees