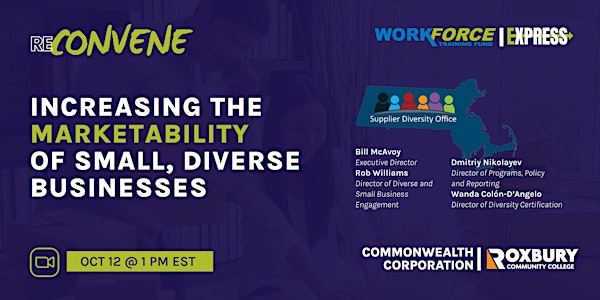 ReConvene Series: Increasing the Marketability of Small, Diverse Businesses
Join us for a series on how to harness workforce development as an effective employee engagement tool within the world of work.
About this event
About ReConvene
The future of the workplace is being reinvented by emerging technologies and new ways of thinking. The future of workforce development must be equally innovative to meet the challenges of the 21st-century economy. ReConvene brings together workforce development, business, and government leaders to share insights, challenges, best practices, and strategies that are redefining the region's workforce.
It's time for the Future of Work to be an intentional and meaningful part of your organization. The series is designed to address both strategic and tactical decisions and priorities.
Increasing the Marketability of Small, Diverse Businesses
Small businesses not only help their community's economy but also affect the national economy directly. Today, a diverse company's survival depends more than ever on its marketing strategy. 
Learn how to improve your small business's marketability in this workshop presented by Commonwealth Corporation and the Supplier Diversity Office.
In addition to certifying diverse businesses, the Supplier Diversity Office (SDO) administers several programs to help small and diverse businesses be more competitive when bidding on public contracts.