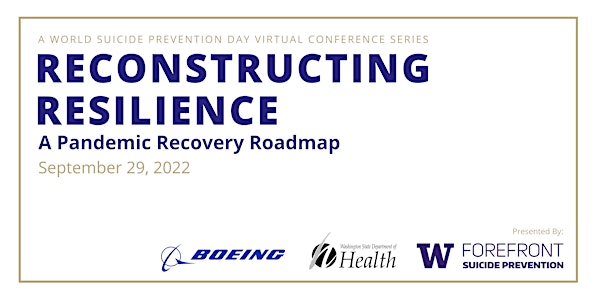 Reconstructing Resilience: A Pandemic Recovery Roadmap - 3.5 CEUs for Free!
This Forefront Suicide Prevention Conference is a no-cost three-part virtual series throughout the 2022-23 school year.
About this event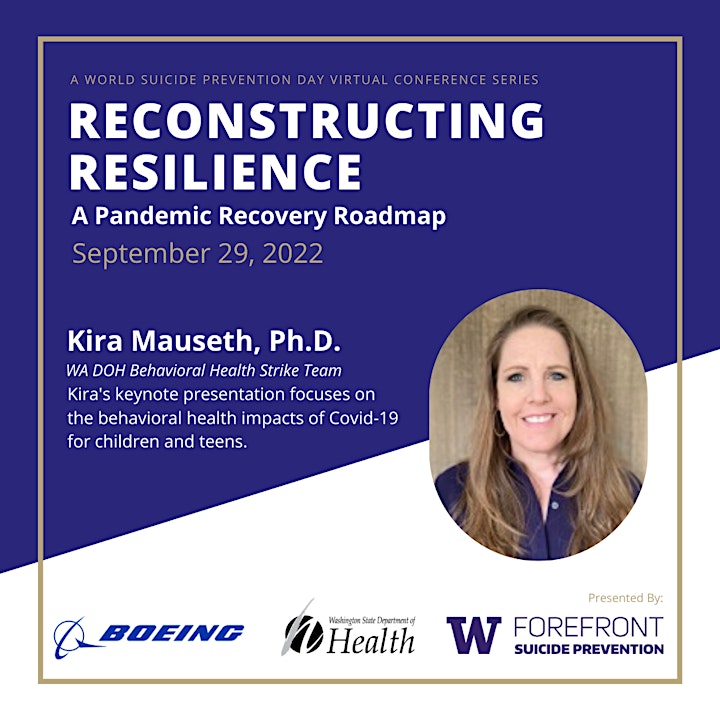 As we enter the fourth school year impacted by the COVID pandemic, youth mental health is in crisis, and educators and other professionals who work with youth are stretched thin providing support.
But there is hope. Resilience is a known protective factor for suicide prevention and mental health.
RECONSTRUCTING RESILIENCE is a three-part virtual conference series taking place throughout the 2022-23 school year, focusing on practical ideas and tools adults can use to support young people in developing the skills and resilience they need to recover from both the COVID and mental health crises.
This first event, A Pandemic Recovery Roadmap, will gather researchers, educators, clinicians, public health professionals, leaders and others who work with youth to discuss a pandemic roadmap to recovery, along with some practical steps to keep young people safe during a time of suicidal crisis.
Keynote:
Behavioral Health Impacts of COVID-19 presented by Kira Mauseth, Washington State Department of Health
Panel Discussion on Lethal Means Safety:
Mike Sodini, Founder, Walk the Talk Initiative
Donna-Marie Drucker, Founder and Executive Director of the Oregon Firearm Safety Coalition
Alex Sirotzki, MPH, Public Health Education and Communication Specialist, Washington Poison Center
Jenny Arnold, PharmD - CEO Washington State Pharmacy Association
Karyn Brownson, Community Safety Manager in the Violence and Injury Prevention unit at Public Health – Seattle and King County
Marybelle Camacho, LICSW, SUDPT – Zero Suicide Social Worker, Social Work Department Seattle Children's Hospital, Seattle, WA
Will there be CEUs offered?
CEUs from the Washington Chapter, National Association of Social Workers (NASW), for Licensed Social Workers, Licensed Marriage & Family Therapists and Licensed Mental Health Counselors. Forefront's provider number is 1975-473. No fee for CEUs, thanks to Washington's Department of Health, sponsor of the event.
Who's welcome to attend?
Everyone. Educators, clinicians, health care providers, public health professionals, those who work or volunteer with youth, those with lived experience, anyone with an interest in suicide prevention.