Sorry, the promotional code you entered has expired.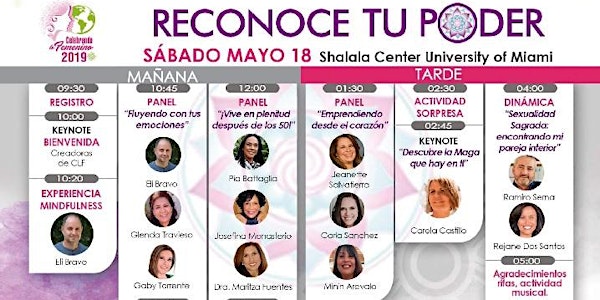 Reconoce tu Poder
When and where
Location
Shalala Center University of Miami 1330 Miller Dr Coral Gables, FL 33146
Description
¡Mujer, celébrate! Has venido a esta vida para ser feliz. MERECES regalarte un día mágico para crecer, divertirte y compartir con otras mujeres que tienen tus mismas inquietudes.
De la mano de 12 reconocidos expertos, de renombre internacional, aprenderás a:
Manejar y fluir con tusEMOCIONES.

Incrementar tu ÉXITO como EMPRESARIA.

Resaltar tu BELLEZA NATURAL y bienestar físico.

Potenciar tu ENERGIA y el PLACER integrando cuerpo y espíritu.

Honrar tu esencia y lograr el BALANCE entre lo ESPIRITUAL y lo material.
¡INVIERTE EN TI! ¿Lista para reconocer tu poder y convertirte en la arquitecta de vida?
Te prometemos una EXPERIENCIA UNICA Y MARAVILLOSA de un día completo, donde reconocidos conferencistas, terapeutas y expertos, entre ellos Eli Bravo, Dra. Maritza Fuentes, Carola Castillo, Carla Sánchez, Pia Battaglia, Ramiro Serna, Gaby Torrente y muchos más, te darán las claves para lograrlo.
¡Hoy es el momento para construir la vida que sueñas!
Hemos preparado la mejor programación para ti, que incluye workshops, paneles y conferencias, dentro de un AMBIENTE DIVERTIDO Y RELAJADO con música, perfomances artísticos, rifas, regalos y mucho más. ¿Vas a dejar que te lo cuenten?
Además, al comprar tu entrada, estarás CONTRIBUYENDO con la Fundación "Trofeo Viviente", una organización venezolana sin fines de lucro que confecciona sostenes y prótesis mamarias externas para apoyar a las mujeres que han sido mastectomizadas. El 5% de lo recaudado será donado a esta organización.