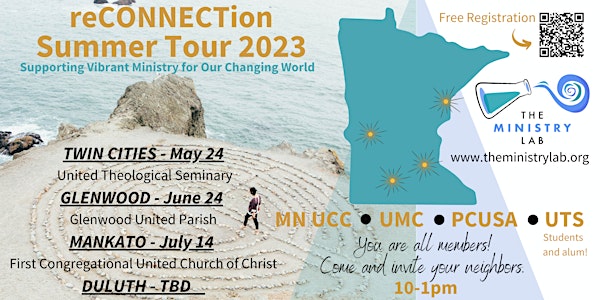 reCONNECTion Summer Tour 2023 : Mankato
Come to Re-Connect! Get to know the full scope of our work, tell us how we can support your ministry, and learn about membership benefits.
Date and time
Friday, July 14 · 10am - 4pm CDT
Location
First Congregational United Church of Christ 150 Stadium Court Mankato, MN 56001
Agenda
10:00 AM - 10:15 AM
Introductions & Gathering Prayer
10:15 AM - 10:45 AM
Intro to The Ministry Lab - a guided tour
10:45 AM - 11:15 AM
Intro to the Innovation Culture Index (ICI) & Innovation Lab Cohorts
11:15 AM - 11:30 AM
General / ICI & Cohort Q&A
11:30 AM - 12:00 PM
Contemplative Practice: Discover our labyrinth and singing bowl!
12:00 PM - 12:45 PM
Lunch is on us! - Q&A Survey & Group Consultation
12:45 PM - 1:00 PM
Closing Ritual
1:00 PM - 1:00 PM
Sending
About this event
UMC, UCC, and PC(USA) congregations throughout Minnesota are already members of The Ministry Lab, yet many do not know it or avail themselves of the diverse resources and opportunities available. Other congregations are welcome as subscription members with the same benefits.
Spend a day exploring how your membership in The Ministry Lab can support you in all areas of ministry through resource curation, custom created resources, one-on-one consultation, contemplative practice facilitation, and more. We encourage non-members to attend as well!
From big-picture innovations on how to 'do church' more intentionally, to details of curricula, worship and sermon prep, and specific community opportunities, we've got ideas, resources, encouragement, and experience - and a network of other leaders with similar questions and brilliant ideas. Let us introduce you to it all.