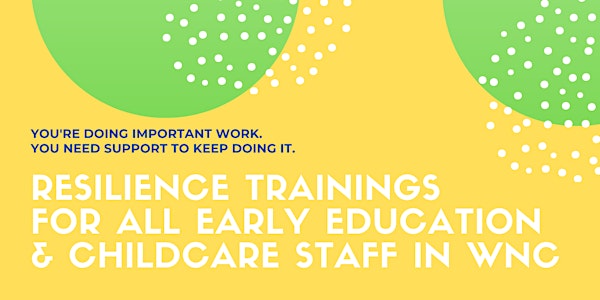 Reconnect Trainings for WNC childcare center staff
Reconnect for Resilience trainings offer practical tools to promote resilience in the face of ongoing stress.
About this event
Reconnect Trainings hosted by Raising Resilience WNC with Reconnect for Resilience™ are for anyone who works in a childcare center in WNC.
Free, virtual trainings that begin the following dates are hosted over multiple days:
Training that begins on June 29th from 8:30-4:30 is hosted over 2 consecutive days:
June 29th (Weds)
June 30th (Thurs)
About Reconnect Trainings
Reconnect for Resilience™ training offers participants a set of practical ways to stay well in the face of stress or adversity. In this 14-hour class, participants learn what happens to our brains and bodies when we are stressed. Participants are given tools to stay healthy, connected, and resilient during tough times. The purpose of the training is to build skills that will make it possible to rise above both personal and job-related stressors, which we know are considerable for everyone these days. Being more resilient will mean you are ore available to support the children and families in your care, thereby increasing their resilience too.
Thanks to Dogwood Health Trust for funding these free trainings
Important Notes When Registering.
Gift:
Participants will be provided a $50 gift card for completing the training.
Credits:
All participants will receive a certificate of completion. Participants are also eligible for CEUs that will paid for by Raising Resilience WNC. MAHEC designates this continuing education activity as meeting the criteria for 1.4 CEUs as established by the National Task Force on the Continuing Education Unit.
Cancelling:
Please remember that space is limited, and demand is high for this event. If you are unable to use your ticket for any reason, please notify us immediately so that others can move off of the waiting list. Should you have questions or need additional help prior to the event, please contact us at resilience@brpartnershipforchildren.org and we will be happy to assist you.
For Additional Assistance:
Should you have questions or need additional help prior to the event, please contact resilience@brpartnershipforchildren.org.
About Resources for Resilience™
Resources for Resilience™ (RFR) is a nonprofit formed in 2017 whose mission is to offer trauma-informed and resiliency-focused classes and trainings. RFR was created in response to the public health crisis of Adverse Childhood Experiences (ACEs), and seeks to address the ongoing stress and trauma that many face every day. The practical strategies that we offer are intended for anyone to use as we work to prevent future adversity and support each person's capacity for wellbeing. We believe that everyone has the ability to deepen their resilience and experience better days.
About Raising Resilience WNC
Raising Resilience WNC is a collaborative group of the Western region Smart Start partners. Raising Resilience WNC has designed a locally responsive approach to building resilient communities involving three approaches to implement over three years, leading to a systems-level impact across the region. The three approaches of this project include an expansion of Sesame Street In Communities, Resources for Resilience Reconnect Training, and the Center for Trauma Resilient Communities Resilience Academies. This project is designed to strengthen resilience skills throughout the individual and organizational levels. With this broad community-based approach, we have the potential to create a regional system capable of supporting positive early childhood experiences and relationships.