RECONNECT RETREAT - full-day retreat of yoga, art & life coaching
Description

When you put everyone else first, it is sometimes hard to take care of yourself.
We make it easy for you to fill your cup.
Reconnect Retreat is your invitation to take a day off from the daily grind and return feeling reconnected to yourself and your life. Your full-day woman's only retreat will recharge your body, refresh your mind and rejuvenate your spirit.
We are a trio of professionals who have created a unique offering combining our businesses, united by passion for personal growth, self-care and creativity. Our integrated approach will lead guests through a complete mind-body-spirit experience.
Your retreat includes two yoga sessions, a group life coaching session, a nourishing lunch, and a fun creative painting experience to leave you feeling truly reconnected to yourself, and to a wonderful community of women.
No experience required: come with an open mind and heart.

We look forward to supporting you at the Reconnect Retreat!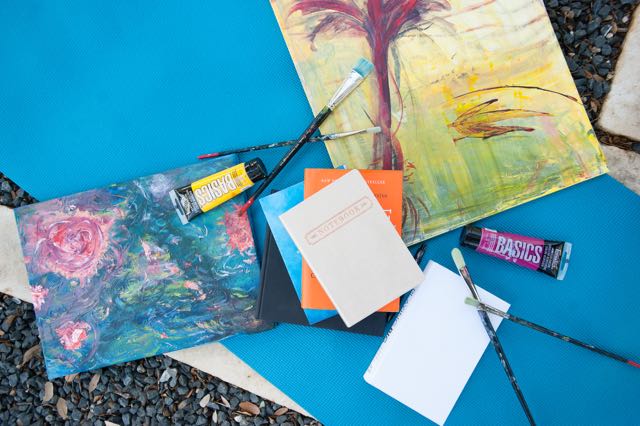 ---
Frequently Asked Questions
What should I wear?

We encourage all our guests to wear comfortable clothes. We'll move between several activities, including two yoga sessions and want to ensure that you are comfortable. In addition, we will also be painting. You'll have a

smock

, but in case you get really wild with paint, go ahead and wear something you wouldn't mind getting paint on.

What should I bring to the retreat?

If you have a yoga mat, please bring it. We will provide you with everything else you'll need for a wonderful day.

I've never done yoga or coaching or painting? Will I still enjoy this retreat?

Yes! In fact, we designed this retreat with a beginner in mind. No experience required.

I am pregnant. Can I participate in the yoga? Yes, let us know and Lucia can make prenatal accommodations.
Are there age requirements? We welcome guests as young as 16, with either a) parent participation, or b) signed note from the parent in advance.
Are men invited to this event? I think my husband/boyfriend would love this.

While we love the men in our lives, we created this event as a women-only retreat to give our guests a specific experience.

What is your refund policy?

We are all moms and we understand that things come up. That is why we will refund 50% of your ticket

up to 48 hours

in advance of the retreat. After that point, we will have purchased all the materials and not able to offer a refund. If you'd like to share your ticket with someone else, we will gladly transfer your registration to a friend at any point up to the start of the retreat.

What if I can't go at the last minute? Is my registration/ticket transferrable?

If you'd like to share your ticket with someone else, we will gladly transfer your registration to a friend at any point.

Where can I contact the organizer with any questions? Feel free to contact Jenny at hello@jennyremington.com or go to www.jennyremington.com/events or www.dirtyeasel.com/news to learn more.