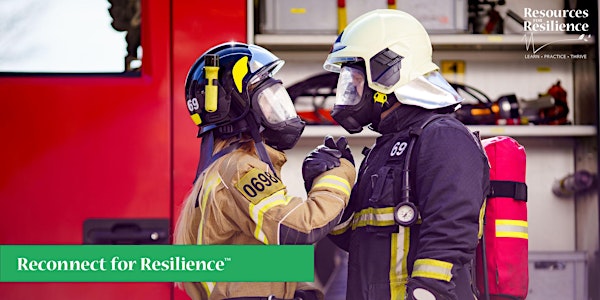 Reconnect for Resilience™ for First Responders Training- New Hanover County
This training is hosted in partnership with Cape Fear Community College and New Hanover County Resiliency Task Force.
By Resources for Resilience™
Date and time
May 18 · 9am - May 19 · 5pm EDT
Location
Cape Fear Community College North Campus 4500 Blue Clay Road Castle Hayne, NC 28429
Agenda
Harnessing the Science of Resilience
---
Explore the Survival, Emotional, and Thinking parts of the brain. Identify the amygdala's role in the perception of threat. Introduce the Resiliency Tools to help regulate a nervous system that is ou...

Recognizing and Responding to Jolts
---
Explore the role of protective factors and the importance of co-regulation, self-regulation, and connection. Identify jolts, survival responses, and their impact on health. Introduce connection as bo...

The Roadmap to Resetting Our Nervous System
---
Explore memories and their relationship with our threat response. Identify the significance of neuroplasticity in rewiring our brains towards positive experiences. Introduce a roadmap for utilizing t...

The Iceberg of Trauma & Resilience in Our Bodies
---
Explore the effects of trauma including traumas of oppression, intergenerational trauma, Adverse Community Environments, and Adverse Childhood Experiences. Identify stories of resilience in communiti...

Restoring Compassion After the Jolt of Shame
---
Explore how shame affects the nervous system and drives disconnection. Identify the role of compassion and empathy in settling the nervous system after a shame jolt. Introduce potential applications ...

About this event
What is Reconnect for Resilience™ for First Responders?
Have you ever wondered why it seems so hard for people in high stress situations to explain the details of what has happened to them? Or considered what more you can do to help support individuals when you meet them, often on their worst day? Do you ever wonder why your body feels so exhausted, but your mind can't slow down after a difficult call? First responders know all too well what stress looks like - that is why we are offering this unique training opportunity just for first responders in NC!
In this training you are invited to get real about what it's like to be a first responder and learn more skills to help you carry the load. We make it easy to understand the neuroscience behind why the brain and body respond the way they do during stressful situations. This training gives first responders new skills to add to their tool belt and learn how to bounce back during hard times.
Training Date & Location
This training is 10 hours hosted over 1.5 days.
This training will be hosted on:
Thursday, May 18th from 1:00 - 5:00 p.m. and Friday, May 19th from 9:00 a.m. - 4:00 p.m.
The training will take place in person at:
Cape Fear Community College North Campus
4500 Blue Clay Road
Castle Hayne, NC
NA Building
Registration Costs and Continuing Education
There is no registration fee for this training thanks to a grant from the North Carolina Department of Health and Human Services in partnership with Eastpointe. This training will count towards CEU/CME hours through Cape Fear Community College.
Special Thanks
Resources for Resilience™ would like to thank the North Carolina Department of Health and Human Services and Eastpointe for their generous support of this series. Additionally, we would like to thank Cape Fear Community College and the New Hanover County Resiliency Task Force for co-hosting this event.
About Resources for Resilience™
Resources for Resilience™ (RFR) is a North Carolina 501(c)3 nonprofit whose mission is to share practical tools to build up and support everyone's resilience. Founded in 2017, we offer trauma-informed and resiliency-focused programs to those working in social services, healthcare systems, first responder agencies, detention facilities, faith communities, schools, and many other diverse groups and entities. To learn more, visit our website at: www.resourcesforresilience.com
Frequently asked questions
Who is eligible for this training?
Do I have to attend both days?
How is this training different from the regular Reconnect for Resilience™ training?
How many hours is the training?