Description
Reconciliation: Re-Membering Creator's First Sacred Pipe
Honouring Akikpautik and Akikodjiwan
A Panel Discussion with Albert Dumont, Lynn Gehl, Randy Boswell, and Lindsay Lambert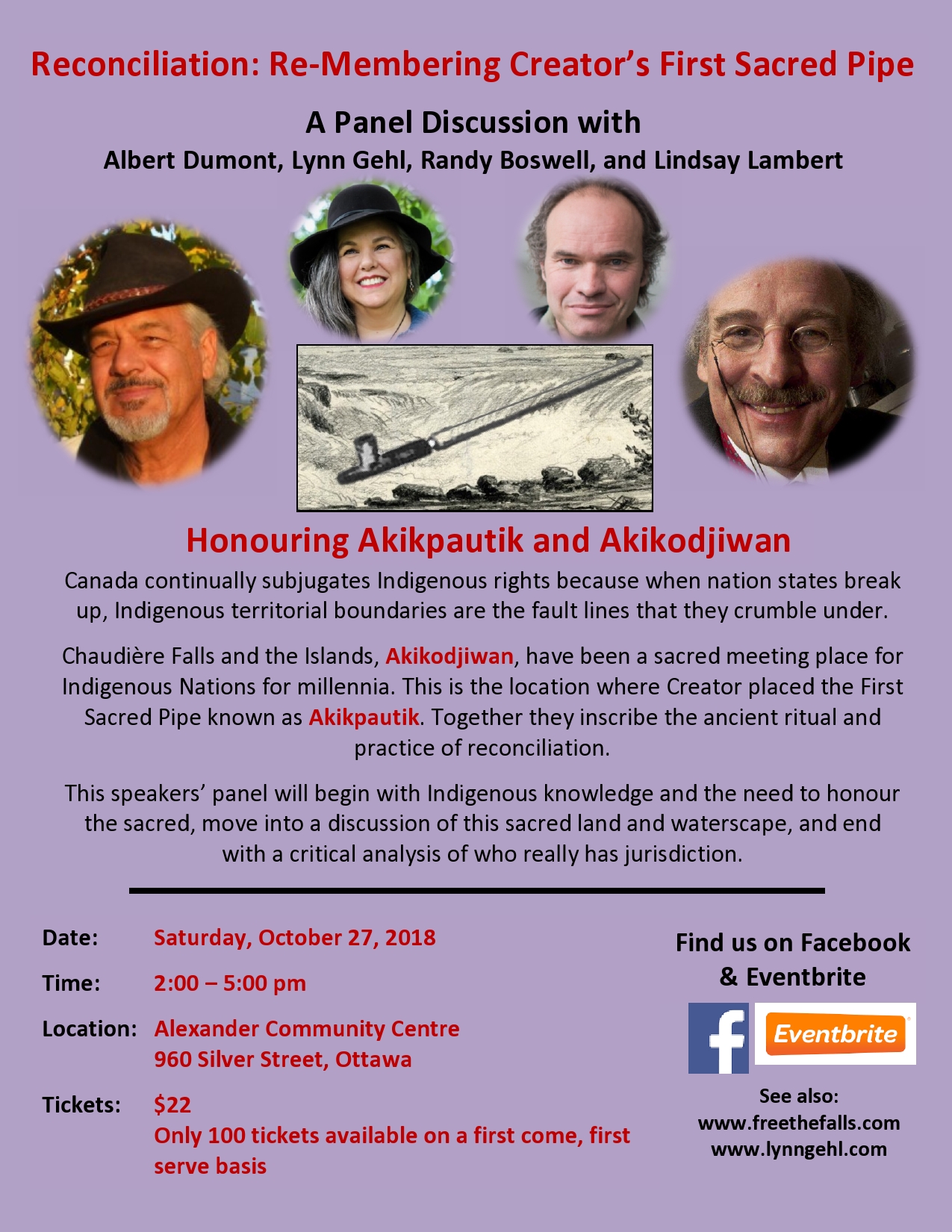 This panel discussion will bring together respected Algonquin practitioner Albert Dumont; Algonquin intellectual Lynn Gehl; settler ally historian Lindsay Lambert; and Professor of Journalism Randy Boswell to discuss and uncover how it is that an Indigenous sacred water and landscape, specifically Akikpautik / Akikodjiwan, located in Canada's Capital Region just upstream from Canada's parliament continues to be subjugated by colonial and corporate power.
Collectively this panel will explore, discuss, and uncover how this is happening within the context of the Liberal government's political platform and rhetoric of "nation to nation" and "reconciliation".
Only 100 tickets at $22.00 each will be sold on a first come first serve basis.
Both Albert's and Lynn's books will be available for purchase. Cash only please.
Complete Abstracts and Biographical Notes are below ...
----------
Albert Dumont's Blurb and Biographical Note:
The Purpose of Spirituality for Human Beings
In his talk Albert will stress spirituality and its purpose in the life of a human being, that it is something which should be nurtured and carefully cared for lest the day arrives that we find ourselves as caricatures of what Creator intended human beings to be.
He adds the origins of what we recognize today as "Indigenous knowledge" began at a time, far in the past, when the "People" realized that the spiritual, physical, and emotional health and wellbeing of their nation was directly connected to the decisions made by their relatives who lived seven generations before them. Indigenous knowledge is/was produced by a spiritual/dream world communication taking place between the human beings and their environment. The leaf, the feather, the rock, the brook, and all other life can teach lessons connected to all seasons of life and offer spiritual guidance to us through their supreme wisdom. The spiritual DNA of the land vibrates in the heart and spirit of one who holds Indigenous knowledge in his/her spiritual bundle.
Albert Dumont is an Algonquin Anishinabe Inini (from Kitigan Zibi Anishinabeg). He is driven by his desire to have people understand the importance of spirituality, and he has been a human rights activist since 1993. He is a poet, activist, playwright, storyteller, artist, and spiritual advisor. Albert has fully recovered from severe alcohol addiction with over 30 years of sobriety, and he manages to live a full and rewarding life regardless of the chronic pain, that he endures due to a construction accident 1991, every moment of each day. Albert is a friend and ally of the waters, the sun, the land, and of the wind.
http://albertdumont.com/chaudiere-falls-unceded-territory/
Lynn Gehl's Abstract and Biographical Note:
What Indigenous Knowledge Offers Human Beings
Indigenous knowledge (IK) is a complete knowledge system that began with a dream and of course our own Creation Story. IK also includes processes and practices of gaining knowledge, and processes and practices of disseminating knowledge. Fundamentally, though, IK is a relationship that relies on individual agency and responsibility and values that morals exist before knowledge. It is in these ways that IK is more than "Elderism" and a collection of stock stories that need to be remembered. Through the method of personal storytelling I will share aspects of the Anishinaabeg Creation Story, and the Sacred Pipe and the knowledge inherent. I gained this knowledge from listening to knowledge holders, reading appropriate literature, and from deep critical thinking introspections. My goal in this talk is to provide an IK framework for people to perceive through as they continue to learn more about the importance of the valuing the sacred versus economics.
Lynn Gehl, Ph.D., is an Algonquin Anishinaabe-kwe (a member of Pikwakanagan First Nation). She is an advocate, artist, writer, and an outspoken critic of colonial law and policies that harm Indigenous women, men, children, and the Land and Water. Her 2014 book based on her doctoral work "The Truth that Wampum Tells: My Debwewin on the Algonquin Land Claims Process" was published with Fernwood Publishing. Her 2017 award winning book explores her journey deeper into IK and was published with the University of Regina Press titled "Claiming Anishinaabe: Decolonizing the Human Spirit". In April 2017 Lynn was successful in defeating Indian and Northern Affairs Canada's unstated paternity policy when the Court of Appeal for Ontario ruled the sex discrimination was unreasonable. Lynn continues to write and think about IK and the liberation it provides all the beings versus just human beings.
https://watershedsentinel.ca/articles/akikodjiwan/
Lindsay Lambert's Abstract and Biographical Note:
Understanding Who Holds the Deeds to the Islands
Driven by the need for fairness, social justice, and the need for humans to honour the sacred Lindsay will share what he has come to know about who has jurisdiction of Chaudière, Albert, and Victoria Islands. In his search for deeper understanding his ongoing research encompasses archival documents obtained from the National Archives of Canada, 1856 through to present day Service Ontario Land Registry Records, 2015 through 2017 Region 03 Assessment Rolls for property tax, as well as other government sources. The knowledge that he will share also emerges from his first person experience as an appellant with the Ontario Municipal Board regarding the City of Ottawa's re-zoning of the Islands for the purpose of Windmill's project slated for the Islands.
Lindsay Lambert, BFA (Honours), is an Ottawa based published historian whose research is rooted in the archival record through a spiritual, justice, and anti-colonial lens. He was born in Swift Current, Saskatchewan, of a Russian immigrant mother and a first generation Canadian English father. Lindsay works hard to keep stories alive in the minds, hearts, and memories of all who are willing to listen and learn. A part of his work is dedicated to the restoration and preservation of the sacredness of Chaudière Falls and Islands located downstream in what is now called the Ottawa River.
http://anishinabeknews.ca/2016/10/01/chaudiere-falls-is-an-indigenous-cathedral/
http://www.leveller.ca/wp-content/uploads/2018/02/LEVELLER-10.5-FEATURE-WEB.pdf
Randy Boswell's Abstract and Biographical Note:
Falls from Grace: The Dual Desecration of the Chaudière Falls
Nineteenth-century Ottawa-Hull witnessed the dual desecration of the Chaudière Falls at the heart of Anishinàbeg Aki. For millennia, the falls were both a wondrous natural phenomenon and an important Indigenous spiritual site — the central feature of a richly layered cultural landscape along the Ottawa River that included bountiful food and stone-tool resources, as well as an important and enduring burial place at the present shoreline site of the Canadian Museum of History. But Euro-Canadian settlement of the Ottawa River region after 1800 marginalized the resident Algonquin people and put the falls under the yoke of industry — a lumber trade deemed vital not only for the growth of the city that became Canada's capital, but also for the eventual realization of a transcontinental nation. The waterfall's sacred history was obscured — though not forgotten — and the associated burial site repeatedly disturbed, even as the sawmills powered by the Chaudière's raging waters generated so much wood waste that it sparked Canada's first major industrial pollution controversy in 1866.
Randy Boswell is a journalism professor at Carleton University and a former local and national reporter specializing in historical writing and research linked to current events and issues. His probes into local archaeological history — in collaboration with archeologist Jean-Luc Pilon — led to the recent identification of the location and significance of an ancient burial ground in Canada's capital, and helped spur a landmark 2005 repatriation of human remains from the Canadian Museum of History to the Kitigan Zibi First Nation. Boswell has made particular use of digitized historical newspapers to reconstruct the past in a way that sheds new light on present-day concerns and controversies, including those involving the environment, Indigenous peoples and history itself. He has interviewed Indigenous leaders, archaeologists and curators; consulted numerous books, studies and archival sources; and examined various museum collections and accumulated considerable knowledge of local history as seen through a critical lens gained primarily during studies for a Master's degree from Carleton University.
https://ottawacitizen.com/news/local-news/randy-boswell-gatineau-shoreline-tells-canadas-story-and-should-be-a-national-historic-site
----------
The Planning Committee thanks you in advance for inviting your friends to attend, as well as for sharing and posting this event.
Chi-Miigwetch.
Organizer of Reconciliation: Re-Membering Creator's First Sacred Pipe