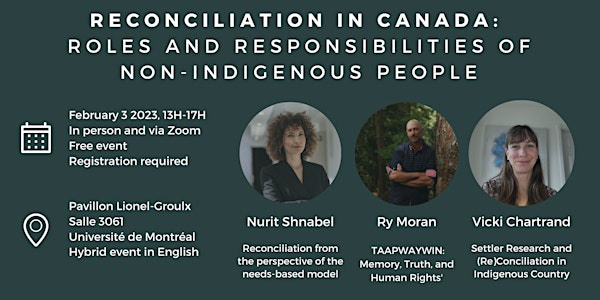 Reconciliation in Canada
Reconciliation in Canada : Roles and Responsibilities of non-Indigenous people
When and where
Location
UdeM – Pavillon Lionel-Groulx 3150 Rue Jean-Brillant room C-3061 (3rd floor), Pavillon Lionel-Groulx, Université de Montréal Montréal, QC H3T 1N8 Canada
About this event
Date: February 3rd, 13h to 17h
Hybrid Event: free event, but registration is required as we have limited capacity.
Location : Université de Montréal, Pavillon Lionel-Groulx, salle C-3061 (3rd floor). 3150 Jean Brillant St, Montreal, Quebec H3T 1N8.
Online: The link will be sent to participants in the days before the event.
This event gathers Indigenous and non-Indigenous scholars and practitioners to reflect about reconciliation in Canada.
13h00: Opening by Jo-Anne M. Wemmers
13h10: Reconciliation from the perspective of the needs-based model: The role of identity restoration processes in promoting more harmonious and equal social relations
Nurit Shnabel
Dr. Nurit Shnabel received her PhD in social psychology from Tel Aviv University in 2008. Her dissertation developed the needs-based model of reconciliation, a theoretical framework for understanding the identity needs of victims and perpetrators. After completing her post-doctoral studies as a Fulbright Foundation Exchange Scholar at Yale University, she joined Tel Aviv University, where she currently serves as a Full Professor at the School of Psychological Sciences. She also serves as the Diversity Officer of the European Association of Social Psychology.
14h00: TAAPWAYWIN: Memory, Truth, and Human Rights
Ry Moran
Ry Moran is Canada's inaugural Associate University Librarian – Reconciliation at the University of Victoria. His role within UVic Libraries' focuses on building and sustaining relationships to introduce Indigenous approaches and knowledge into the daily work of the Libraries and more broadly across the campus community. Ry came to this position from the National Centre for Truth and Reconciliation hosted by the University of Manitoba. Prior to the NCTR, he served with the Truth and Reconciliation Commission of Canada.
15h00: Settler Research and (Re)Conciliation in Indigenous Country
Vicki Chartrand
Vicki Chartrand is a Mama and Full Professor in the Sociology Department at Bishop's University, Québec, the traditional territory of the Abenaki people. She is also Adjunct Professor at the University of Ottawa, Criminology Department and founder and director of the Centre for Justice Exchange – a research centre for collaborative community justices. Her research includes penal and carceral politics and modern-day colonialism; community-based and grassroots justices; and anti-colonial, anti-violence, and collaborative methodologies.
16h00: Panel discussion moderated by Andreea Zota
16h55: Closing
Partners: Université de Montréal, International Centre for Comparative Criminology (ICCC), Social Sciences and Humanities Research Council (SSHRC), Canadian Partnership for International Justice (CPIJ).
Organising committee:
Andreea Zota, PhD student in criminology, Université de Montréal
Ismehen Melouka, PhD candidate in criminology, Université de Montréal
Philippe Boucher, Master student in criminology, Université de Montréal
Jo-Anne M. Wemmers, PhD, Professeure titulaire à l'École de criminologie, Université de Montréal