Recognizing and Understanding Stress

Multiple Dates
Event Details
Recognizing and Understanding Stress 
Stress is the "new normal."  It infects and affects our lives, and many of us find it hard to recognize and understand that we didn't come into this world a bundle of nerves, and we can change.
The "new normal" is costing and will continue to cost us, both time and money today and tomorrow.  Many of us cannot afford this.  Stress takes its toll on our health (physically, emotionally and mentally) if we do not learn to recognize and understand stress, and ultimately resolve it.  How do we know this is true...?
Did you know that according to the Center of Disease Control in Atlanta, 93% of ALL doctor visits are stress-related? The most prescribed medication in America is anti-depressants. And last but not least, suicide is the 10th leading cause of death in America.
These statistics are staggering. When we experience stress in our lives, we try counseling, therapy, books, seminars and all kinds of healers to help us "cope" or "manage" stress. Despite our efforts nothing really changes. Stress is something we all know and something we all seek to resolve, but can't (as the statistics show).
Recognizing and Understanding Stress FREE online discussion class will help you to learn more about:
The progressive nature of stress

The root causes of stress 

The effects, cost and consequences of stress 

The illusions we have learned and the illusions we create

The fallacies of stress and anger management

The realities and practicalities of stress

 

The road map towards true resolution
This Online Discussion Class will begin a process to heighten the awareness of the problem, increasing your ability to discover these "5 elements of change":
Identify exactly what is not working
Recognize the distorted thinking behind what is not working
Find a believable solution ... something that makes sense
Experience the solution as achievable and experience the wisdom to recognize it
Integrate the solution into your life
Recognizing and Understanding Stress Online Discussion Class is a FREE Community Service event. Let us introduce you (or someone you know) to a proven process for true and lasting stress resolution, emotional resolution and emotional maturity in all areas of life: home, work, worship and at play.
Explore and learn how to recognize and understand stress from a logical, medical and psychological point of view. Enjoy uncovering and discovering ways to measure and check your stress levels and begin your journey to reducing your stress levels. 
For many people this Online Discussion Class has been their first step toward real and lasting change.

Call 877-464-1065 or email us to register or for more information.
Live Support!
To attend the class you will need to install Microsoft Office Live Meeting. Details about the installation process can be accessed in your confirmation email that you will receive once your registration is complete. If desired, we will be happy to assist you in the download and installation of the online classroom, and orient you in how to utilize its features. Our SOS support will automatically contact you after your registration or you can call 877-464-1065.

Please note that this is Step 1. After completing this registration form you will receive a confirmation email (check your junk mail, too). The confirmation letter will provide you with details on your next steps.
Organizer
eModMe™
eModMe™ offers you affordable, sustainable and measureable solutions to support and discover your Journey of Life. Unlike traditional educational and self-help models, eModMe™ delivers a SOS process supported by MyGuide - a live person in the cloud. This offers a unique Transformational Learning Experience.
 What if you could:
Improve your ability to learn and apply essential life skills for personal and professional development?
Build awareness and understanding of self and others?
Overcome fear, anger and control?
Unlearn old habits that you can't seem to break and relearn a healthier way of life?
Overcome learning challenges that hold you back, and ignite your individual intelligences?
Belong to a community of like minds focused on learning and discovery in all areas of life?
 eModMe™ brings you:
FREE eMods
Affordable eMods with Emotional Maturity-Transformation
Affordable Professional Support, Assistance and Monitoring
Homogenous Online Discussion, Facilitation and Support Groups
Employment Readiness Programs and Professional Career Opportunities
Come and Explore the Many Topics...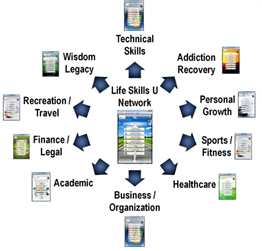 If you are a service provider or an industry leader interested in teaching at eModMe™ Contact Us
Don't forget to sign up for FREE Online Discussion Classes!  Enjoy your journey...