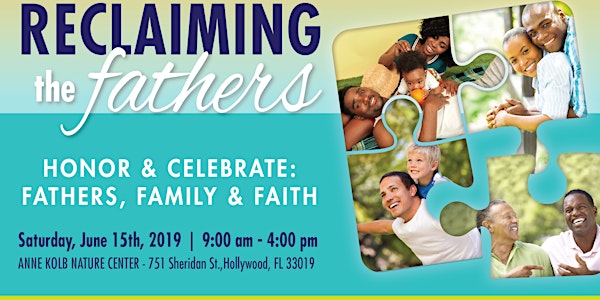 Reclaiming the Fathers: Honor and Celebrate Fathers, Family and Faith
Description
Be Part of the Enriching Experience for the whole Family:
Family Treasure Hunt - Exploration & Discovery Experience
Male Development Workshop - A Grandfather's Talk for a Father and Son Moment - Men ONLY! Nevilon J. Meadows – CEO, Men Under Development, M.U.D, Inc. [Structured for males 8 and older]
"Nurturing the Men in Our Lives" - An Interactive, Inter-generational Dialogue - Women Only Arlene L. Connelly - CEO, ISEE Group, LLC - www.ALCSpeaks.com
Guided Fun Nature Exploration Activities for Children
FATHERS HONORS LUNCHEON
The Family Puzzle - Where Do I FIT? – Creative Arts Activities A hands-on arts project with renowned Artist – George Gadson of Gadson Studios www.georgegadsonstudios.com
Afternoon Adventure – Activities of Choice – Exhibit Hall, Eco Room, and Gallery; Boat Tours; Marina- Canoes, Kayaks, stand-up paddle boards and fishing
---
Reclaiming the Fathers is designed to Honor and Celebrate Fathers, Family and Faith. We will focus on uplifting the critical role they play as men, fathers, husbands, and leaders. We seek to remind men that they are valuable, important and essential. This experience will leave those in attendance equipped with tools in their toolbox to strengthen their relationships, reinforce their:
Empower Men – with knowledge, skills, tools and resources to be an even better father, husband, significant other, friend, and leader
Challenge Men– stretch beyond their comfort zone, to learn and grow.
Expose Men- embrace new experiences and expand awareness
Pamper Men – Feel loved, care for and supported
Celebrate Men – Remind men that they matter, they have value and are important to the family
Honor Men – Lift up and affirm men, let them know that their presence makes a difference
Organizer of Reclaiming the Fathers: Honor and Celebrate Fathers, Family and Faith
ABOUT ISEE GROUP, LLC
ISEE Group, LLC is an emerging Human Development Company whose mission is, "Restoring the Vision for Vibrant Relationships, Thriving Families & Stronger Communities." We provide Consultation, Training, Coaching and Transformational Events & Experiences focused on Igniting in Individuals the Spirit to Excel in Excellence.  We deliver our services through:       
One-on-one or Group Coaching Experiences      

Workshops, Retreats, Special Events       

Literature, Technology and various communication platforms
Our approach is collaborative: we come alongside to provide a support network of experienced and dedicated professionals who value family and relationships. Together we support Relationship & Family: Formation, Strengthening, Restoration & Crisis Navigation.  ISEE GROUP creates highly impactful and interactive experiences that are thought-provoking and transformational. Our events will empower you to infuse fun, and laughter while strengthening the bonds that support you when navigating through life's challenges. 
For More Information Visit: www.iseegroupllc.com
ABOUT ARLENE L. CONNELLY
Arlene L. Connelly is the Founder and CEO of ISEE Group, LLC. She is a Life Enrichment Strategist and Servant Leader; who has dedicated over 25 years providing executive leadership, management, supervisory and administrative experiences in non-profit and higher education; serving adults, at-risk youth, families and underserved populations. She is a creative visionary who designs, develops, manages and evaluates programs. 
Ms. Connelly is a Certified John Maxwell Speaker/Trainer & Coach; Organizational and Leadership Development Professional; Life Enrichment Strategist; Healthy Relationships and Family Strengthening Coach; Career & Positive Youth Development Specialist, a Certified Global Career Development Facilitator, and Writer. 
Arlene is driven, focused and steadfast in her walk with God, she has transformed pain into triumph and adversity into opportunity. A sought-after speaker who is not afraid to, "Tell It Like It Is", she is committed to motivating, coaching, and inspiring youth, adults and groups to assume their power, position, and promise. Arlene is a mother to a beautiful daughter and a guiding light to countless people seeking mentoring, guidance and love. 
For More Information Visit: www.ALCSpeaks.com