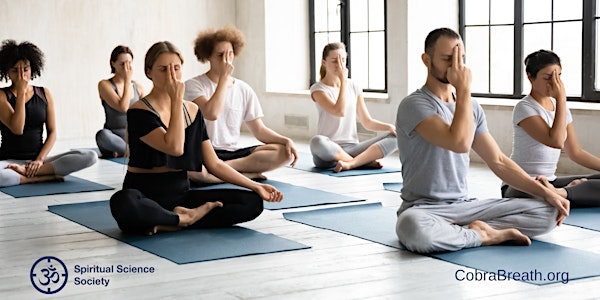 Reclaiming Tantra Level 1 - Sintra, Portugal
Experience the spiritual side of Tantra. Prepare for Kriya Yoga Initiation and MultiDimensional Lovemaking.
By Master Teacher Jeffrey Boehme
Date and time
April 22 · 10am - April 23 · 5:30pm WEST
Location
Casa Sama 133 Avenida 25 de Abril 2710-405 Sintra Portugal
Refund Policy
Contact the organizer to request a refund.
Eventbrite's fee is nonrefundable.
About this event
1 day 7 hours

Mobile eTicket
Master Teacher Jeffrey Boehme is returning to Portugal to share the magick of Kriya Jyoti Tantric Yoga
No experience necessary.
Beginner and advanced meditators are welcome.
Classes will be taught in English.
In this workshop:
Learn principles and practices of Babaji's Kriya Jyoti Tantric Yoga
Understand the connection between your sexuality and spirituality
Activate your chakras
Open your energy circuits
Safely increase the flow of Kundalini
Attain true yogic states of consciousness
Use sexual energy for spiritual growth and emotional healing
Clear energetic blocks that impede your progress
Expand your multidimensional awareness
Prepare for Kriya Yoga initiation
Prepare for MultiDimensional Lovemaking, using sexual energy for spiritual growth
Note: Kriya Yoga doesn't require difficult postures, can be practiced in virtually any health condition and can be practiced while sitting in a chair.
Single admission 275€
Couples admission 500€
Early bird single 225€
Note: Eventbrite adds a surcharge to pay through this site.
For additional payment options without surcharge write to RegistrationEurope@CobraBreath.org You will receive a response with payment and registration information.
Sliding scale available
For more information, contact Manu at jsilvamail@gmail.com OR Caterina at caterina@soulalchemy.love
Meet Master Teacher Boehme at a Second Sunday Satsang
There is a free online satsang (truth talk) the second Sunday of every month at 7 p.m. (19h) Zurich, 6 p.m. (18h) Lisboa, 1 p.m. New York. Satsang lasts approximately 1.5 hours.
Meet Master Teacher Boehme
Connect with other aspirants, practitioners and initiates.
Listen to some wisdom.
Ask your questions.
Go to CobraBreath.org for free link and password
Kriya Yoga Initiation - Vienna, Austria
Kriya Initiation is an energetic transmission that connects aspirants directly to Mahavatar Babaji, granting to the initiate the guidance and protection of the Kriya Lineage. Initiation does not require worship or oaths of allegiance.
Kriya Jyoti Tantric Yoga
Kriya means "internal action."
Jyoti means "Light of Knowledge."
Tantra means "liberation through expansion."
Yoga means "union" with the divine without and within.
Kriya Jyoti Tantric Yoga is an ancient spiritual science of conscious evolution. The practices cultivate and circulate sexual life force and kundalini energy while balancing the feminine and masculine energies.
Kriya Yoga is the science of spirituality and the physiology of enlightenment. You don't have to believe anything or worship anyone. If you do the practices, you will evolve.
Practicing Kriya Yoga literally evolves your nervous and endocrine systems, activating dormant abilities and perception mechanisms. As your perception changes, your world changes and you change.
To learn more, visit CobraBreath.org
Kriya Masters clockwise from top: Krishna, Sri Yukteswar, Mahavatar Babaji, Paramahansa Yogananda, Jesus Christ, Lahiri Mahasaya
It is a privilege for to share Kriya Jyoti Tantric Yoga with dedicated aspirants. I am humbled to be asked to do so by my teachers. It would be an honor to share the teachings with you.
Goswami Sunyata Saraswati, my teacher, mentor and friend who was always so generous with his time, energy and wisdom.
Who Has Time to Meditate for Hours Every Day?
In the bustle of modern living, there is not space to retreat to an ashram or temple to meditate 8 hours each day. Yet, everyone has the need for authentic personal and spiritual growth. The Tantric Kriya Kundalini Pranayama(Cobra Breath) is known as Babaji's gift to humanity because practicing just seven repetitions each day will catalyze levels of profound growth, healing and expansion more common to ashram-temple practice. More repetitions will accelerate growth even further.
The Cosmic Cobra Breath is a powerful transformational technique that will empower authentic personal growth. In traditional Kriya Ashram settings, aspirants must practice for five years prior to receiving Cobra Breath transmission and initiation. My teacher, Goswami Sunyata Saraswati, determined that humanity is in crisis and that some safeguards should be removed in the hopes of accelerating evolution while there is still hope. He condensed the preparatory practices and I have condensed them further. Dedicated aspirants can receive Cobra Breath transmission and initiation after three to six months of dedicated practice.
Beginning practitioners need to prepare for Cobra Breath practice. Their energy bodies must be activated in a deliberate, regulated manner. In this workshop, you will learn practices to open your energy circuits and develop their capacity to safely conduct increasing amounts of energy. These introductory practices in themselves are powerful and can bring profound emotional healing and spiritual expansion as they prepare you for Cobra Breath practice.
​In these busy times, few people can spare hours each day to meditate. Yet, everyone breathes. You might as well get maximum benefit from your breathing! In just a few minutes each day, you can transform your life from the inside out. Enhance your life. Become the You that you were meant to be.