Description
Beyond Mammy Jezebel and Sapphire, an Artist Talk with Mildred Howard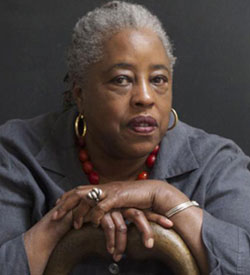 FREE AND OPEN TO THE PUBLIC

Artist Mildred Howard will speak on her work and its place in the Beyond Mammy, Jezebel, and Sapphire: Reclaiming Images of Black Women exhibition. In her mixed media assemblage and installation pieces, Howard incorporates found materials and objects of personal significance, forging a link between African American folk culture and contemporary aesthetic practice.

Howard holds an Associate of Arts degree and Certificate in Fashion Arts from the College of Alameda, California, and an MFA in Fiberworks from John F. Kennedy University. Her work is held in numerous museum collections and she has received a number of commissions and awards for her work.