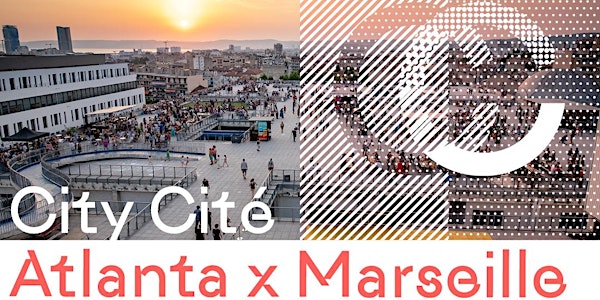 Re/claiming Civic Space to Support Cultural Well-Being
A dialogue between the cities of Atlanta and Marseille on the importance of cultural infrastructure.
When and where
Location
Aftercar 828 Ralph McGill Boulevard Northeast Lower Level Atlanta, GA 30306
About this event
City Cité Atlanta x Marseille explores the city's role and responsibility in the cultural well-being of its visitors and residents. Friche la Belle de Mai, a former tobacco factory turned major cultural institution in Marseille, France provides a fascinating case study on the social, environmental and economic impact of this reclaimed space supported by public and private institutions. Atlanta, having not made similar investments in cultural infrastructure, has lost and continues to lose cultural spaces due to rising real estate costs or has sold facilities like the Atlanta Civic Center to developers. Given the lessons of Friche la Belle de Mai, how can the city of Atlanta reassert its civic vocation by reclaiming civic spaces for culture? Join us as we invite Friche la Belle de Mai management team and gather city leaders, cultural institution directors, urban planners, architects and artists from Marseille and Atlanta to make a case for the role of cultural infrastructure in the making of great cities.
5 PM
Reception
6 PM
Welcome: Cities, culture and society
Heather Infantry, arts advocate, Generator & David Ruffel, Cultural Attaché, Villa Albertine
Global Perspectives on Alternative Cultural Places
Sabir Khan, Associate Professor, College of design, Georgia Institute of Technology
Marseille, urban geographies and cultural portrait
Alexandre Grondeau, Associate, Aix/Marseille University Alexandre Field, architect, Marseille School of architecture / Bureau des guides
6:45 PM
Study Case: Friche la Belle de Mai
Alban Corbier-Labasse, Director, Friche la Belle de mai Lucie Duriez, Director of cultural development, Friche la Belle de mai Victorine Grataloup, Director Triangle – Astérides, visual arts, Friche la Belle de mai Elodie Le Breut, Director AMI, music, Friche la belle de mai
7:30 PM
Q/A: What should Atlanta take from this experience?
Moderation by Ryan Gravel, urban planner and designer, Generator, with Oshun Layne, Executive Director, Dashboard.
8:15 PM
A plan to action: Re/claiming the Atlanta Civic Center
- - -
"Re/claiming Civic Space to Support Cultural Well-Being" is presented at Aftercar by Generator and Villa Albertine with the support of the College of design at Georgia Tech. City Cité Atlanta x Marseille is presented by Villa Albertine in partnership with Elevate, Atlanta Design Festival and France-Atlanta and is supported by the Institut français, the City of Atlanta Mayor's Office of Cultural Affairs and the Consulate General of France in Atlanta.
More information about this event : https://villa-albertine.org/events/reclaiming-civic-space-support-cultural-well-being
More information about Friche la Belle de Mai: https://www.lafriche.org/la-friche-in-english/our-story/