Description
Reclaim You ~
An Experiential Intentional Creativity Retreat
---
Are you looking to discover something new or forgotten about yourself that will bring you joy, and can be incorporated into your life?
Are you feeling stuck and in need of some "me" time?
Have you always wanted to paint but haven't known where to start or are you an artist looking for a new way to approach your paintings?
---
We'll spend the weekend in beautiful Sonoma, CA finding new depth of our innate inner wisdoms by exploring our senses, accessing our intuition and inner compass, our joys and truths as we explore with fun sensory activities and a guided step-by-step Intentional Creativity painting process created by Shiloh Sophia McCloud. This will be an opportunity to:
Reawaken your gifts and your passions

To find new inspiration with new and old friends and leave refreshed and relaxed.

And you'll create a meaningful abstract painting of personal symbolism and discovery of your own Power Symbol of your light and balance.
No experience is needed as there is magic in this method for all!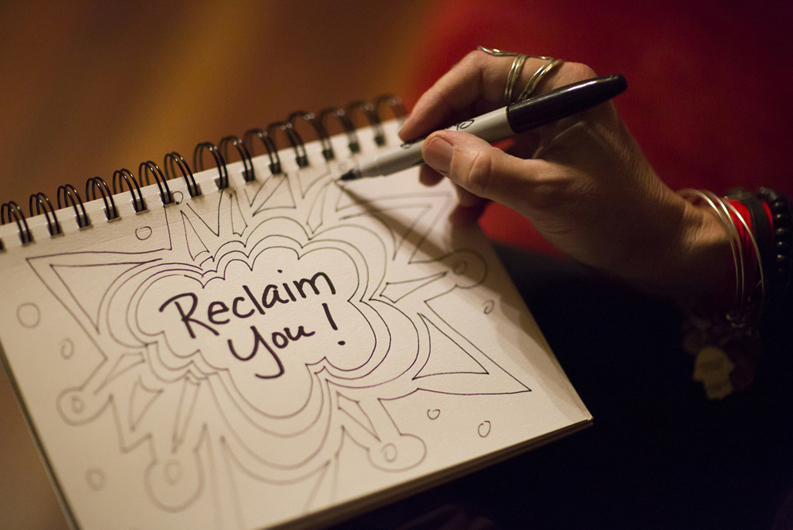 This is not a group therapy session. This is an individual introspective process. Participants experience a guided step-by-step process to help access and develop your ability to sense your own inner wisdoms and truths that are found by slowing down and experiencing the gifts of our senses and intuition.
---
WHEN: Saturday, May 20, 9am

through Sunday, May 21, 2017, 6pm
At Cosmic Cowgirls Ranch, Sonoma CA
Located at the teaching headquarters of the Color of Woman School Method of Intentional Creativity®, MUSEA Sophia Inn and Cosmic Cowgirls Ranch. The retreat is a part of the GLOBAL M.U.S.E Painting Jam Events.

Saturday Breakfast at 9am, begin at 9:45am / Sunday Breakfast at 9:30 am, begin at 10:30am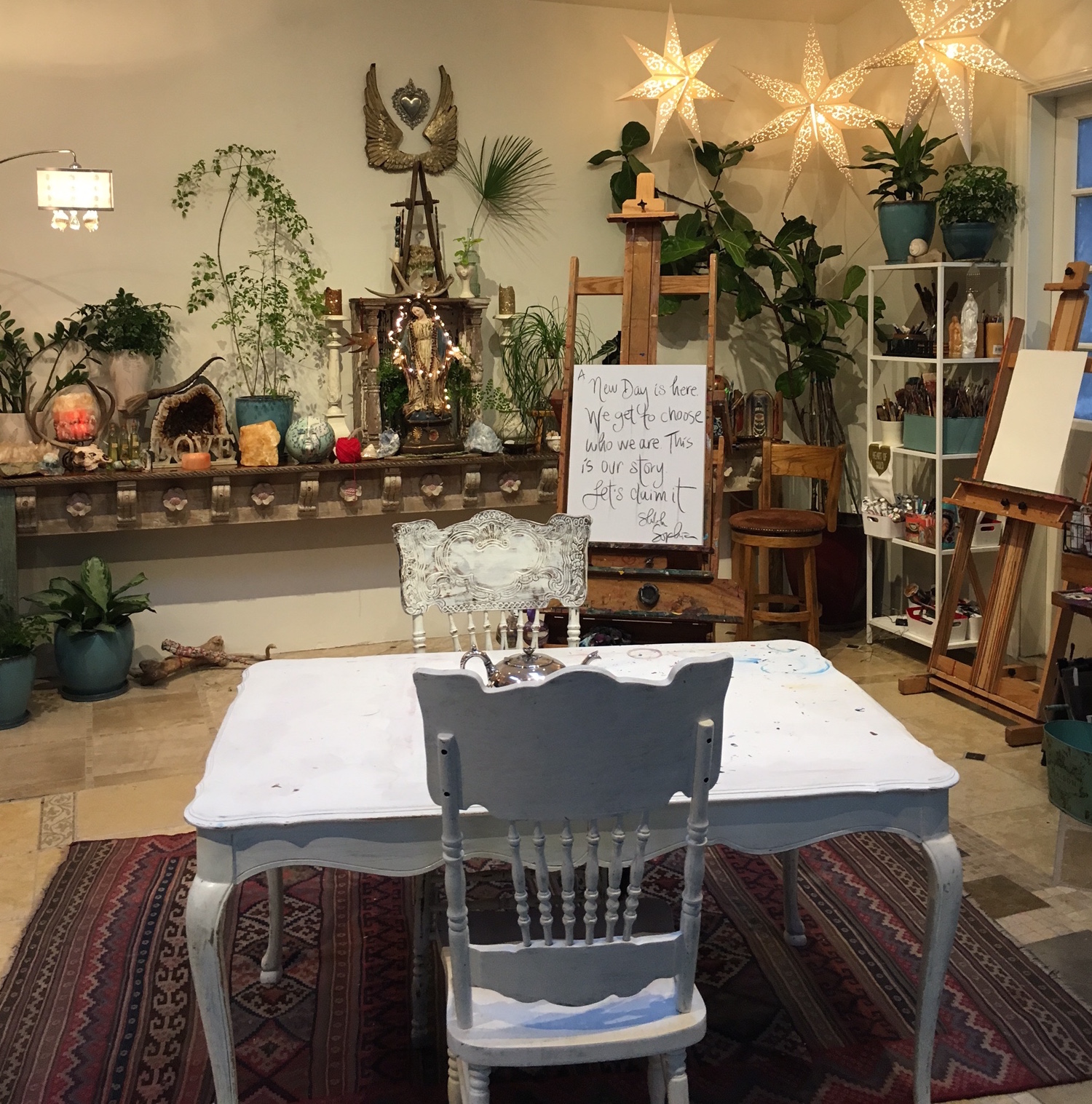 ---


This Two Day Retreat includes:
A Red Thread Circle and Ceremony
Similar to gathering around a camp fire, this is a sacred place to gather, gain insight, build friendships, retreat from the busy world and relax.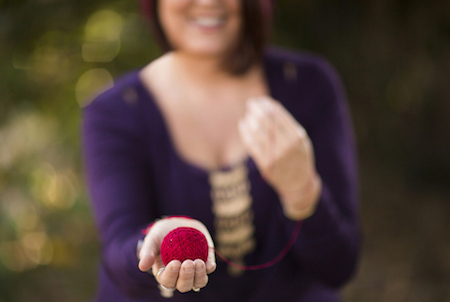 Guided Imaginary Visualizations
to assist in releasing blocks and accessing wisdoms, strengths, symbols and the deep knowings of the joyful soul who remembers how to play in inspiration without bounds. Deeply relaxing and an embodied experience of mindfulness.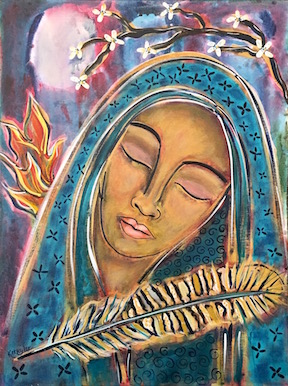 "She Fans Her Inner Fire" by Kerry Lee
Healing Concert with Ceremonial Sound Practitioner & Healing Performance Artist René Jenkins
"René's music . . . reminds you of times past, or to allow you to briefly experience that which you never actually witnessed. He harnesses instruments most people have likely never seen, yet through them he sings ancient, compelling melodies that dig to our common ancestral roots. It is transporting to feel the actual vibrations coursing through you, as if they are harmonious with our very life force. . . it's just amazingly cool!" ~ T. Barbieri, Vocal Art Ensemble Director
Creation of an Intentional Creativity Contemporary Symbolism Painting
A meaningful abstract intuitively painted 24" x 24" canvas with personal symbolism and discovery of your own Power Symbol of your light and balance using a guided step-by-step method of Intentional Creativity.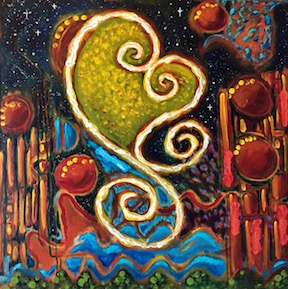 Freshly Prepared California Cuisine
on Saturday and Sunday, featuring local fresh produce and catered onsite by gifted cook and professional coffee roaster Rosie Laird, AKA Coffee
Breakfasts
Saturday - Housemade Granola, Yogurt, and Seasonal Fruit
Sunday - Levain Toast with Avocado, Heirloom tomato, and Balsamic or
Fresh Roasted AKA Coffee. Hot Teas, Iced Tea

Lunches
Saturday - Black Rice Bowl, Roasted Marinated Tofu, Kimchi, Shredded Carrot, Green Onion, and Sesame
Galette with Seasonal Fruit

Sunday - Garden Lunch of Mixed Greens Salad with Roasted Chicken, Pickled Carrot, Chili Lime Cashews, Beans Sprouts, Crostini, and Ceamy Vinegrette
Spa Water, Iced Tea and Hibiscus Lemonade
Snacks
Pita Chips and Carrot Wedges with Homemade Beet Hummus, and Tumeric Lemon Hummus
Saturday - Sweet and Spicy Nut Mix
Sunday - Fruit Platter and Dark Chocolate Nut Clusters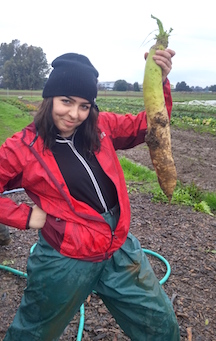 Access to the Private Musea Sophia Gallery
View the private collection of artwork from Sue Hoya Sellers, Master Painter and Teacher and Co-Creator of the Intentional Creativity Method and Movement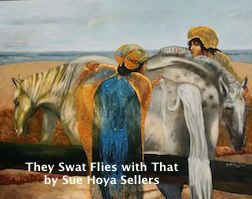 All art supplies and a special gift bag. This retreat does not include lodging, dinners or transportation. Daily commuters welcomed!
---
Facilitated by
Kerry Lee, GOLDEN Artist Educator & Certified Intentional Creativity Teacher
"I am grateful to see the results of my art-phobic entre into the world of intuitive Intentional Creativity guided by Kerry Lee! I so appreciate having created a work of art that I love and that is very personal. Even more than that, the process of creating this piece was multi layered – both literally and figuratively. While working with my hands, the subconscious is free to tell me things. It was free to express dreams and goals that my literal mind has been ignoring. As I followed Kerry Lee's guidance through the painting layers and their evolving symbolism, I discovered things I didn't acknowledge as my heart's desire. And as I finished this painting, I also found courage to make some big life changes that have freed me to have more space in my world and to be more grounded in who I am. My painting Muse was "quiet confidence". Confidence inside glows on the outside.
Painting – yes. Intuitive – yes. Transforming – yes. Thank you Kerry Lee."
Kim Kane, Higher Education Professional
And now playfully creative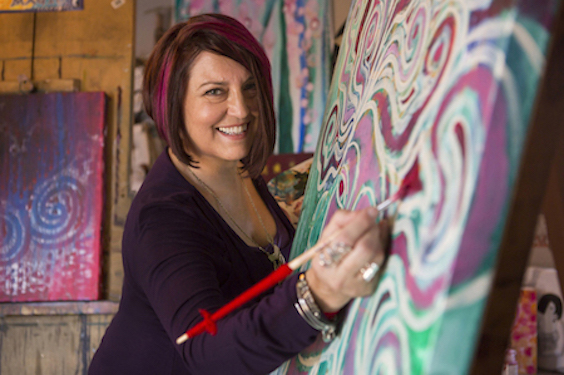 Kerry Lee teaches transformative Intentional Creativity at corporate teambuilding events, group workshops and through mobile Paintings Parties with a Purpose. Her work inspires the masses as each learns how intention can enhance their intuition, their gifts and their wisdom. Kerry Lee loves to demonstrate how to find beauty where we least expect it. From her own life experiences, she knows that our past and our challenges are our biggest learning lessons and opportunities for healing and empowerment. She guides her students to release old memories and blocks to create space for a new vision and story. Kerry Lee takes students on a whimsical journey through intention, art and color where we can celebrate who we are, every part of us. It makes it even better that after we work with Kerry Lee, we can literally hang our accomplishment on the wall! Learn more at KerryLeeArt.com and read her weekly column "Creativity at Work" and listen to her recent radio inteview about Creativty and Intution.

---
SCHEDULE OF EVENTS
Saturday, May 20
9 - 9:45am - Breakfast
10:00 am - Circle Up, Experiential Activities, Lunch & Painting
6:00 pm - Dinner on own
Sunday, May 21
9:30 - 10:15 am - Breakfast
10:30 am - Circle Up, Experiential Activities, Lunch & Painting
6:00 pm - Weekend Concludes
---
INTRODUCTORY PRICING for this weekend only:
$295
Cancellations accepted until May 13. All seats are transferable.
---
Optional Accomodations
Or you are welcome to commute - please arrive 15 minutes before we begin each day.
PLEASE RESERVE your rooms below ASAP as there is a large Sunset Magazine event in Sonoma that weekend. MUSEA Sophia and My Secret Garden are holding rooms for participants of Reclaim You.
PLEASE NOTE: The kitchen will be used to prepare breakfasts and lunches, however it will be available for dinner preparation and there will be refridgerator space.
MUSEA Sophia is 40 miles north of San Francisco, 30 miles north of Benicia and 70 miles west of Sacramento

Fairmont Sonoma Mission Inn & Spa
---
Register now as there is limited space. And feel free to share with your friends on social media and through email below!