Equipping the Church to discern the narratives undergirding the LGBTQ culture and how to best help individuals reclaim identity in Christ
About this Event
THE MISSION OF RECLAIM IT:
Our mission is to equip the Church to discern the narratives undergirding the LGBTQ culture and how to best help individuals who want to leave that identity behind to grow in an identity in Christ.
In this direction, we have brought together individuals, ministries, legal, medical, and psychology professionals who have years of experience working with this demographic.
THE PURPOSE OF THE RECLAIM IT! CONFERENCE.
Our goal is to help LGBTQ identified individuals understand who they really are; that they are image-bearers of Almighty God. He doesn't make mistakes, and He created only two genders for a purpose. Our message is a message of love, not condemnation. We will help you reach LGBTQ identified individuals with information that they likely haven't heard. This conference also delivers a message of hope for parents with LGBTQ identified children.
It is only in Christ, our children, our families, and the Church will discover their TRUE IDENTITY. We want to help you Reclaim IT!
Hollywood, culture, and the media glamorize and sanitize the LGBTQ lifestyle. Liberal theologians preach a "gay is okay, we're under grace" gospel. The public education system teaches kids they can invent their own gender. But countless transgender individuals now say just being affirmed ignored the real issues they struggled with. Thousands now regret their botched surgeries, mutilations, and side-effects from hormone blockers and cross-sex hormone shots. They ultimately discovered all of these things caused more pain, heartache, and regret, not happiness.
Yet, too many in the medical field continue treating gender-confused children and adults as medical guinea pigs and do not counsel them about the permanent damage and harm these medical interventions cause.
We will share testimonies from former LGBTQ individuals who will contrast what their old life was like compared to their new life in Christ.
We have subject matter experts expose how the LGBTQ agenda is being presented in the public school system, how laws silence Christians and strip parents of their rights.
WHAT YOU WILL RECEIVE
You will receive empirical information and evidence from medical and therapeutic professionals discussing the real consequences of unnatural medical intervention and the emotional trauma of perpetuating the lie that people can actually change their sex. We will have professionals who will discuss the psychological social impact that these and other influences have on our families.
You will receive information on hidden agendas and plans that are specifically designed to target our children! This will elevate your awareness and empower you that you may protect them!
You will receive Testimonies from those who have come out of the LGBTQ community and have received their True Identities in Christ!
You will receive information and resources that will help you help yourself and others!
...and more!
The Conference will be archived so that the Registrants can go back and review and assimilate the information at their leisure and own pace!
RECLAIM IT! VIRTUAL CONFERENCE 2021! YOU DON'T WANT TO MISS THIS!
REGISTER BEFORE THE END OF JANUARY 30TH FOR THE EARLY BIRD REGISTRATION SPECIAL OF ONLY $50!
$75 AFTER WHICH IS STILL GREAT FOR WHAT THE CONTENT AND QUALITY YOU WILL RECEIVE WILL!!
*All contact information of participants will be shared with Platinum sponsors. Purchase of this ticket is your approval to be contacted by the sponsors with valuable information.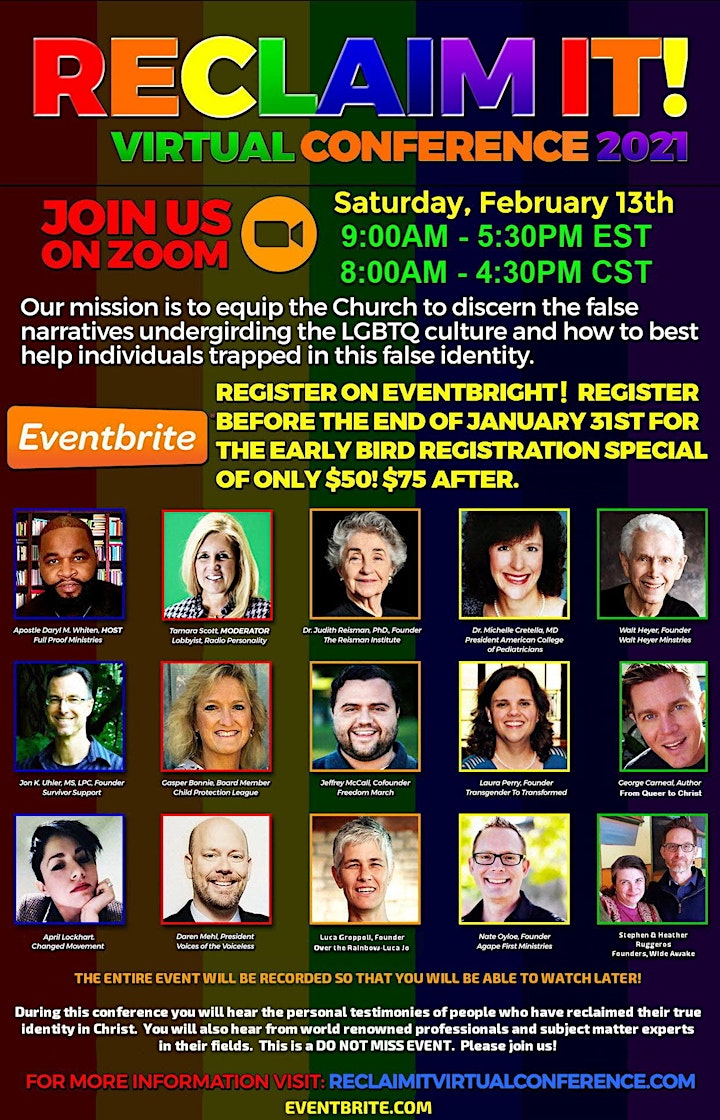 All contact information of participants will be shared with Platinum sponsors. Purchase of this ticket is your approval to be contacted by the sponsors with valuable information.
Date and Time
Location
Refund Policy