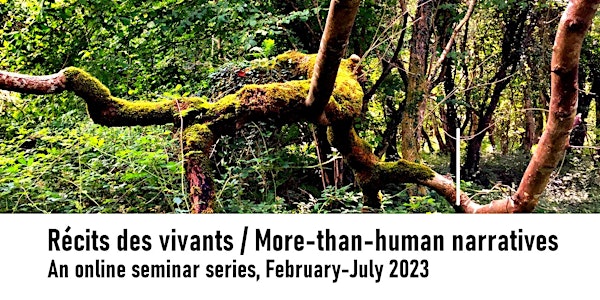 Récits des vivants/More-than-human narratives series: Fatima Ouassak
'Récits des vivants / More-than-human narratives' online seminar series: talk and discussion with activist Fatima Ouassak
By Récits des vivants / More-than-human narratives
Date and time
Thu, 23 Mar 2023 09:00 - 10:00 PDT
About this event
Récits des vivants / More-than-human narratives: an online seminar series, February-July 2023
Second seminar on 23rd March 4-5pm GMT: talk and discussion with author and activist Fatima Ouassak
For the second seminar in our online series, it is an honour to welcome Fatima Ouassak, who is a political scientist, author and activist, and a key and vital voice in contemporary environmentalism in France. A militant for a feminist, popular, antiracist and radical ecology, she is the author of La Puissance des mères, pour un nouveau sujet révolutionnaire [The power of mothers: for a new revolutionary subject] (2020); and Pour une écologie pirate. Et nous serons libres [For a pirate ecology. And we will be free] (2023). Fatima Ouassak is the founder of the Classe/Genre/Race network, and co-founder of the association Front de mères (Mothers' Front) and the Maison d'Écologie populaire Verdragon (Centre of Popular Ecology). During this seminar Fatima Ouassak will talk about her activism and her call for a pirate ecology. The talk and discussion will be in French with simultaneous English translation.
All are welcome to attend this free event, which will be held online via Zoom on 4-5pm GMT on Thursday 23rd March. You will need to register in advance to receive the online joining link.
Note: this seminar will take place on the first day of the international online conference Greening Modern Languages Research and Teaching (https://www.eventbrite.co.uk/e/greening-modern-languages-research-and-teaching-tickets-556552382157). Everyone who registers for this conference will automatically be sent the link to attend the Récits des vivants/More-than-human narratives seminar with Fatima Ouassak. You therefore do not need to register for both the conference and the seminar.
'Récits des vivants / More-than-human Narratives' is a series of five online seminars in which artists and activists will discuss how their work engages with environmental and animal issues, in questioning anthropocentrism and contesting injustice, and with a view towards fostering ecological awareness and meaningful sustainability. Drawing on a broad range of media and artforms (painting, drawing, sculpture, performance, film, writing, graphic narrative), this series will explore key topics for our changing world, such as oceanic potentialities, revolutionary popular environmentalism, the biopolitics of industrial slaughter, animal ethics, and decolonial ecology. In doing so, it will shine a light on the varied modes of resistance deployed by artists and activists to create and share alternative narratives for environmental justice, care and solidarity, engaging with multispecies, feminist, queer, and decolonial ecologies.
While this series will focus on more-than-human narratives through the lens of contemporary France, it aims to open a dialogue among scholars, practitioners, and activists working in the Environmental Humanities in any subject area. Across the series, we will discuss inspiring and militant ways of exposing and challenging anthropocentric, gendered, (neo-)colonial, heteronormative, nationalistic, and capitalist ideologies, as well as their material impacts on bodies and territories. We will explore narratives, imaginaries and practices that work to create possibilities for alternative modes of representing, engaging and living with the more-than-human in our troubling times.
All the seminars will be either in English; or in French with simultaneous English translation.
For any questions, please contact the organiser Armelle Blin-Rolland at a.blin-rolland@bangor.ac.uk.
'Récits des vivants / More-than-human Narratives' is funded by the British Academy / Leverhulme Trust Small Grant scheme (SRG22\220097).