About this Event
Make a difference in our region. Join Connected Learning and community members from around our region to help make something awesome happen for our community! Participate in and learn all about the concept changing organizations called The Reciprocity Ring.
What is a Reciprocity Ring? It's a one-time, face-to-face exercise that makes asking for and offering help easy. Learn how to put Reciprocity Ring principles into action every day for your organization using Givitas, a scalable technology platform that makes it easy to ask for help. You can learn more here.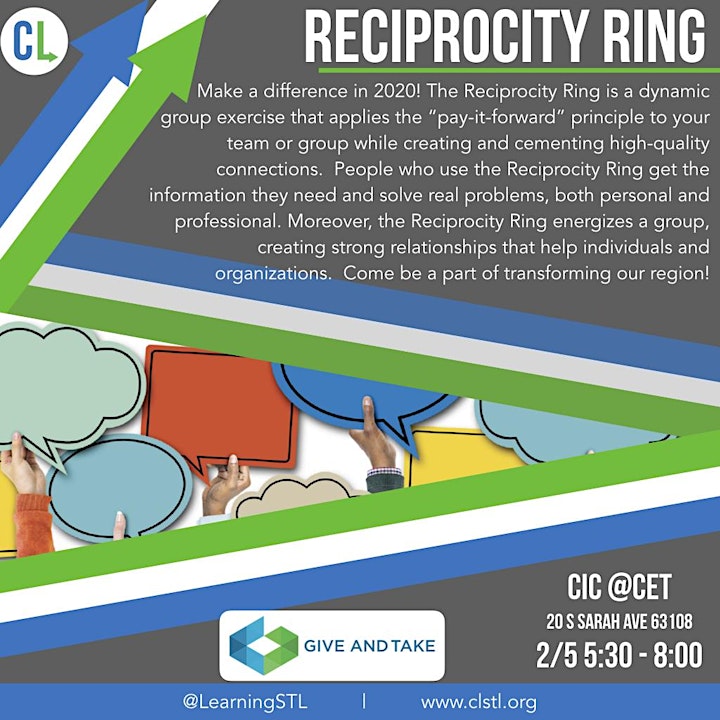 About the Reciprocity Ring
The Reciprocity Ring is a dynamic group exercise that applies the "pay-it-forward" principle to your team or group while creating and cementing high-quality connections.
People who use the Reciprocity Ring get the information they need and solve real problems, both personal and professional. Moreover, the Reciprocity Ring energizes a group, creating strong relationships that help individuals and organizations.
Proven and reliable, the Reciprocity Ring is also simple, systematic, and scalable. It can be used with groups ranging from 12 to 500. To date, nearly 100,000 people have used the Reciprocity Ring, including executives, managers, and professionals in many different types of companies, industries, and locations around the world.