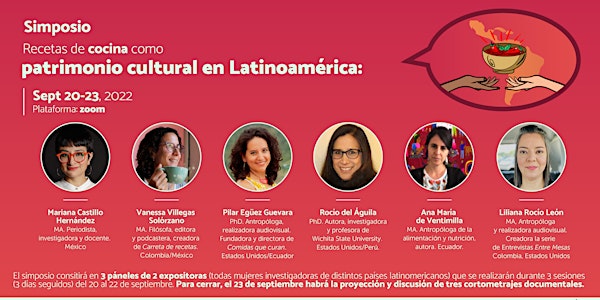 Recetas de cocina como patrimonio cultural en Latinoamérica
Cuatro días de páneles con expertas latinoamericanas de la alimentación que culmina con una muestra de cine documental. Sep 20-23, 7-9 pm
About this event
Sept 20-23, 2022, 7 - 9 pm hora de México, Ecuador, CST
To request translation services to English please send an email to contact@comidasquecuran.info
Recetas de cocina como patrimonio cultural en Latino-America: simposio y muestra documental en cuatro días
Este simposio recoge las reflexiones y análisis de investigadoras de la cultura alimentaria del Ecuador, Colombia, México, Perú y la diáspora latinoamericana en los Estados Unidos. En las ponencias compartimos los aprendizajes basados en nuestra experiencia investigativa y de campo, sobre los retos y oportunidades en el ejercicio de recolección, documentación y comunicación de saberes alimentarios tradicionales en forma de recetas o recetarios. Las ponencias llaman a entender las recetas de cocina no como fórmulas auténticas de platos absolutamente replicables, sino como textos cargados de una complejidad sociocultural, histórica y política que ameritan análisis como discursos dentro de sus contextos específicos. El hilo conductor en las ponencias es la mirada crítica tanto de la metodología de análisis de las recetas en tanto fotografías de un momento histórico, así como de la metodología para su documentación y transmisión. Las ponencias en su conjunto son una invitación a reflexionar sobre la cuestión más amplia de los esfuerzos por salvaguardar tradiciones culinarias en tanto patrimonio cultural inmaterial.
Palabras clave: recetarios, análisis del discurso, memoria, comunicación, cultura alimentaria, patrimonio inmaterial.
Posible gracias al soporte de la Association for the Study of Food and Society, Pacific Oaks College, Latin American Studies y Center for Regional Studies de la University of Arizona.
Cooking Recipes as Cultural Heritage in Latino-America: 4-day Symposium and Film Screening
This symposium gathers food culture researchers from Ecuador, Colombia, Mexico and Peru, Argentina and the Latin American diaspora in the United States. In their presentations, they share the lessons from their research and field-work experience, about the challenges and opportunities in the quest to collect, document and communicate about traditional food knowledge in the form of recipes or recipe books. The papers call for understanding recipes not as authentic formulas of absolutely replicable dishes, but as texts loaded with sociocultural, historical and political complexity that merit analysis as discourses within their specific contexts. The common thread in the papers is the critical look at both the methodology of analysis of the recipes conceived as snapshots of a historical moment, as well as the methodology for their documentation and transmission. The papers as a whole are an invitation to reflect on the broader question of the efforts to safeguard culinary traditions as intangible cultural heritage.
Keywords: recipe books, discourse analysis, memory, communication, food culture, intangible cultural heritage.
Possible with support from the Association for the Study of Food and Society, Pacific Oaks College, Latin American Studies and the Center for Regional Studies at the University of Arizona.
Muestra de cine y conversatorio / Film screening and Q&A
La Tonga de Olivia (8 minutes. Spanish with English subtitles). https://www.youtube.com/watch?v=hc4qTzocPUs
Tarpuna: El maíz (30 mins. Spanish with English subtitles). Trailer: https://www.youtube.com/watch?v=9CiTtwys4wY
Raspando coco (31 mins. Spanish with English subtitles) Trailer: https://www.youtube.com/watch?v=sWOoKv8xtbA&t=33s
Productor del evento: Denis Ayala @denisayalae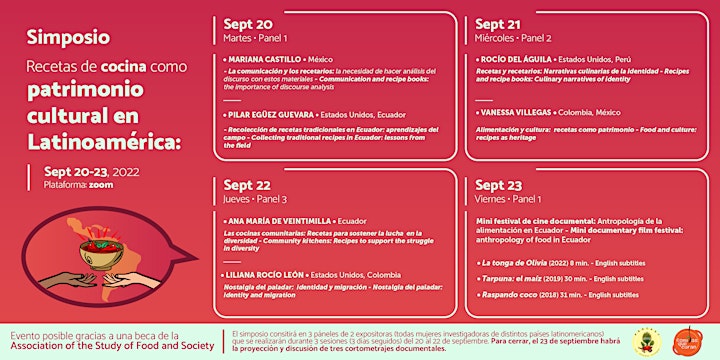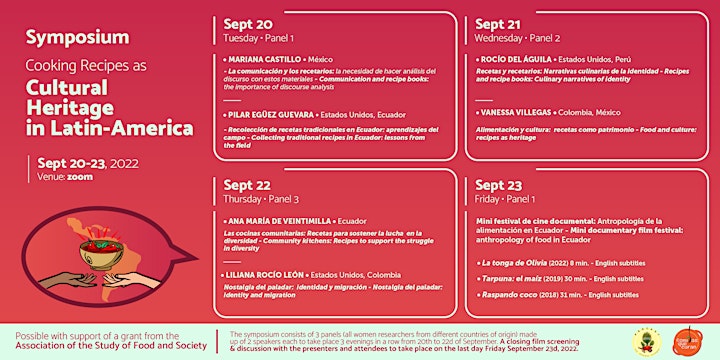 EXPOSITORAS / PRESENTERS
ROCÍO DEL ÁGUILA, PHD
Rocío del Águila doctora en Literatura Hispana, de Perú. Es autora del libro Estudios de la Cultura en la Literatura Latinoamericana. Dirigió el documental Cocin(ando) Wichita y ha realizado proyectos audiovisuales comunitarios.
Rocío del Águila PhD in Hispanic Literature, from Perú. She co-authored the book Food Studies in Latin American Literature. She directed the documentary Cocin(ando) Wichita and has worked in community-based media projects.
LILIANA ROCÍO LEÓN, MA
Liliana Rocío León Comunicadora Social y periodista colombiana, especialista en televisión. Cuenta con una maestría en Antropología Visual. Dirigió el documental Nostalgia del paladar y es productora del programa Entrevistas entre mesas sobre antropología de la alimentación.
Liliana Rocío León is a Colombian Journalist, Media Studies and Television Specialist. She holds a Master's in Visual Anthropology. She directed the documentary Nostalgia del paladar and produces the series Entrevistas entre mesas about food anthropology.
ANA MARÍA DE VEINTIMILLA, MA
Ana María de Veintimilla Antropóloga ecuatoriana de la alimentación y nutrición desde la perspectiva de la ecología política. Es autora de los libros Mikuna: mujeres kichwa, políticas sociales y soberanía alimentaria y Racismo y servicios de salud: la medicina indígena como clave para la salud colectiva. Ha trabajado con mujeres indígenas del Ecuador en el diálogo de saberes y prácticas alimentarias, culinarias y de salud.
Ana María de Veintimilla Ecuadorian anthropologist of food and nutrition from the perspective of political ecology. She authored the books Mikuna: Mujeres Kichwa, Políticas Sociales y Soberanía Alimentaria and Racismo y Servicios de Salud: la Medicina Indígena Como Clave Para la Salud Colectiva. She has worked with indigenous women in Ecuador on the intersections between knowledge and food, culinary and health practices.
MARIANA CASTILLO HERNÁNDEZ, MA
Mariana Castillo Hernández es periodista mexicana y docente de la Escuela Nacional de Antropología en México. Fue periodista del año 2021, premio otorgado por Culinaria Mexicana. Cree en la investigación y los viajes como formas de difusión de la cultura alimentaria.Tiene más de una década de experiencia como colaboradora en diferentes medios impresos y digitales, así como en la docencia.
Mariana Castillo Hernández is a Mexican journalist and professor at the National School of Anthropology in México. She was awarded Journalist of the Year in 2021 by Culinaria Mexicana. She believes in research and travel as ways to disseminate food culture. She has more than a decade of experience as an educator and a contributor to different print and digital media.
PILAR EGÜEZ GUEVARA, PHD
Pilar Egüez Guevara es doctora en antropología y realizadora ecuatoriana. Dirige Comidas que Curan, una productora de documentales independiente dedicada a revalorizar los saberes sobre alimentación y medicina tradicional. Realizó el documental Raspando coco sobre las tradiciones culinarias afro-esmeraldeñas, traducido a dos idiomas, premiado y presentado en festivales de cine y eventos académicos a nivel internacional.
Pilar Egüez Guevara is an Ecuadorian cultural anthropologist, writer and filmmaker. She is co-founder and director of Comidas que Curan, an independent food education and media company. She is director and producer of Raspando Coco, an award-winning documentary about the culinary and medicinal traditions of Afro-Ecuadorians, translated into two languages and presented internationally in film and academic settings.
VANESSA VILLEGAS SOLÓRZANO, MA
Vanessa Villegas Solózano Filósofa y editora de libros, particularmente aquellos dedicados a la cultura y la alimentación. Desde 2014 escribe en su blog Carreta de recetas dedicado a rescatar esas historias de vida que acompañan a las recetas. En mayo de 2020 lanzó un pódcast con el mismo nombre, un programa dedicado a temas de cocina, género, política y cultura. Carreta de recetas es el podcast de comida más escuchado en Colombia, México, Perú y Ecuador.
Vanessa Villegas Solózano Philosopher and book editor with a focus on food and culture. Since 2014 Vanessa writes for her blog Carreta de recetas about the stories behind recipes. In 2020 she launched a podcast with the same name about food, gender, politics and culture. Carreta de recetas is the food podcast with the highest listener ratings in Colombia, México, Perú and Ecuador.
MUESTRA DE CINE DOCUMENTAL
La Tonga de Olivia (8 mins)
En este cortometraje producido con la participación de jóvenes y mujeres de Calceta, Ecuador, nos adentramos a una tradición del campo, la preparación de una tonga y su historia. La tonga es una comida portátil envuelta dentro de una hoja de plátano. Contiene una porción de arroz, una presa de gallina criolla, un plátano maduro frito y el gordo o salsa de maní cocinados en el horno de leña tradicional manabita. La protagonista del cortometraje, Olivia Cusme y su esposo explican paso a paso la preparación y secretos para su elaboración, así como sus recuerdos acerca de este plato que son parte de la historia campesina de la provincia de Manabi.
This is a community based documentary production featuring Olivia Cusme, a resident of Calceta, a rural town in the coast of Ecuador, demonstrating the step by step preparation of a tonga, a traditional dish wrapped in banana leaves from the province of Manabí, Ecuador. One tonga contains a portion of white rice, a piece of free-range chicken, a piece of fried ripe plantain, and peanut sauce. Each component is cooked separately in a traditional wood-fire oven, arranged on top of several leaf pieces, and carefully wrapped and tied up with a string and packed to-go. The film includes interviews with Olivia and her husband about their memories of this dish being made and consumed in the context of the gendered division of labor in the coastal countryside.
Tarpuna: el maíz (33 mins.)
Conoce la vida de las semillas desde quien las cuida.
Muchos pueblos de las Américas tienen tradiciones relacionadas con el maíz, lo que lo convierte en una planta de especial importancia cultural. En el Ecuador, su ciclo de siembra y cosecha marca fechas y eventos culturales de mucha relevancia. El Inti Raymi, por ejemplo, fiesta del solsticio en la que desde tiempos prehispánicos se celebra al sol y la luz, es también la fiesta principal del maíz. Mazorcas multicolor, humas (un bocadillo a base de harina de maíz) y chicha decoran los altares junto a flores y sahumerios. En este episodio recorremos el país desde el sur, en Saraguro, donde conocemos la fiesta de la Supalata, la fiesta que celebra los últimos granos para dar bienvenida a la nueva cosecha. Para luego llegar a Cotacachi, provincia de Imbabura, muy al norte del país, donde junto a dos mamas sabias aprendemos recetas de cocina y conocemos rituales ancestrales de su cultura kichwa.
Tarpuna means 'to sow' in Kichwa, the ancestral language of the Andes. In the Corn episode of this documentary series, guardians from the highlands of Ecuador share their skills and traditions to preserve, exchange and reproduce their most sacred seed. The episode is a window into the most important indigenous ceremonial rituals centered around the sowing and harvest seasons in September and April-June. Viewers experience a typical day in the celebration of "la Supalata", with dancing and gatherings to honor the "abuelos" or sages during the day, and corn-based food and drink preparations and offerings at night. Traditional healers and cooks in the Saraguro, Loja and Cotacachi regions demonstrate the preparation of corn-based cooking recipes that have ritual and medicinal uses. Viewers take away a practical guide detailing the types, cultural meanings and methods of cooking, preservation, cultivation and honoring of corn in Ecuador.
+Selección oficial VI Festival de Cine Etnográfico del Ecuador. 2021
Raspando coco (31 mins.)
"Raspando coco" (31 mins, 2018) Una antropóloga quiteña viaja a la costa norte del Ecuador, provincia de Esmeraldas, para recoger las historias contadas por abuelas y abuelos afro-ecuatorianos sobre los usos tradicionales del coco en la cocina y medicina local. El documental nos sumerge en las calles, fincas y cocinas de los esmeraldeños y esmeraldeñas, y a su lucha por preservar sus tradiciones de cara a recomendaciones médicas obsoletas y el encarecimiento de sus alimentos locales. El documental presenta remedios caseros y recetas tradicionales casi olvidadas preparadas por abuelas esmeraldeñas, como el chocolate con leche de coco. (subtítulos en español disponibles)
An Ecuadorian anthropologist from Quito travels to the northernmost coastal province of Esmeraldas, Ecuador to gather stories told by Afro-Ecuadorian elders about the traditional uses of coconut in their local cuisine and medicine. The film immerses us in the streets, farms and kitchens of Afro-Ecuadorians in Esmeraldas and their struggle to preserve their traditions in the face of obsolete medical advice and the rising cost of their traditional foods. The film shows nearly forgotten traditional recipes and home remedies made by grandmothers from Esmeraldas, such as hot chocolate made with freshly squeezed coconut milk. (English subtitles available)
+Liberación Film Festival | Afro-Latino Festival (New York, Oct 2019), Official Selection
+Firenze Film Festival (Florence, Sep 2019), Nominated for Best Foreign Documentary
+Latin American Studies Association Film Festival (Boston, May 2019), Official Selection
+Indie Short Fest (Los Angeles, Mar 2019), Nominated for Best Documentary Short
+Independent Shorts Awards (Los Angeles, Mar 2019), Honorable Mention for Best Female Director