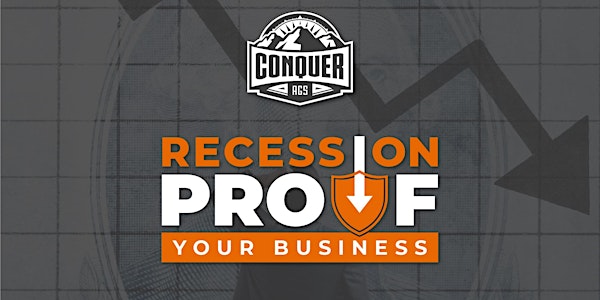 Recession Proof Your Business for Home Improvement Professionals
In this series, we'll dive into key recession-proofing strategies, from finding the right people, to out marketing your competition.
About this event
What are you doing to prepare for the next recession?
What areas does your business need to focus on to ensure it can survive a recession? Take the Recession Readiness Quiz to Determine to Review & Join Us for our Webinars
With escalating gas prices, a drop in consumer spending, and a rise in inflation, it is more important than ever to think strategically about HOW you run your business.
Join Conquer Founder, Brandon Vaughn, as he walks you through tangible goals and areas of focus that you should pay attention to in order to stabilize, grow and support your business!
Join us for an informative session, key takeaways, and a LIVE Q&A in a private ZOOM room with other Certified Conquer Coaches that are also part of the conversation!
In this series, we'll dive into key recession-proofing strategies, from finding the right people, to out market your competition. Register here now! Each webinar will be unique and packed full of data-driven solutions from Brandon and the CONQUER team, so sign up for one or all!
Invite a friend, business partner or other small business in the Home Services, Construction, and Skilled-Trades Industry! Let's support small businesses, the backbone of America by inviting and sharing the information you learn in each session with others.
Great for Business Owners that identify as:
#Electricians, #Plumbers, #Handyman, Roofers, Painters, Pool Care, Home #Cleaning, Home Care, General Contractors, Property Maintenance, #Window Care, Home Services Specialists, Green Living Specialists, Smart Home Installers, Home Security, Solar Panel, Custom Cabinetry, #Fence, #Flooring, #GarageDoor, #Appliance Install & Repair, HVAC, Mold Assessors, Emergency Restoration Services, #JunkRemoval Services, Construction Project Managers, Welders, #Landscapers, Irrigation Specialists, Movers, Historic Home Preservationists, Home Inspectors, Mold Removal, Insulation Experts, Window Installers, Custom Lighting Designers, Audio/Visual Designers & Installers, Home Theater, Spacing Specialists, Surfaces Redesigners, & other hardworking professionals that offer services for home improvement!