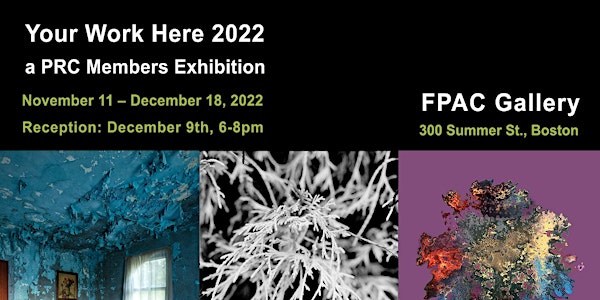 Reception – Your Work Here 2022
Join us at the FPAC Gallery for the PRC's Your Work Here 2022 reception in the heart of Fort Point!
When and where
Location
FPAC Gallery 300 Summer Street 300 Summer St Boston, MA 02210
About this event
A long running tradition and much anticipated annual show, Your Work Here, is on view from November 11th through December 18th at the FPAC Gallery, 300 Summer Street, Boston (gallery hours are Friday through Sunday, 12-6pm). There will be a gallery reception, free and open to the public, on December 9th from 6-8pm. The Photographic Resource Center (PRC) is thrilled to partner with the Fort Point Arts Community (FPAC) on our second exhibition in their gallery. The space is in Fort Point, Boston's first artist neighborhood, and it is a perfect location for this exhibition which will feature more than 30 works from PRC Members.
"Providing exhibition opportunities for photographers at all stages of their careers is an important part of our mission. Your Work Here provides a venue for PRC Members to expand visibility for their work, while also coming together as a community." says PRC Creative Director, Jessica Burko. The show includes a wide range of genres and subject matter in photography such as handmade and alternative processes, documentary, landscape, portraiture, and abstract photography.
Exhibitors in the Boston area include Liz Albert, Judy Bergman Hochberg, Sage Brousseau, Sally Chapman, Gary Duehr, Yorgos Efthymiadis, Mary Gillis, Joe Greene, Katherine Gulla, Lars Janer, Marky Kauffmann, Yangli Liu, Joni Lohr, Joetta Maue, Natalie McGuire, Mona Miri, Bruce Myren, Peg O'Connell, Kate Ploussios, Robert Siegelman, Rebecca Skinner, and Dennis Stein. Your Work Here is made up of photography students, emerging and established photographers, as well as teachers of photography from institutions throughout Boston. The exhibition reflects our diverse membership and our commitment to contemporary photography.