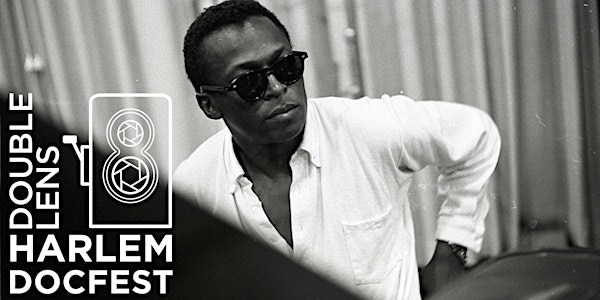 Reception | Miles Davis: Birth of Cool | Closing Night @ Double Lens Harlem DocFest
When and where
Location
Shepard Hall 259 Convent Avenue Room 291 New York, NY 10031
Description


Sunday, November 17, 2019
6PM Closing Reception
7PM Screening
Film: Miles Davis: Birth of the Cool
Director: Stanley Nelson Jr.
Year: 2019
Time: 115min
Join us for this closing night reception (6PM) and screening (7PM) of Miles Davis: Birth of Cool at the Double Lens Harlem Documentary Festival. The festival will run all weekend from November 15-17, 2019 and include an array of social justice, arts and culture documentaries with stories about and affecting Harlem.
Miles Davis: Horn player, bandleader, innovator. Miles was a singular force of nature, the very embodiment of cool. The central theme of Miles Davis' life, and of this film is Davis' restless determination to break boundaries and live life on his own terms. This documentary feature explores archival photos and home movies shot by Miles and his colleagues, his manuscripts and Miles' original paintings, to explore the man behind the music. Featuring interviews with some of the most well-known musicians on the planet, including Jimmy Cobb, Lee Konitz, Herbie Hancock, Wayne Shorter, Ron Carter, Carlos Santana, The Roots, and Flea of the Red Hot Chili Peppers; the film explores why Miles continues to be a relevant voice in today's world. Introduced by Stanley Nelson Jr.
Join us for this free reception and screening of the film with an introduction by Director Stanley Nelson!
6 PM Reception, 6:30pm Doors Open, 7 PM Screening
RSVP only guarantees a seat until 6:45pm
Shepard Hall @ CCNY
Room: 291 on the City College Campus.
259 Convent Avenue @ W. 140th Street.
Presented by: The Documentary Forum @ CCNY, Third World Newsreel, Maysles Documentary Center, New York Latino Film Festival, Harlem Stage
In Collaboration with: City College Center for the Arts, Department of Media and Communication Arts, Black Studies Program @ CCNY

Co-Sponsored by: Imagenation
Made Possible by: The National Endowment for the Arts, The Rifkind Center for Humanities and the Arts at CCNY, The City College of New York.