Reception and Book Signing with West Wingers Contributors!
Description
Reception and Book Signing at The Harvard Coop.
Monday, October 15th at 4:30 pm, Level 3.
West Wingers:
Stories from the Dream Chasers, Change Makers, and Hope Creators Inside the Obama White House
Please join us in welcoming these extraordinary contributors to West Wingers, prior to their event being held at 6:00 pm at The HKS Institute of Politics!
Meet Rumana Ahmed, Ned Price, Gautam Raghavan, Aneesh Raman, Raina Thiele & Stephanie Valencia.
About the book: The Obama White House staff invites us behind-the-scenes of history for a deeply personal and moving look at the presidency and how a president's staff can change the nation. When we elect a president, we elect with them an entire team that will join them in the West Wing to help run the country. Each of these staffers has a story to tell, and in West Wingers, Barack Obama's White House staff reveals how these extraordinary citizens shape the presidency and the nation.
note: this is a book signing only. for more information about the West Wingers event at HKS, visit https://www.hks.harvard.edu/events/west-wingers-personal-stories-public-service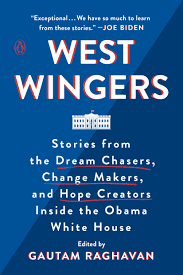 About the authors:
Rumana Ahmed began her career in the White House Office of Presidential Correspondence, then the Office of Public Engagement, where she served as a liaison to Muslim American and other communities. She led the Champions of Change initiative to highlight community-based efforts to address gun violence prevention, health care reform and climate preparedness. Later, as Senior Advisor in the National Security Office's Office for Global Engagement and Strategic Communications, she worked to advance relations with Cuba and promote global entrepreneurship among women and youth. She authored an article named the 23rd most-read online article of 2017.
Ned Price began his career in the CIA as an intelligence analyst in 2006, later becoming a spokesperson for the agency. In 2014, he joined the Obama administration on the National Security Council, advising the President on matters of foreign policy and national security, first as director of strategic communications and later as NSC spokesperson. He is the Director of Policy and Communications of the National Security Action network.
Gautam Raghavan served as President Barack Obama's liaison to the LGBTQ community as well as the Asian American and Pacific Islander community from 2011 to 2014. Earlier in the Obama administration, he worked for the U.S. Department of Defense and served on the Pentagon's "Don't Ask, Don't Tell" working group. Earlier in his political career, Raghavan worked for Progressive Majority, the Democratic National Committee, and the 2008 Obama campaign. Today, he serves as executive director of the Indian American Impact Project & Fund and as an advisor to the Biden Foundation.
Raina Thiele worked in the White House Office of Intergovernmental Affairs, where she focused on tribal governments and advised on climate change, Arctic, and energy issues. She was also a lead organizer of President Obama's trip to Alaska in the fall of 2015. Earlier, Raina served for nearly five years in the White House Office of Management and Budget, where she worked on a wide variety of issues, including tribal legislation, international affairs, and energy. She is Dena'ina Athabascan and Yup'ik and is a proud Alaskan.
Stephanie Valencia worked for Barack Obama for nearly a decade, starting as deputy Latino vote director on the 2008 campaign, and then serving on the Obama- Biden transition team before joining the White House at the start of the first term. Valencia ended her time at the White House as special assistant to the President and principal deputy director in the Office of Public Engagement.
Aneesh Raman was a speechwriter for President Obama from 2011 to 2013, following a year at the Pentagon and two years as speechwriter to Treasury secretary Tim Geithner amidst a historic financial crisis. From 2004 to 2008 he was a foreign correspondent for CNN, first based out of Southeast Asia and later the Middle East, where he spent a year as the network's Baghdad correspondent during the Iraq War.