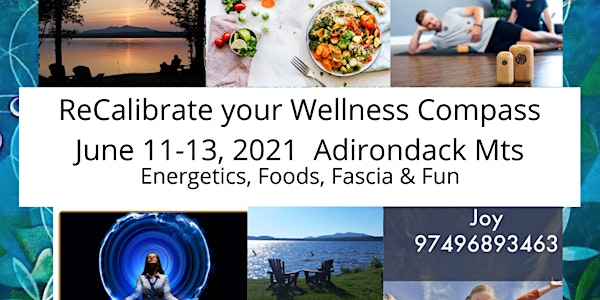 Recalibrate your Wellness Compass
A fun, multi-faceted weekend of nourishing and re-calibrating of your holistic (multi-dimensional) body though Foods, Frequency & Fun
When and where
Location
Lake Clear Lodge & Retreat 6319 New York 30 Lake Clear, NY 12945
Refund Policy
Refunds up to 30 days before event
About this event
Join us for food, frequency, fascia, energetics and fun for Body, Mind & Spirit!
See more at www.lakeclearlodge.com and www.nourishing9d.com/retreatjune2021
Re-Calibrating Your Wellness Compass
Spring is a perfect time to Recalibrate your Body, Mind & Spirit from the year behind us.
This will be a fun, multi-faceted weekend of nourishing and re-calibrating of your holistic (multi-dimensional) body though Foods, Frequency & Fun. Body, Mind & Spirit!!
Come to join a wonderful group of energists and energist trainees! Empowering yourselves to move through the day with mindful processes from the practical to the quantum realm. Learn time-tested methods of upping the quality of your food preparations, keeping your mind free of downers, and even balancing your body through a unique and super simple fascia technique. Take out home multiple tools and even a notebook of things to learn, do and add to. This is going to be fun and truly empowering for the days to come. Canoe and kayak, take part in fireside chats!
In this very unique weekend of workshops you will be:
Introduced to Nutritional Energetics and the 9 levels that you can nourish all parts of YOU.
Introduced to 3 awesome Guest Speakers connecting Mond, Body & Soul
Learn how to disconnect the triggers that ruin your day – with Syacey Nye
Learn how to look at disease in an empowered way – Understand the 5 Biological Laws of our Body – with Deanna Courtney
Discover how to "manage your globe" and return to center and the natural Wholeness and Health of you with Lisa Warner
See more here www.nourishing9d.com/retreatjune2021 for videos and intros to topics by our guest speakers
Interact in new ways to think about food and nourishment. Nourishment is more complex than "just a diet" - but in learning why, your correct food choices will become very easy - and you won't need another conventional diet.
Learn about exciting wellness principles such as your "energetic blueprint" and how you can learn to communicate with it to be more in tuned to who you are.
All of this will be done in a fun, interactive manner with the idea to bring home with you:
9 Tips on how you can improve the nutrients, enzymes and vitamins just by changing the preparation method
6 Ways to monitor your multi-dimensional body - learn how to release and remove energetic "charges" that trigger your emotions - any why some of them are not even "yours"
3 Follow Up Group Classes
1 Follow up Group Session
How to Book
1) Book your virtual or day ticket here on EventbriteBring your family! Not everyone who comes has to come to Wellness workshops
2) Book your lodging and meal package by clicking here.Type in dates starting Wed June 9th if you want to come early. Stay 2-4 days (for a week long retreat call Cathy at (518) 891 1489.- The conference itself is Friday afternoon to Sunday noonish
What's Happening?
Prior to the weekend:
Intro to Kinesiology and how you learn to use it for yourself
Intro to the 5 Biological Laws of Nature
A free FIX Code Session
Friday
Health fair tables to explore
Dinner Workshop - Intro to the 9 Levels of Multidimensional Energetics
Fireside Meet and Greet and relax with others
Saturday
Morning activity TBD - based on weather
Brunch workshop - Preparations that make food "Super Nourishing"
How Emotions can Affect disease and Body symptoms1) The FIX Code with Stacey Nye2) The Ancient BioCodes and the 5 Biological laws , Deanna
Block Therapy or Walk/Canoe/Kayak
Dinner workshop
"Dessert Workshop" Your Energetic Blueprint
After Dinner Wellness
"Spirit Talks around the fire" with Lisa Warner
Tables and Q&A, informal discussions
Sunday
Morning activity TBD - based on weather
11-12 Brunch workshop - Preparations that make food "Super Nourishing"
12-2: More on "Multidimensional Nourishment"
Creating Your Multidimensional Tool Kit for Home Use - Practical Solutions for Home, Work, Office
Sunday PM and Monday (optional)...Stay additional days for the discounted price
Explore
Nature - canoe, kayak, walk the Labyrinth, walk/hike trails
Block Therapy (for fascia )
Real Foods - non Diet wellness
Ancient Biocodes
Cooking Classes
Light wave Patches (meridian flow)
Essential Oils and Cooking with Essential Oils
Presenters
Cathy Hohmeyer (onsite)
Stacey Nye - Virtual & Live from Canada
Lisa Warner onsite
Deanna Courtney - onsite
Deposits / Cancellation : 50% deposit to hold, returnable by May 15, after that it is usable towards a future stay. Full deposit balance is due 2 weeks prior to the weekend and non-refundable . Please consider travel insurance.
Questions? Call Cathy (518) 891-1489. Or text / chat with us off our website www.lakeclearlodge.com.