Description
Live webinar
We hear much about faith when encountering a loss, but what happens to faith and hope when suffering a substantial blow? The psychological and emotional pieces left bruised and broken hardly get any notice and are often drowned out by well-intended cries to "keep the faith."
In this presentation, we will look closely at what actually happens when we suffer a significant loss that contains enough power to throw our worldview into turmoil and will not hold one faith or spiritual practice over another. Instead, it validates the sacredness of each theological, non-theological, and spiritual perspective. The goal is simple: how to activate movement in a seemingly helpless position and empower you with choices, each without a taint of judgment, so that you can shift into a more meaning-making future.
---
Presenter
Kevin Quiles, MDiv, MA, LPC, RYT
---
Event Details
Registration is FREE and open to the public. Continuing education is not available for this program.
---
ABOUT THE PRESENTER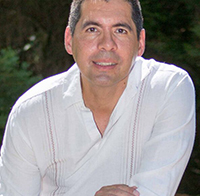 Kevin Quiles, MDiv, MA, LPC, RYT began his military service in the Navy Reserves as chaplain and in 2003 deployed to Afghanistan for one tour. Upon his return to the states, he provided support to family members during casualty assistance calls and by facilitating memorial services. Kevin also supplied spiritual care as hospice chaplain to the terminally-ill for 15 years and for the past 9 years has offered individual and couples counseling as a licensed professional counselor in Georgia.
---
How do I view the webinar?
Viewing instructions will be emailed to you several times in the days leading up to the webinar.
How can I contact the organizer with questions?
Email Institute@taps.org or call 800-959-8277.
Presented by Boeing