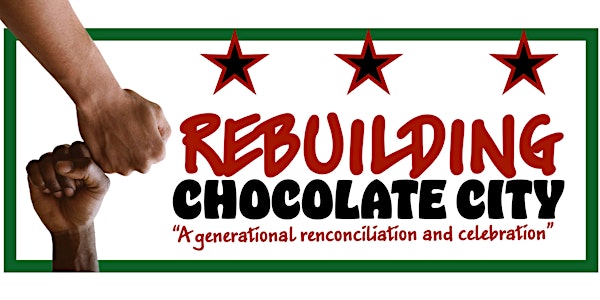 Rebuilding Chocolate City
An event aimed at raising awareness on Black business & equity in the District of Columbia, asserting visibility, and building community.
When and where
Location
Sandlot Anacostia 633 Howard Road Southeast Washington, DC 20020
About this event
With the 2022 elections in near sight, it is important to begin rebuilding the "Chocolate City" DC once was and reempowering our community through an unapologetically black narrative and assertion.
"Reclaiming Chocolate City", hosted at Sandlot Anacostia on November 5th by Generational Equity Movement in partnership with Disturbing Inequity and other organizations, is an active attempt to rebuild and reinvent what has been stripped from us in what we have once called "Chocolate City". With governmental institutions constantly attempting to disband our communities and culture through gentrification and systemically oppressive mediums; we stand in solidarity against the oppressive forces that continue to plague our community to this day.
We encourage those unaware of these social injustices to vote, to be heard, and to empower the voice of those whose beliefs were taught to be suppressed.
An onsite resource desk will be provided to aid people in their voter registrations, get connected to lawyers, and more. We will also have an interactive voter panel discussion to educate our people in the importance of voting for the upcoming elections in addition to homeownership courses. Attendees will be provided with food vouchers to support numerous black owned restaurants and food trucks in the area.
We will be hosting this festival in an attempt to celebrate and encourage black political power and black joy. We gather to celebrate and promote the sustenance of black businesses and organizations. To celebrate black people of all backgrounds and social status, black community members, black women, black LGBTQ folks, local activists, and political figures to reclaim what has been taken from us.
With an array of activities founded upon the pillars of black culture, a DJ with music, roller skating, performance competitions, and soulful food we hope to gather our people in the culture and environment we have always loved. A culture that feels like home, an environment that is loud and strong and speaks to the blackness and affinity black people share collectively. It is integral for the continued fight for equality to be founded upon the ideals and the indulgence of a people and a culture that speaks directly to the needs of the people who resemble ourselves.
We are attempting to abolish these systems through active black voter participation and reconsolidation of the black image, a threat that the systemically oppressive forces of white society cannot ignore.
FREE vendor booths are available to small businesses and organizations. Email abiola@theabiola.com to reserve your slot.
For all press inquiries, email pr@theabiola.com.