| | |
| --- | --- |
| Rebuild And Dance Prayer And Devotions | |
Event Details

Greetings worship dance ministry leader,
The Lord is rebuilding you so that you will dance with power.
 Jeremiah 31:3-4.
"I will build you up again and you will be rebuilt, O Virgin Israel."
 Again you will take up your tambourines and go out to dance with the joyful."
Join me and worship praise dance leaders from all over the world for a life changing
adventure in the book of Jeremiah through study and prayer. 


The 52 week devotions in the book of Jeremiah started in Jan. 2012 and will continue
for the entire year until Dec 2012. Every Tuesday morning 6:30 AM Eastern NYC time.

Come join us for Rebuild and Dance morning prayer and devotions and I will send you the 
weekly prayer call information, the  weekly Jeremiah devotional teaching, recordings and
This is your time to rebuild and dance
Organizer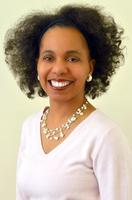 What are people saying about Jocelyn's Ministry?
"Jocelyn, thank you for your anointed and powerful ministry. We are going to have you back." – Keith Childress, Minister of Music, New Life Church, Clinton, MD
"Your anointed ministry was such a vital part of this conference. It made a positive impact upon the lives of all who were in attendance." – Rev. Jacqueline E. McCullough

Jocelyn has served as the chief dancer and choreographer for the Elim International Fellowship in Brooklyn, New York under the visionary leadership of Archbishop Wilbert S. McKinley for ten years. As an anointed dance minister and conference speaker, Jocelyn has ministered for churches and Christian organizations throughout the United States and the Caribbean. Jocelyn has also been involved in arts education in both public and private schools for over twenty years. She began her formal dance education as a child, studying at the Joffery Ballet School, and the Alvin Ailey American Dance Theatre School. Jocelyn has a BA degree in Dance from The City College of New York.
Ministry Assignments At-A-Glance
· Daniel Winans Concert
· Evangelist Jackie McCullough's Family Conferences
· Barbados International Gospelfest
· Bahamas Christian Dance Fellowship
· Caribbean Dance Network Bahamas 
· Christian Dance Fellowship USA
· Recording Artist, Keith Childress Concert & Worship Symposium
· Living Waters Worship Center Conference & Concert with Alvin Slaughter
· Elim International Fellowship, Brooklyn New York Archbishop Wilbert McKinley
· Kingsley Fletcher Ministries, Durham, North Carolina