REBROADCAST: 9th ANNUAL REV. DR. MARTIN LUTHER KING JR. PRAYER BREAKFAST
Top Ladies of Distinction, Inc., Prince Georges County Chapter 9th Annual Rev. Dr. Martin Luther King, Jr. Prayer Breakfast
About this event
Set your table with your favorite breakfast and brunch items and join the Top Ladies of Distinction, Inc., Prince George's County Chapter for the REBROADCAST of the 9th Annual Rev. Dr. Martin Luther King Jr. Prayer Breakfast on Monday, January 18, 2021, at 11:00 am. By Faith: Still Serving, Still Standing.
As we exit 2020 and embrace 2021, we recognize the challenges and obstacles we have overcome. Although we won't assemble personally, we look forward to virtual fellowship with music, prayer, and an encouraging word from our guest speaker, our very own Chaplain, Lady Kristin Cokley; all from the comfort of your dining table!
While we continue to push forward in service, we appreciate your monetary donations to help support both the Top Ladies of Distinction and the Top Teens of America programs and projects.
After registering, you will receive a confirmation email with the Zoom link to join the event.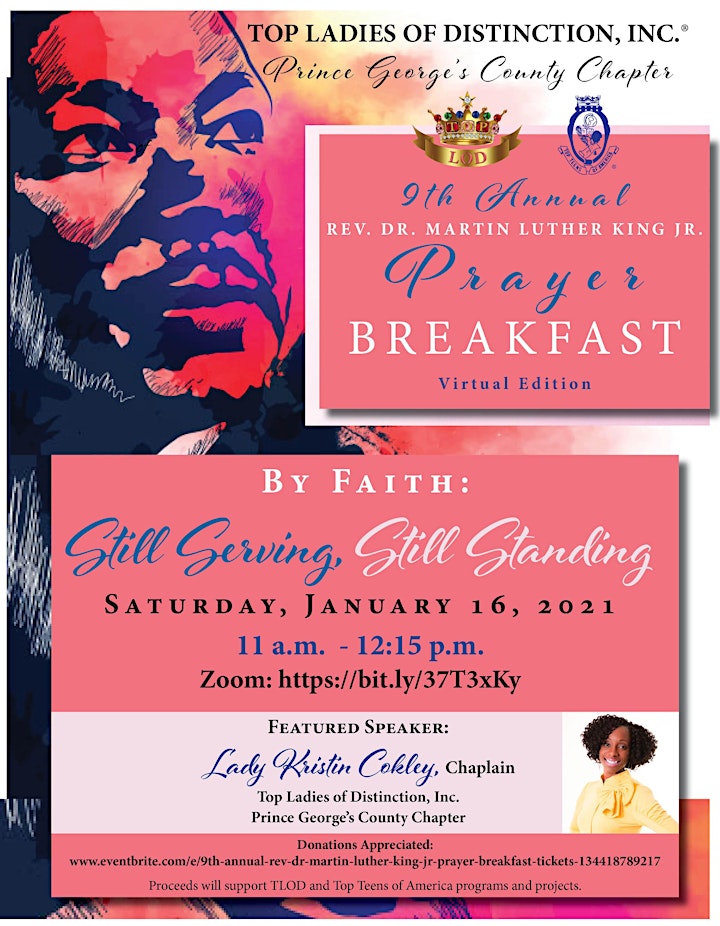 Organizer of REBROADCAST: 9th ANNUAL REV. DR. MARTIN LUTHER KING JR. PRAYER BREAKFAST
The Prince George's County Chapter of Top Ladies of Distinction, Inc. is a nonprofit 501(C) (3)  organization whose mission is to provide exemplary community service to youth, women, and senior citizens so that their quality of life will be enhanced, as well as the communities in which they live.