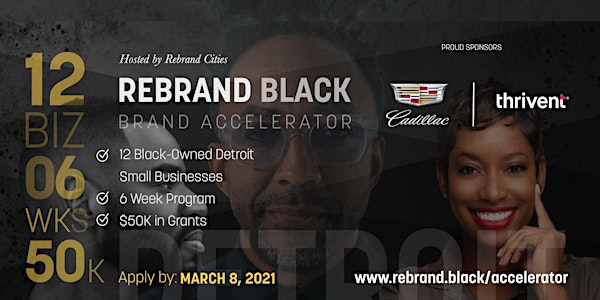 Rebrand Black Brand Accelerator
An amazing opportunity for Black Detroit businesses to amplify the voice of their business for a chance to win $25,000.
About this event
Congratulations! You've journeyed into the land of entrepreneurship as a Black entrepreneur strengthening your community, diversifying the local ecosystem, providing quality goods and services, building generational wealth and creating your legacy. You and your business add to the inherent richness of Black culture. You are Black history!
What is your unique culture add? What is the soundtrack of your buisness are on repeat in the minds and heart of your clientele? How do you show up for them? For the culture? We want to help you amplify that voice through this transformational accelerator experience.
Rebrand Black is a celebration of Black genius and innovation through various mediums including this Rebrand Black Accelerator. We are excited to partner with Cadillac and Thrivent. The twelve (12) selected participating businesses will compete for prizes totaling $50,000!
Prizes
Grand Prize: $25,000
1st Place: $10,000
2nd Place: $5,000
*All remaining 9 - participants who did not place for the top three grants will receive $1,250 each.
Businesses Will Receive
Professional Headshots for each participant
Professionally shot videos of each participants' pitch
Weekly Transformational sessions with Subject Matter Experts
Requirements:
Must be a registered, Black-owned business (EIN number verified)
Business must be Detroit based (within 75 miles of city center)
Current / active product or service offering
Be able to articulate what problem the product / service solves
Refer to the Official Rules for more info >> www.rebrand.black/accelerator
Time Commitment for the Business Owner:
Weekly Sessions (5 weeks): April 13th - May 11th (Tuesdays, 6:30p-8:30p)
Pitch Competition Prep: May 22nd (2 hours)
The experience will be supplemented with support via a virtual office hour offering and peer to peer learning.
The system has been adjusted to allow more time for you to complete your responses. You may also edit your responses up to the deadline, March 8th at 11:59 PM. f you have any questions, please contact us at hello@rebrand.city.