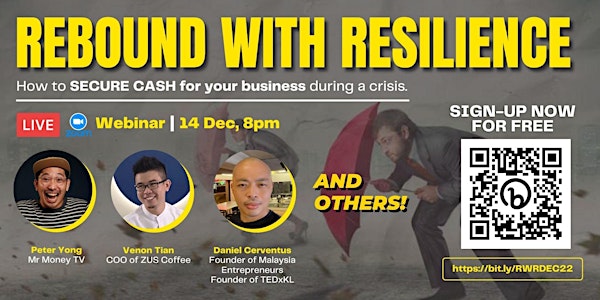 Rebound With Resilience. | SECURE CASH for your business during a CRISIS!
Are you running your own SME business or start-up? In this webinar, we will be sharing with you how to prepare your business for a CRISIS!
Refund Policy
Contact the organizer to request a refund.
About this event
ABOUT THIS EVENT
Rebound With Resilience is a forum aimed to provide a platform for owners of SMEs and startups to manoeuvre potential economic uncertainties, and be financially as well as emotionally ready in their business journey.
As 2022 is coming to an end, many are foreseeing the recession will be hitting in the upcoming year. What concern the most for many businesses and entrepreneurs is that how will the market react? How would your businesses be affected? Most importantly, what are some of the strategy that you can take to build a recession proof business plan that thrive through a crisis?
Join us in this discussion with our experienced line-up of panelist to find out!
WHAT WILL YOU BE LEARNING?
In this 2 hours webinar, we will be discussing:
What are the main factors that causes business failure during times of crises and how your business can avoid them.
What are the solutions to it and how to come up with a business plan prior to a red flag.
What are the best ways to secure cash for your business during crisis: equity fund raising vs business financing.
And more!
Peter Yong, Mr Money TV
He is the founder of FinLit Media, a media start-up that focuses on transforming lives through edutainment content. Peter is also known as the host for Mr Money TV, the first financial channel in Malaysia. Through his creative story telling process, he simplifies complex financial concepts into informative content that people can act upon, worked on multiple content marketing campaigns with different financial institutions internationally and locally such as BSN, PNB, Prudential, etc, in improving the quality of life among Malaysians with financial literacy. Prior to starting his second venture, he also succeed in his career in building a financial planning business with more than 10 years experience as a financial advisor.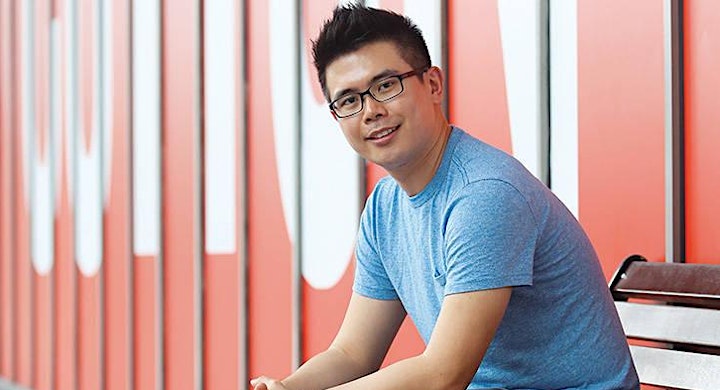 Venon Tian, Chief Operating Officer of ZUS Coffee
Venon joined the ZUS Coffee family in December 2020. A law grad, Venon preaches operational excellence, and leads the company on all strategic front and operational matters, setting up the core structure and is responsible for the business' transformation. Prior to joining ZUS Coffee, Venon was a serial entrepreneur and has co-founded several other businesses which includes eziPOD (IOT), Asia Digital Capital (investments/ e-commerce), and a super franchisee for a leading retail chain.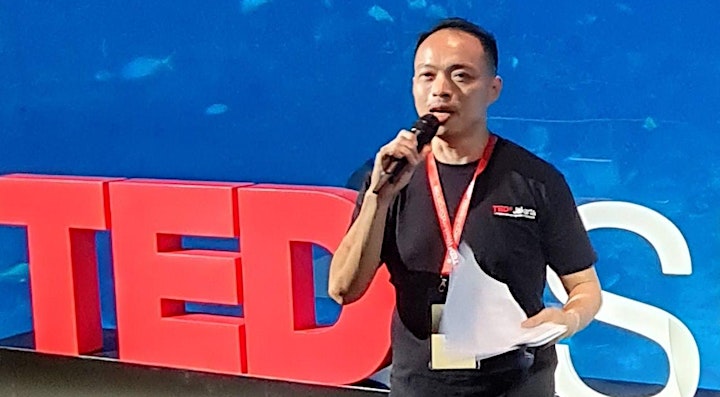 Daniel Cerventus, TEDxKL Founder
Daniel is a long time entrepreneur and ran a few businesses over the years from education tourism to events and software development. Over the years he has worked with clients such as Bank Negara Malaysia, Petronas, Telenor, Roche Pharma, Khanaznah Malaysia, Paypal, Google and Facebook. He is also the founding curator of TEDxKL, one of the largest TEDx in the world and currently serving as TEDx Ambassador for South East Asia. Daniel also runs one of the largest entrepreneur community in South East Asia with around 50K members.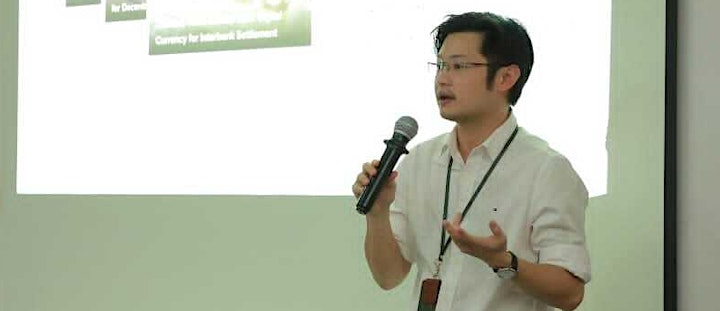 Kevin Shum, Head of Digital SME, Alliance Bank Berhad
Kevin Shum is currently the Head of Digital for the SME Business in Alliance Bank. Within 18 months of his stint, he spearheaded the Digital SME business with key transformational initiatives, putting emphasis on customer experience, thus clinching the Silver Award for Best Use of CX Technology in CX Asia Excellence Awards 2022.
Prior to joining Alliance Bank, Kevin was a Director with Accenture, where he worked with regional and global financial institutions across Asia-Pacific, United States and the United Kingdom to transform their business and risk capabilities.
After his stint in the United States, he returned to Asia to venture into his entrepreneurial journey, where he became the Founding CEO for 1 of the 4 licensed blockchain exchanges in Malaysia, which was subsequently invested by global fintech firm, Binance. He has also successfully established an e-wallet business licensed by Bank Negara Malaysia to drive strategic priorities for MyEG, a leading e-government solutions and services provider.
With his accumulated wealth of banking and fintech experience, he is also a mentor and advisor for multiple fintech startups in Malaysia.
FAQ
Q: Who should join this event?
If you are an entrepreneur or running a business, this event would be ideal for you! Or if you are in charge of your company financing, you are welcomed to join, learn and share the ideas to your team!
Q: I can't attend during the session, do you have a replay?
Yes! The session will be recorded and the replay will be sent to your registered email after the session. The replay will be available up to 72 hours.
Terms & Conditions
Please note that by signing up for this event, you agree and consent that we and our sponsored partners of this event, from time to time, will promote and share with you the products and/or any marketing campaigns through email, SMS, and/or call, from the personal data and contacts that you've shared from the sign-up form you filled in this event. You can, at any time if you decide, to opt out and stop receiving these offers and/or promotions, by unsubscribing to the email marketing from us and/or our partners, and we will see to your request. With your consent by signing-up for this event, or with an opportunity for you to withdraw consent, we may share your information with third-parties for marketing purposes, as permitted by the law. The event organizer reserves the rights to cancel and/or reject any orders made.