Description
Are you running in circles repeating the same old patterns? Do you feel frustrated, stuck or unfulfilled? Do you want to enhance your well-being? Remember what Albert Einstein said: "We can't solve problems by using the same kind of thinking we used when we created them"? Nothing is going to change unless you make a shift within; change the way you experience life and yourself.
The reason a lot of people can't become who they want to be is because they are too attached to who they've been. In order to break free from your old self you need to admit that your current way of being is not working and, instead, commit to stepping into your own power to create a life you love. How do you achieve that? By creating new positive habits on mastering conscious mind and sensual body. When connected, they together can help you make choices beneficial for your well-being instead of repeating pre-conditioned patterns that helped you once before. During this transformational process it is important to have guidance and support of a like-minded community.
If you are ready to break free and play big but don't know how, please join my 21-day online course REBORN. We'll be practicing kundalini, white tantra, and other conscious living techniques that connect mind and body and enhance your well-being.

Pre-requisite: your commitment to yourself
Contact maya@consciouslytransform.com with any questions.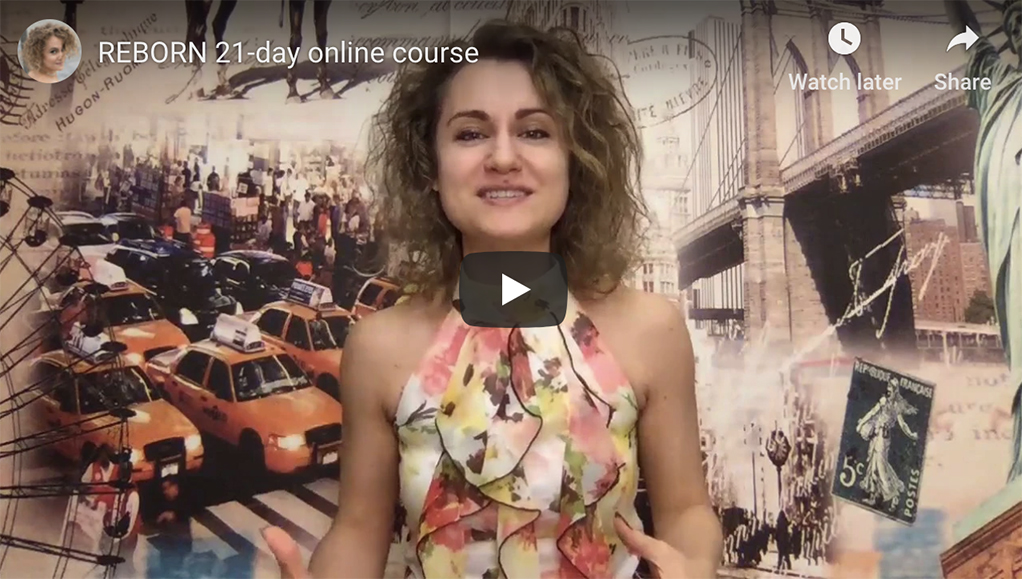 IN THIS ONLINE COURSE YOU'LL LEARN how to:
Develop positive thinking for self-empowerment

Release negative emotions through body movement

Use breathwork to sense your body better

Use meditation and visualization to attract abundance and desired outcomes into your life

Move your energy through energy centers to balance them out

Elevate your vibrations

Perform self-healing practices
COURSE DETAILS:
There is a total of 6 modules. We will spend three days working on each module. Each module will include yoga, meditation and other conscious living practices. You will be sharing your home assignments, successes and challenges daily with me and the group.
Module 1 – Appreciation
Module 2 – Pleasure
Module 3 – Release
Module 4 – Observation
Module 5 – Expansion
Module 6 – Manifestation

COURSE LOGISTICS:
You will have access to an online community classroom and discussion board.

On Feb 17th 12PM – 1.30PM EST we will have an introductory session via zoom. We will share our intentions for the course.

The new learning material will be available online every Mondays and Thursdays. The material will include a module description, yoga practices and a home assignment.

We will have a live Zoom session with the entire group every

Sundays 12PM -1.30PM EST for Q&A and to share your experiences of your practice throughout the week.