Reboot - Inverclyde - by WEvolution
Reboot - Inverclyde - A walk with Leader and Coach Marion Morrison
About this event
A walk and group coaching session in Inverclyde on 23 August and 8 September up Corlic Hill. The walk will start at 10 am at Corlic Hill, PA15 3EG. There is parking on the left side of the Road. It is about ½ mile past the Whinhill Golf Course.
10am-1pm / 10 spaces available.
Join us and Life Coach Marion Morrison, founder of Invincible Grit, for six coaching wanders across Glasgow, Renfrewshire and Inverclyde this Summer to help you prioritise 'you'. We're a community of people supporting each other to make ideas happen – together or individually; from pursuing side-projects to launching micro-businesses, we're a mixed bunch. These walks are here to help anyone reconnect, explore their aspirations and build connections within a supportive community working towards the same goal.
If you're keen to make time for yourself, come along.
What is it?
- Guided walk
- Opportunity to focus on 'you' with walk leader and coach, Marion Morrison.
- Be part of a supportive community creating opportunities for themselves
- Find out about SRGs and how to join one
Who is it suitable for?
- These walks will cover approximately 8-10km
- This is an adult-only adventure
What do I need on the day?
- A pair of shoes, bottle of water and rain jacket (just incase)
Cost?
We always aim to create things of value here and really hope you get lots from this event. We also never attach a cost to our services because price tags can be a barrier and we want our events to be accessible to all. In exchange for joining us, we'd love for you to donate 'something' of meaning to us. Here are some ideas but please feel free to create your own!
Ø Invite a friend to our next event. Word of mouth is a powerful thing.
Ø Make a small donation here: https://bit.ly/WevoPayPal (Whatever you feel comfortable with)
Ø Share your experience of the event with us afterwards by contributing to an interview/blog post.
Ø Leave us a short testimonial we can share on social media
Ø Have something else in mind that will help this movement grow? Get in touch!
The above are all just suggestions and in no way obligatory. Anything you can provide us with will be greatly appreciated and go a long way in helping the SRG movement!
#meetsavecreate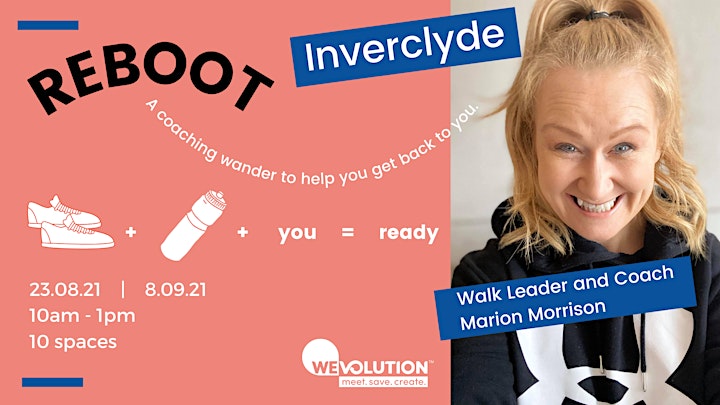 Organizer of Reboot - Inverclyde - by WEvolution
Here's the thing: every single one of us has aspirations; to be more, to do more. But life can be ruddy tough, and dreams don't pay bills, so who has time for trying new things, right?
That's where we come in.
WEvolution supports people to convert ideas into income generating activities. Visit our website for more information: srgmovement.com

Join us to do something a bit different, or just meet people. No skills/business plans/confidence required.