Description
Rebis, an immersive theater company, is hosting low-cost open workshops for all levels of immersive storytellers the second Tuesday of every month from 5:00pm-7:00pm @ Arts on Site on St Marks Place. These are held to create space for artists to train, share, and build a community around storytelling and immersive performance at a low cost.
Rebis company members will facilitate acting and movement based exercises, techniques, and methods and how they can be applied to immersive performance.
Next Up: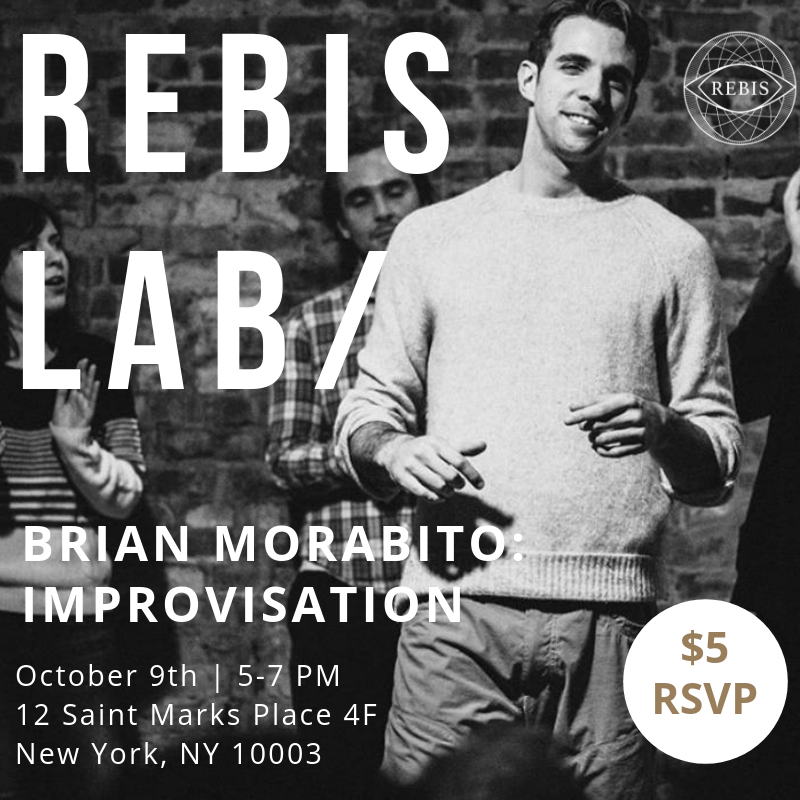 Rebis Lab Workshops can include training in:
Ensemble Technique
Stanislavski
Meisner
Grotowski
Suzuki
Michael Chekhov
Laban
Linklater
Lecoq Levels of Tension
Principles of Storytelling
Improvisation
Clowning
Game Theater
Voice and Speech
Mindfulness
---
Rebis Lab Workshops are $5 to reserve a spot online or $10 at the door.
Available to performers, storytellers, and theater creators of all backgrounds.
RSVP/Ticket required.
---
Schedule:
Tuesday, October 9th: Brian Morabito - Intro to Improv
Tuesday, November 13th: Jesse Carrey - Physical Storytelling
Tuesday, December 11th: Craig Dolezal - Voice for the Actor
More classes to be announced soon!
---
Rebis TEACHING ARTISTS:
Jesse Carrey-Beaver: Co-Founder
Character Development
Contact Improvisation
Phrasework
Physical Storytelling
Katya Stepanov: Co-Founder
Rebis Ensemble Method
Draznin Technique
Verb Exploration
Physical Listening
Devising Etudes
Thomas Constantine Moore: Founding Member
Eric Morris Technique
Monologue/Scene Work
The art of BEING
Grady Shea: Company Member
Morning Preparation
Suzuki
Laban
Viewpoints
Alexander Technique
Christy Casey: Guest Artist
Interactive Theater
Creating an experience for your audience
Tools for the Immersive Performer
Brian Morabito: Guest Artist
Improv
Sketch Comedy
Building Character Personalities
Craig Dolezal: Guest Artist
Voice and Diction
Fitzmaurice Technique
~~~~~~~
Rebis Lab is an ongoing series of workshops and intensives for performers looking to deepen our abilities as storytellers and bring to the surface an active means of connecting and supporting each other in a safe space. Each workshop is guided by Rebis company members, and our int/adv intensives are lead by company members or guest artists in a specific facet of storytelling.
To join us and stay in the loop about future intensives and workshops, request to join Rebis Lab on Facebook.
If you'd like to subscribe with your email and follow Rebis as it develops a new immersive adaptation, visit www.RebisImmersive.com and subscribe to our newsletter!
Instagram: @rebis_immersive