About this Event
Where do the best ideas come from?
And how do we apply these ideas to the problems we face - at work, in the education of our children, and in the biggest shared challenges of our age: rising obesity, terrorism and climate change?
In this bold and inspiring new book, Matthew Syed - the bestselling author of Bounce and Black Box Thinking - argues that individual intelligence is no longer enough; that the only way to tackle these complex problems is to harness the power of our 'cognitive diversity'.
Join Rebel Book Club and Matthew for the launch of 'Rebel Ideas' at Entrepreneur First.
Price includes ticket to the event, a hardback copy of Rebel Ideas and a book-themed cocktail.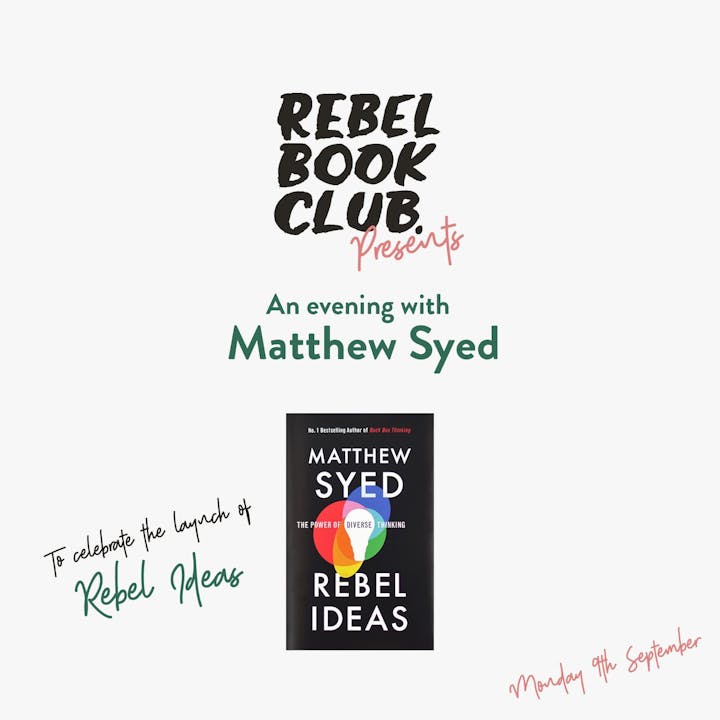 More on Rebel Ideas
Rebel Ideas is a fascinating journey through the science of team performance. It draws on psychology, economics, anthropology and genetics, and takes lessons from a dazzling range of case-studies, including the catastrophic intelligence failings of the CIA before 9/11, a communication breakdown at the top of Mount Everest, and a moving tale of deradicalization in America's deep South.
It is a book that will strengthen any company, institution or team, but it also offers many individual applications too: the remarkable benefits of personalised nutrition, advice on how to break free of the echo chambers that surround us, and tips on how we can all develop an 'outsider mindset'.
Rebel Ideas offers a radical blueprint for creative problem-solving. It challenges hierarchies, encourages constructive dissent and forces us to think again about where the best ideas come from.
We are a non-fiction book club and community that helps people accelerate their reading habits and connect with like-minded thinkers and doers. Every month (since May 2015) we read one non-fiction book and then meet. We currently have 600 members in 5 cities.
We read Black Box Thinking in 2017 so are excited to be hosting Matthew for the launch of his new book.
Entrepreneur First is the best place in the world to find your co-founder and build a technology startup from scratch. It is a highly charged environment designed to bring people together and help them realise their potential. We pioneered this model, and over the past seven years, we've built more startups this way than anyone else.
EF's London HQ - The Biscuit Factory - will be our venue for the event. 10 minutes walk from Bermondsey station. Parking is also available.