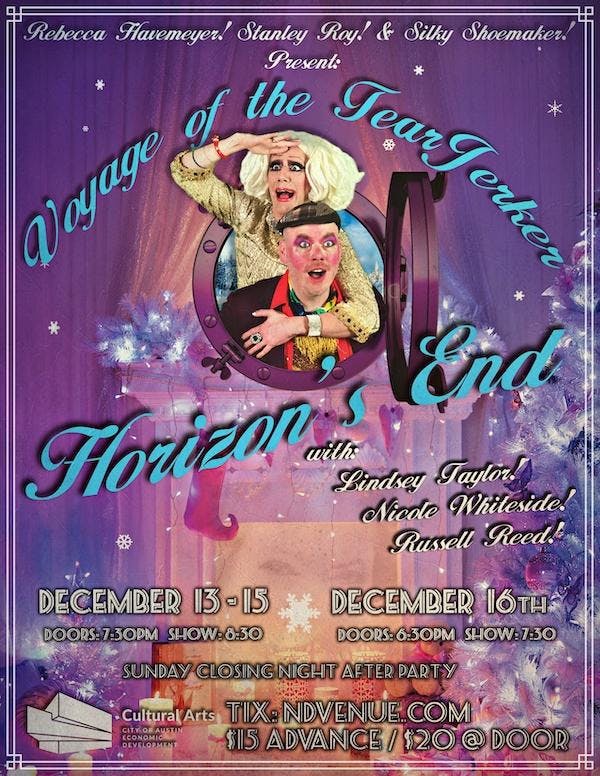 About this Event
Rebecca Havemeyer & Stanley Roy present: 
THE VOYAGE OF THE TEARJERKER : HORIZONS END!
Oh sweet Holy Night! Oh blessed Jinglin' Bells! Tha' mighty rush of Christmas waves are awash upon your holiday shores! Spectacular in their glory and effervescent in their olfactory, Rebecca Havemeyer and Stanley Roy bring to you...THE VOYAGE OF THE TEARJERKER : HORIZONS END! Embark on the greatest and most forgettable Holiday adventure yet as your hosts light tha' fires and butter tha' rums alongside the yuletide talents of the amazing Mitzi Meyers! Lindsey Taylor! Nicole Whiteside! Russell Reed! and the infinitely incrediblè Silky Shoemaker! There will be light in this dark world once again!
--------------------------------------------------------
PERFORMANCES: DECEMBER 13th-16th
THURS - SAT : Door 7:30pm / Show 8:30pm
SUNDAY Door 6:30pm / Show 7:30pm w Afterparty at ND!
$15 PRE SALE / $20 DOOR 
This project is supported in part by the Cultural Arts Division of the City of Austin Economic Development Department.