RebbeSoul Havdallah Concert

Saturday, April 8, 2017 from 8:10 PM to 10:30 PM (PDT)
Event Details
Dear Friends,
I am very excited to invite you to a special event featuring one of my favorite musicians and friend: international, recording artist, RebbeSoul.
He is back in the States for a short time from Israel, shariung his unique & resonant sound: a blend of ancient melodies artistically blended with sontemporary nuance.
Join us for a memorable evening of music, story telling, light nosh, and community.
Looking forward,
Rabbi Tmimah Ickovits
Founding Rabbi, Holistic Jew
FOR MORE INFO and/or TICKETS: Click the "ATTEND EVENT" or "GET TICKETS" Button!
ADVANCE RESERVATIONS CLOSE AT 2PM, FRIDAY APRIL 7TH.  AFTER THAT TIME, YOU MAY BUY YOUR TICKETS AT THE DOOR THE DAY OF THE PERFORMANCE, AFTER SUNDOWN.  PLEASE CALL 310 430 9864 FOR INFORMATION.  IF YOU LEAVE A MESSAGE, YOUR CALL WILL BE RETURNED AFTER SUNDOWN SATURDAY.
Doors open 8:10pm. Havdalah Ceremony at 8:40pm followed by the concert.
Seating limited to 40 people, so get your tickets early!
**Address to my home in Santa Monica and parking information will be provided upon registration for the concert
Two options...
$25 in advance per person for admission only (or $29 at the door)

$29.99 in advance per person for admission, AND a CD download card for a RebbeSoul recording of your choice!
More download cards and CDs will be available and for sale at the event
---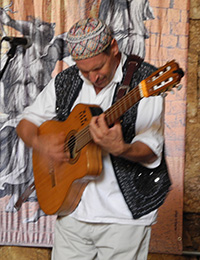 A versatile musician with an innate gift for telling a story, RebbeSoul brings a new voice to the sometimes-stagnant realm of Jewish music. He blends rock sensibilities, world-fusion stylings and traditional Hebrew melodies to create a sound that is ageless yet completely progressive. He lists his influences: "from Alabama to Zappa." - All Music Guide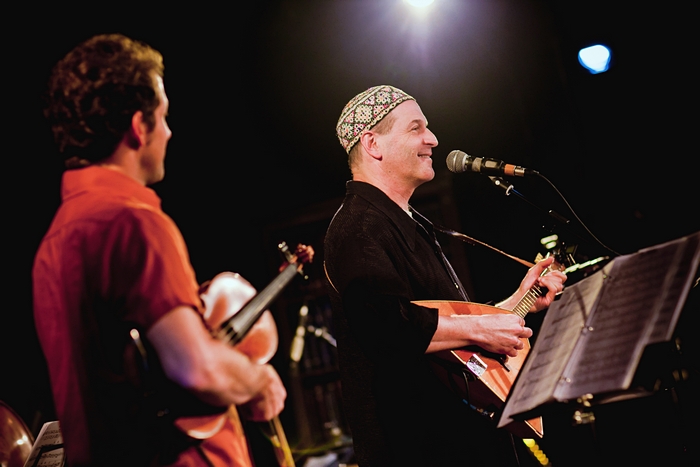 The music of RebbeSoul has been described as "World Fusion stemming from the Jewish Diaspora, a mix of ancient and modern, and a blend of East and West."
RebbeSoul has been featured on CNN International and on the cover of Billboard Magazine as the quintessential and original producer of Jewish Roots and World music. His groundbreaking 1995 album , "Fringe Of Blue," has become one of the the biggest selling Jewish music albums of all time and his "Change The World With A Sound" CD was #1 on the CMJ (college radio) World Music charts in the USA and also in Canada.
WATCH:
Cuando el rey Nimrod, RebbeSoul plays a Ladino classic at the Center For Spiritual Living.
The Many Faces of Jerusalem, RebbeSoul plays Reb Shlomo Carlebach's "V'Shamru"
RebTmimah@HolisticJew.org
310 430 9864

When & Where

Santa Monica private location

Santa Monica, CA


Saturday, April 8, 2017 from 8:10 PM to 10:30 PM (PDT)
Add to my calendar
Organizer
Holistic Jew is a Jewish Renewal community. We are dedicated to creating contemporary methods of Jewish expression that speak to both intellect and heart, in forms which embrace the full inclusion of women and cultivates the Divine Feminine. This serves to facilitate the deep healing of our relationships with each other, fellow traditions, and our sacred Earth.

Holistic Jew Programs Include:
Monthly Shabbat gatherings for prayer and/or study and most holidays.  
Monthly Continuum Movement; Liquid Kabbalah workshops
Holistic Jew Community Garden 
Green Gamliel Initiative of Greater Los Angeles - A vision under cultivation that includes;  support for the dying, honoring the dead, and comforting mourners while caring for the sustainability of our fragile home; planet Earth.  Life is not the absence of death - Life is the presence of vitality, energy, enthusiasm, appreciation, and love. But sometimes we forget what a precious gift life really is. Death can be a teacher, enabling us to value life. The closer and more intimately we are touched by death, the more we are able to understand the importance of living, of life, of the opportunities that God gave us.
https://www.facebook.com/HolisticJew/
For more information contact:
RebTmimah@HolisticJew.org
310 430 9864