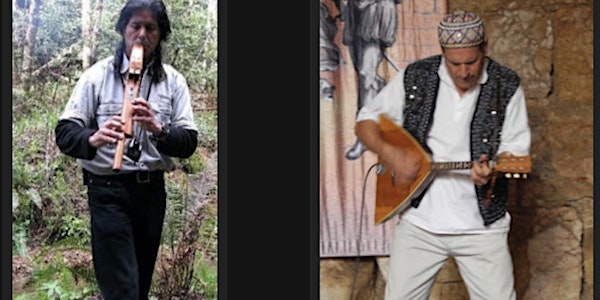 RebbeSoul and Blue Fluteman Havdalah concert
When and where
Location
Duvin 5736 Thornhill Drive Oakland, CA 94611
Description
RebbeSoul and Blue Fluteman, master of Native American flutes - Havdalah Concert @ Duvin, Oakland California
Havdalah is a beautiful, spiritual ceremony concluding the Shabbat (Sabbath) and starting the week. It features a special, braided candle, wine, and fragrant spices.
Blue is the real deal, Jicarilla Apache, the tribe known for being the traditional players of the flutes. He's also part Ashkenazi and one of the most soulful players I've ever had the pleasure of playing with. - RebbeSoul
Duvin is an awesome, neighborhood-style winebar with excellent wine (kosher) and botanical drinks. Fine food is also available.
Music begins at 8:30pm.
Havdalah will begin after sundown.
Join us for this special night!