Reasonable Moms Unite: How to Fight the Culture that Demands We Worry About...
Description
Moms are tired of being told they need to meet impossible standards to be a Good Mom. Women are told they have to cook every meal--from scratch and from expensive organic ingredients. They are told to hover and monitor their child's every activity. Women are encouraged to examine and scrutinize every single thing their child touches, eats, or brushes against. This make parenting harder, exhausting, joyless.

It's time to reject this mentality and create a new category: The Reasonable Mom.

Reasonable Moms do their best. They want to raise their kids without so much fear and anxiety. They want to guiltlessly take shortcuts and allow their kids a treat, but recognize moderation is key. They want society to be less judgmental, and more understanding and supportive of parents. They want to hear from experts, but also want to trust in their own instincts and embrace commonsense in parenting.

We hope you will join us for the launch event -- Reasonable Moms Unite -- on Wednesday, October 19th in Washington, DC (Florida House on Capitol Hill, located near Union Station and Capitol South metro stations). Light bites and libations will be served.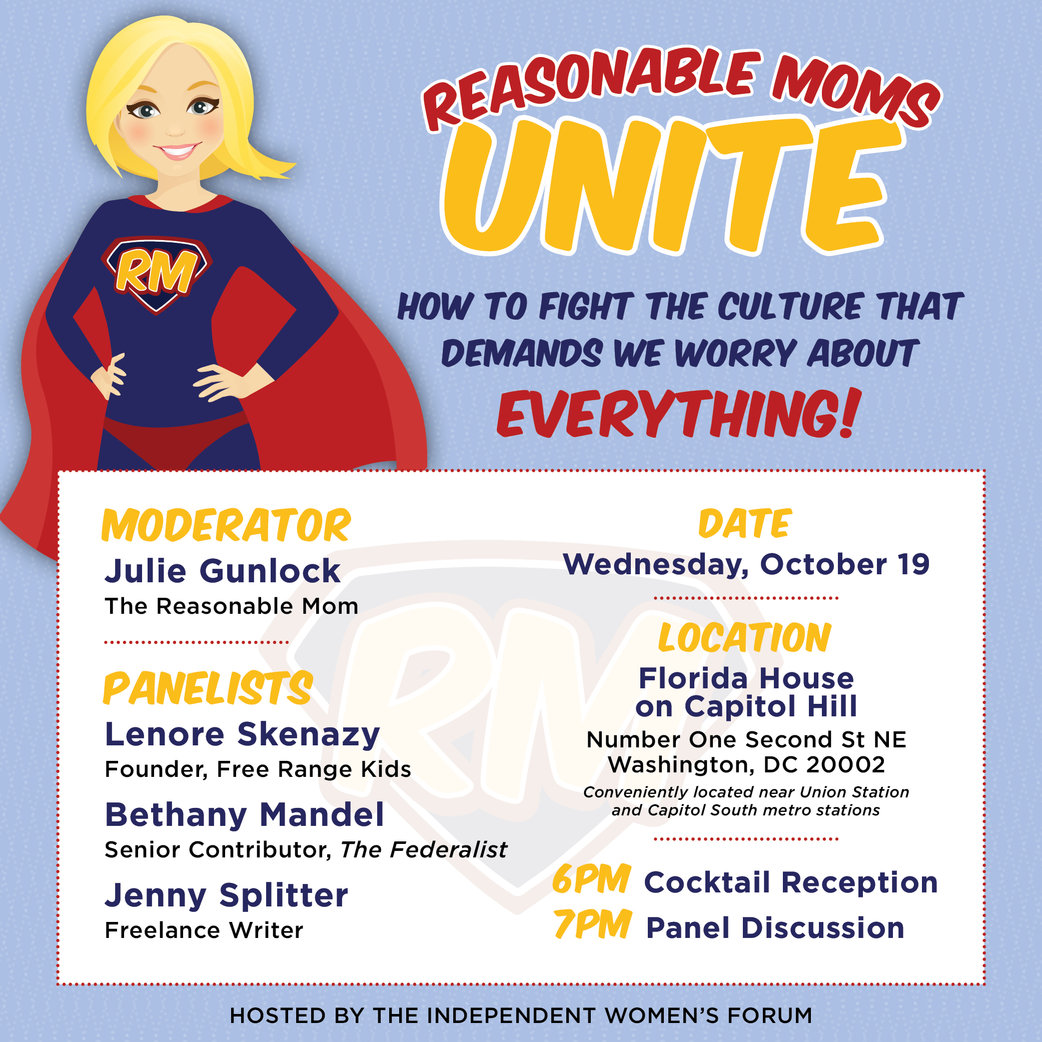 ABOUT THE PANELISTS:
Bethany Mandel is a conservative freelance writer on politics and culture. She is a Senior Contributor to the Federalist and regularly appears in the Jewish Daily Forward, the New York Post, Opportunity Lives and Acculturated. She writes from home while caring for her two children, a 3 year old daughter and a 1.5 year old son.
Lenore Skenazy is founder of the book, blog and movement, Free-Range Kids. She's been on every show from Dr. Phil to The View, and lectured at the Sydney Opera House, Microsoft Headquarters, the Yale Child Study Center...you name it. She's also host of a reality TV show -- World's Worst Mom -- that airs around the world but has yet to find an American network, so if you are a TV executive, please see Lenore after the panel. Lenore says her whole mission can be summed up in one sentence: OUR CHILDREN ARE NOT IN CONSTANT DANGER
Jenny Splitter is a writer, recovered lawyer and mom of two living in Washington, DC. She writes about science, parenting, food, health, and agriculture for Slate, Salon, Refinery29 and other outlets. When not writing about GMOs or fumbling through various urban parenting adventures, you can usually find her at one of DC's storytelling shows. She's performed for Story District, Perfect Liars Club and the Unified Scene Theater, and also serves on Story District's Board of Directors. Jenny grew up in Santa Cruz (Go fighting banana slugs!) and is a graduate of the University of California at Berkeley and George Washington University Law School.
Julie Gunlock directs the Independent Women's Forum's Culture of Alarmism Project. She is the author of the book From Cupcakes to Chemicals: How the Culture of Alarmism Makes Us Afraid of Everything and How to Fight Back. Before joining IWF, Gunlock served as a Professional Staff Member on the Senate Homeland Security and Governmental Affairs Committee and on the House Homeland Security Committee. Gunlock has written about food, parenting and culture for the New York Post, The Washington Post, New York Daily News, The Los Angeles Times, USA Today, Acculturated, Forbes, and many other publications.
Questions? Please contact events@iwf.org