Rearview Mirror Productions & 2nd Baptist Church Presents "Keep It Moving S...
Description
Rearview Mirror Productions and Second Baptist Church is having a clean, family friendly and fun filled event called "Keep It Moving Summer Party" on Saturday, August 11th at 10 am to 5 pm at Second Baptist Church located 2355 W. Pembroke Avenue in Hampton, VA.

This event is FREE to the PUBLIC!! We will have a talent showcase of local talent, vendors, food for sale, music, games and prizes! This is an outdoor event so bring the family and your lawn chairs and get ready for a SUMMER PARTY!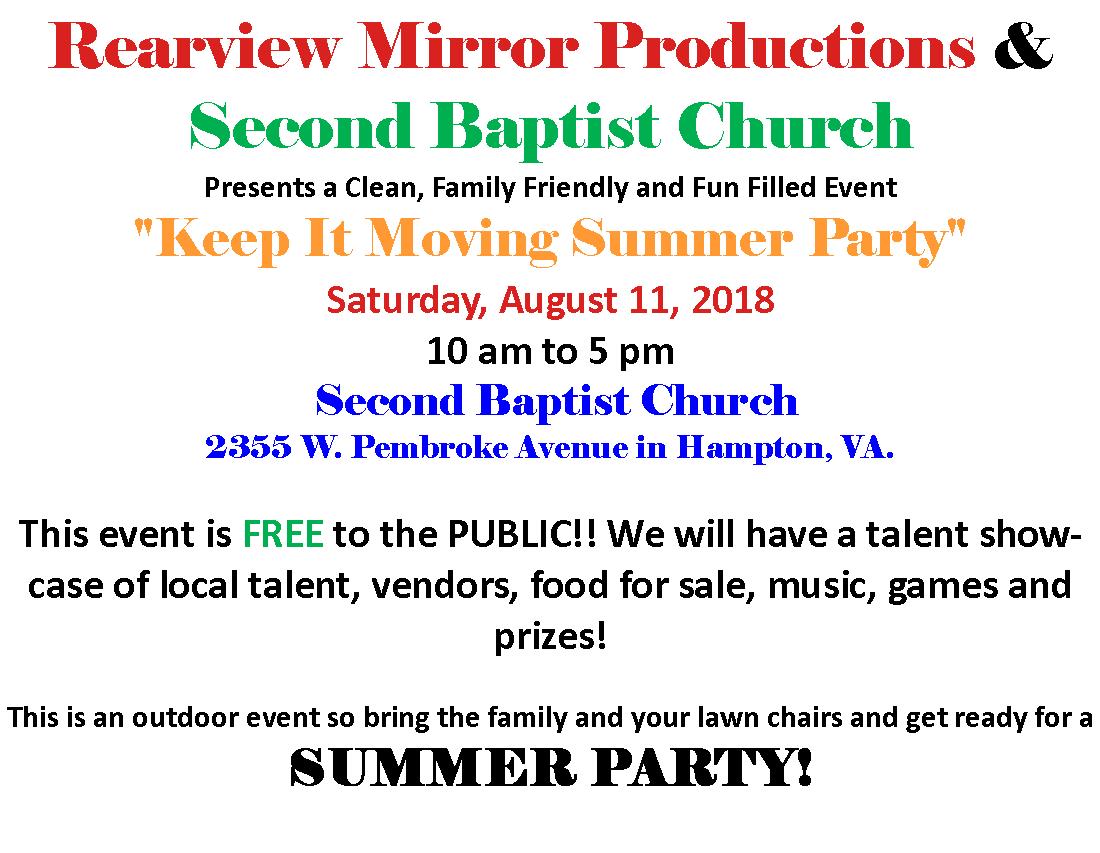 TALENT WANTED - Can you sing, dance, play an instrument or do comedy or poetry? We're looking for you for our TALENT SHOWCASE. Registration is only $10 and each group (up to 5 people per group) will have no more than 15 minutes of stage time. You must provide your own music and props. Music and performances must be CLEAN (no explicit language or vulgarity) and family friendly. Registration ends August 4th, don't delay sign up today! No refunds.

VENDORS - Calling all vendors! Looking for a way to sell your products or expand your customer base? We would love for you to be apart of this event! Vendor space is only $35 (non-refundable). You can have up to 10 x 10 spacing and must bring your own set up (Tent, table and chairs). Set up 8:30 am/Break by down 4:45 pm. Spaces are going quickly so sign up before all the spaces are gone!
RAIN DATE - In the event of inclement weather/rain, the event reschedule date is TBD
DONATIONS - Rearview Mirror Productions is raising money to bring our stage play "He Went Peacefully In His Sleep" to Hampton and Newport News, VA soon. It was performed at ODU Theatre in Norfolk in June 2018 and was a GREAT success!

For questions or more information contact Theresa Burchette-Dixon, CEO and Producer at 757-975-1294 or Krista Hardy, Executive Administrator at 757-945-7151 or email us at rearviewmirrorproductions@hotmail.com.