Join us for the Regional Economic Area Partnership (REAP) Regional Convening at Wichita State University on Friday, July 23rd, 2021!
About this event
The Role of Higher Education Institutions on Economic Recovery and Growth in South Central Kansas.
The REAP 2nd Quarter Regional Convening will be focusing on the impact higher education has on economic recovery and growth for South Central Kansas. The convening will take place from 8:30-11:00 a.m. on Friday, July 23rd, in the Beggs Ballroom of the Rhatigan Student Center at WSU. See map below. A light breakfast will be served beginning at 8:30, followed by the business meeting from 9:00-11:00.
REAP Vice Chair, Wichita City Council Member Cindy Claycomb, will moderate a panel of higher education leaders, including:
Dr. Rick Muma, President, Wichita State University
Dr. Dennis Rittle, President, Cowley Community College
Dr. Elizabeth Mauch, President, Bethany College
Mr. Jon Rolph, Kansas Board of Regents
Higher education is one of the key drivers of economic growth, prosperity, and competitiveness. Universities and other institutions not only deliver education and ongoing skills training, but also provide a research environment that produces innovations with valuable commercial applications. The panel of experts will elaborate on ways in which the higher education sector impacts our economy and workforce, including:
Creating a quality workforce
Driving innovation
Increasing employability
Upskilling the existing workforce
Collaboration between education and business.
Free parking is available in unreserved stalls of the parking garage located just south of the Rhatigan Student Center. See Map Below.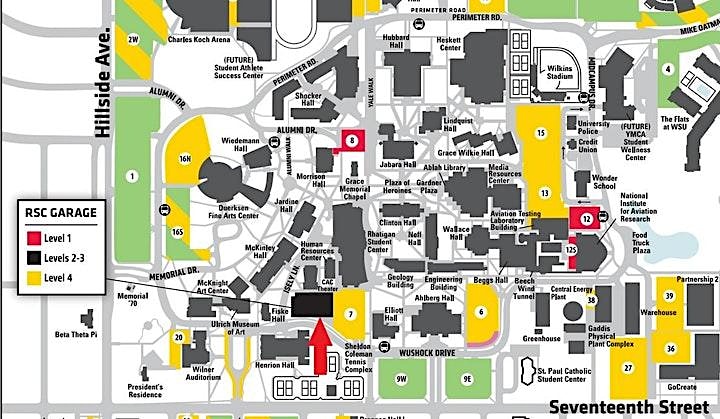 Organizer of REAP 2nd Quarter Regional Convening
REAP is comprised of thirty city and county governments in ten counties of South Central Kansas, including Butler, Cowley, Harper, Harvey, Kingman, McPherson, Pratt, Reno, Sedgwick and Sumner, as well as multiple associate members. These jurisdictions and partners have voluntarily joined together  to guide state and national actions that affect economic development in the region and to consider and adopt joint actions among member governments that enhance the regional economy.