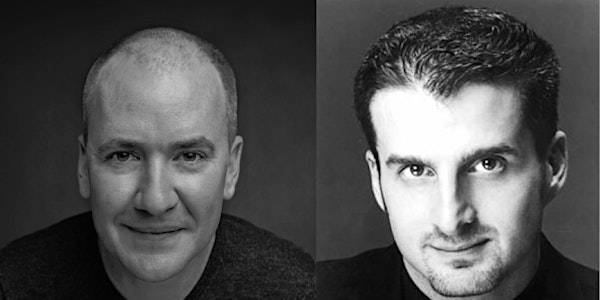 Reames/Penna "Schubert, Debussy, & Britten" (Sun 7 PM ET, 9/4/22 - 9/11/22)
Tenor Christopher Reames and Pianist JJ Penna join up to collaborate on a program featuring works by Schubert, Debussy, and Britten.
Refund Policy
Contact the organizer to request a refund.
Eventbrite's fee is nonrefundable.
About this event
Event Page: https://musicivic.net/mc22-0005
Artists:
Christopher Reames, tenor
JJ Penna, pianist
Program:
Three Schubert Songs
Franz Schubert (1797-1828)
Im Frühling, D. 882
An den Mond, D. 296
Nachtstück, D. 672
Fêtes galantes, premier livre
Claude Debussy (1862-1918)
En Sourdine
Fantoches
Clair de lune
Fêtes galantes, deuxième livre
Claude Debussy (1862-1918)
Les Ingenus
Le Faune
Colloque Sentimental
Winter Words, Op. 52
Benjamin Britten (1913-1976)
I. At Day-close in November
II. Midnight on the Great Western (or The Journeying Boy)
III. Wagtail and Baby (a Satire)
IV. The little old Table
V. The Choirmaster's Burial (or The Tenor Man's Story)
VI. Proud Songsters (Thrushes, Finches, and Nightingales)
VII. At the Railway Station, Upway (or The Convict and Boy with the Violin)
VIII.Before Life and after
Bios:
American pianist J.J. Penna has performed extensively with a variety of eminent singers, including Kathleen Battle, Harolyn Blackwell, Measha Brueggergosman, David Daniels, Denyce Graves, Ying Huang, Susan Narucki, Roberta Peters, Florence Quivar, and Andreas Scholl. He has held fellowships at the Tanglewood Music Center, Banff Center, Norfolk Chamber Music Festival, Music Academy of the West, and San Francisco Opera's Merola Opera Program. He received his training under Martin Katz, Margo Garrett, and Diane Richardson. Devoted to the teaching of classical song literature, he has been on the faculties of The Juilliard School, Yale University School of Music, the Norfolk Chamber Music Festival, the Bowdoin Festival, Westminster Choir College, and Vancouver International Song Institute. He currently teaches at the Steans Institute of the Ravinia Festival, the Renee Fleming Song Studio at Carnegie Hall, and the New England Conservatory of Music. He joined the faculty of the Yale University School of Music in 2021.
American tenor Christopher Reames enjoys an engaging career as a concert artist, recitalist, dynamic performer on the operatic stage, and pedagogue. He is a recent winner of The Gérard Souzay Prize for French Singing awarded by Dalton Baldwin and administered by The Art Song Preservation Society, and Best Performance Honorable Mention winner of the Canto Latino International Competition. Praised for his "lustrous" singing and "great musicality" by The Examiner of Greater Kansas City, Chris' compelling performances captivate audiences with beauty and sensitivity. Chris is also a recent finalist in several national competitions, and his recent operatic performances include Arturo in Lucia di Lammermoor, Prologue/Peter Quint in The Turn of the Screw, Slender in The Merry Wives of Windsor, the title role in Weber's Oberon, Gomatz in Zaide, and Tamino in Die Zauberflöte.
An avid performer of sacred music, his recent concert performances include Uriel in The Creation, Mozart's Vesperae solennes de confessore, Beethoven's Mass in C Major, Obadiah in Elijah, Evangelist in the St. John and St. Matthew Passions, Handel's The Messiah, J.S. Bach's Magnificat, excerpts from Bach's Weihnachts Oratorium, several of Bach's sacred cantatas, and secular works by Purcell and Monteverdi. Passionate about the art of recital singing, Chris' diverse repertoire spans more than 400 years from Monteverdi, Handel, Haydn and Mozart through Beethoven and Schumann to Debussy, Poulenc, Britten, Barber and Messiaen. Chris is a past fellowship recipient at the Tanglewood Music Center, SongFest, Aspen Music Festival, Hawaii Performing Arts Festival, and Cincinnati College-Conservatory's Opera Theatre and Music Festival of Lucca, Italy. He holds a Doctor of Musical Arts degree from the State University of New York at Stony Brook, a Master of Music degree from the University of Nevada at Las Vegas, and a Bachelor of Science degree from William Jewell College in Liberty, Missouri. Chris is currently an Assistant Professor of Vocal Music at Tennessee Technological University in Cookeville, TN.
_________________________________________
Website: https://twinforksmusicivic.org
Facebook Page: https://www.facebook.com/twinforksmusicivic