Event Information
Refund Policy
Contact the organizer to request a refund.
Eventbrite's fee is nonrefundable.
Realty411 has once again united the most successful, knowledgeable, and savvy investors in the industry for YOU -- Be sure to join us!!!
About this Event
JOIN HUNDREDS OF INVESTORS! OUR VIRTUAL WEEKEND INVESTOR EXPO WILL BE LIVE AND IN REAL-TIME VIA ZOOM.
Please note the direct link to zoom is:
https://us02web.zoom.us/webinar/register/WN_LhRnZeYeR2uYX3ZjJYGGMQ
This January, Realty411 magazine will once again unite the most successful, knowledgeable and savvy investors in the REI (Real Estate Investing) industry for ONE SPECIAL INVESTOR WEEKEND!
Yes, please note this is a TWO-DAY conference. The flexible part is you can join us whenever you wish. We will be releasing the agenda shortly.
Our HIGH-LEVEL industry experts are sharing their time just FOR YOU. They want to help our readers learn time-tested tips and techniques for success.
This is the place to be to learn from some of the most successful leaders in the industry all in your home or office. Plus, guests can chat DIRECTLY with each educator to get their real estate questions answered in real-time.
LEARN TO REHAB ONLINE - LEARN ABOUT HOT MARKETS FOR BUY-AND-HOLD INVESTORS - HEAR ABOUT OUR BIGGEST MISTAKES AND HOW TO AVOID THEM - HONEST, REAL AND RAW - REALTY411 IS HERE FOR YOU!!!
Joining us on this special conference to help guide our readers will be HIGH-LEVEL industry experts who will be donating their precious time for all of our readers.
Realty411 wants to make sure all investors start 2021 with the right information to take them to new levels of success.
Some of the important educators joining us for this special educational weekend conference, include:
** PropStream – Introducing 2021's Best Real Estate Tool for Investors. Discover Why PropStream is Creating Waves in the REI Industry.
** Gene Guarino – Founder, RAL Academy — The Industry's National Authority on Residential Assisted Living Discusses Why there is Enormous Opportunity in this Niche for 2021 and Beyond.
** Vinney Chopra — Best-Selling International, Over $358 Million Multifamily Portfolio, Over 4100 Units Under Management — My Journey from $7 to a $358 Million Portfolio with Apartments!
** Teresa Grobecker, MBA, CPRC (Real Estate/Investment Banking & Tech Expert) – Trends in Real Estate: Winners and Losers, Plus What's In Store for the Year Ahead. Get The Edge on 2021.
** Justin Ford, Top Producing-Broker – Detroit, Michigan — Learn the Power of Prospecting with a Multi-Million-Dollar Closer. The Techniques Justin will Share Will Skyrocket Your Agency/Brokerage.
** Michael Lally – Founder, Lally Wealth Management — Discover Why Real Estate Investors Should Diversify Their Portfolio with Stocks. PLUS: How to Create Constant and Diversified Cash Flow and Growth.
** Leon McKenzie – Founder, US Probate Leads – Learn Why Probate Properties Remain the Most Untapped Niche in Real Estate and How You Can Profit From It. Learn from the a Respected Industry Leader!
** Randy Hughes, "Mr. Land Trust" – The Nation's Authority on Land Trusts Will Explain Why Every Investor Should Use this Strategy.
** Mark Robbins, J.D., CEO – Lending Resources Group, Inc. — Investing Your Retirement Funds in Real Estate Non-Recourse Financing.
** Kaaren Hall – CEO of uDirect IRA Services —Build Tax-Free Wealth with a Self-Directed IRA Starting Today.
** Paul Finck – The Maverick Millionaire — Maximize Your Mindset & Transform Today's Negative Landscape Instantly.
** Anne Marie Rogers – Quest Trust Co., — Find Out How Your Self Directed IRA Can Save You Income Taxes Every Year.
** REI COVER FEATURE: Brandon Cobb – Owner, The Home Buyin' Guys — Discover How Brandon built a $9M Annual Real Estate Flipping Empire in Less than Five Years! Brandon Walks Expo Guests Through a Flip in Nashville, Tennessee, as If We Are Onsite!
** REALTY411 COVER FEATURE: Sunil Tulsiani – Founder of Private Investment Club — Sunil is a Best-Selling Author and International Speaker, He Has Worked with Such REI Giants as: Robert Kiyosaki, Robert G. Allen, Kevin Harrington, and more.
** EMCEE: Linda Pliagas –– Publisher, Realty411 & REI Wealth — Welcome to 2021. It's Our Mission to Help You Succeed this Year, Here's How We Plan on Accomplishing This During the Pandemic.
** EMCEE: Desiree Doubrox — Founder of HomWork — Discover How this Creative Real Estate Investor Designed the PERFECT Home / Work Situation for Busy Professional Women.
** EMCEE: Jeremy Rubin – The Friendly Flipper — Coming straight from the Central Coast of California, Jeremy will Reveal Tips for Flippers Everywhere. Replicate His Success.
** EMCEE: Dave Grimm, End 2 End Results — Dave is an Expert in Lead Generation Techniques for Serious Real Estate Investors.
Please note the direct link to zoom is:
https://us02web.zoom.us/webinar/register/WN_LhRnZeYeR2uYX3ZjJYGGMQ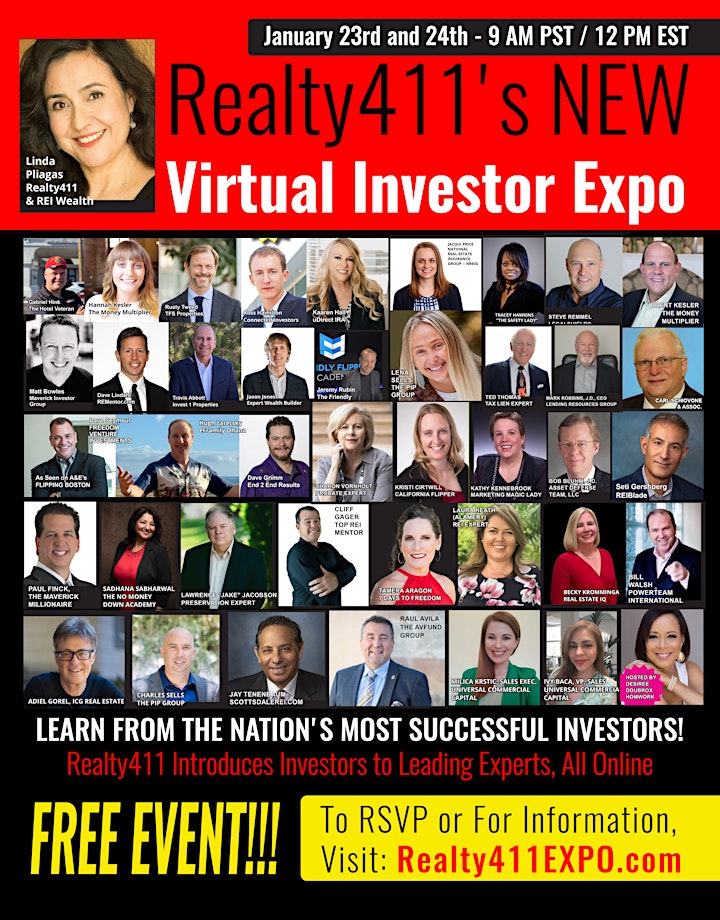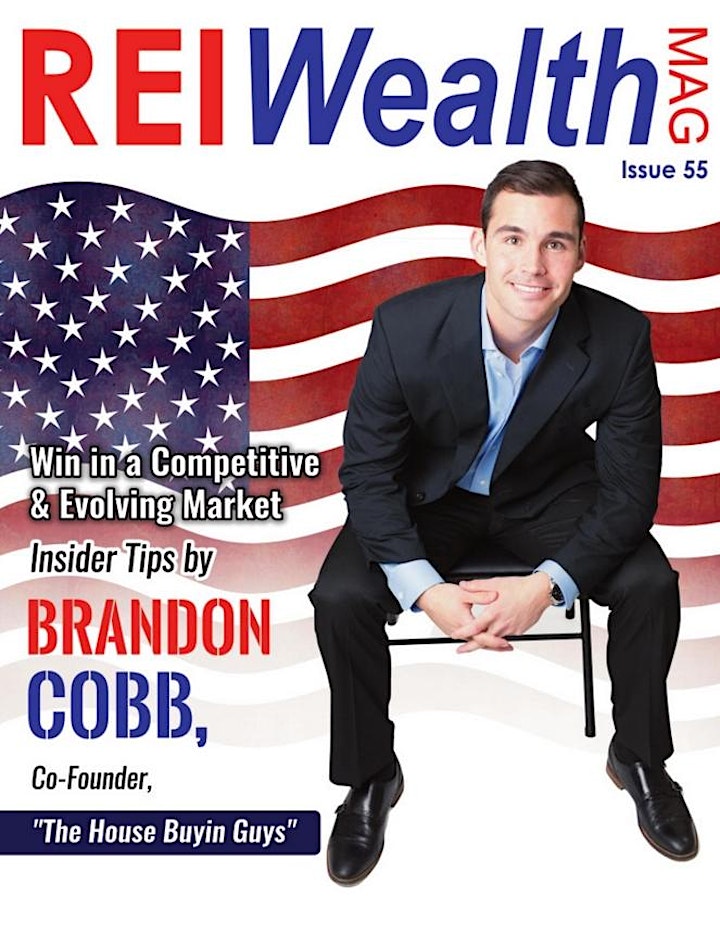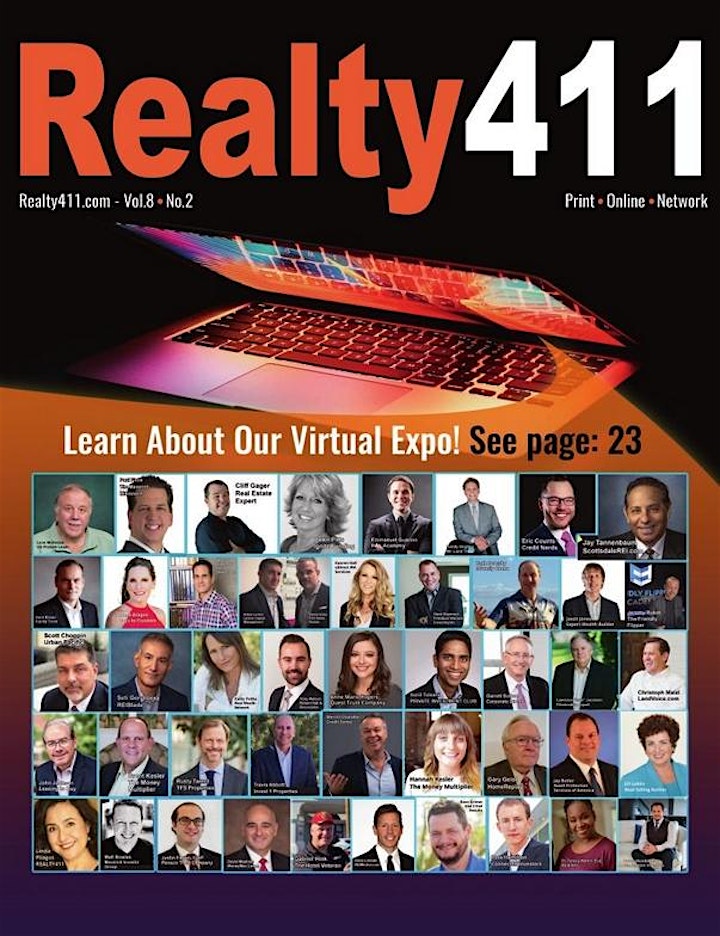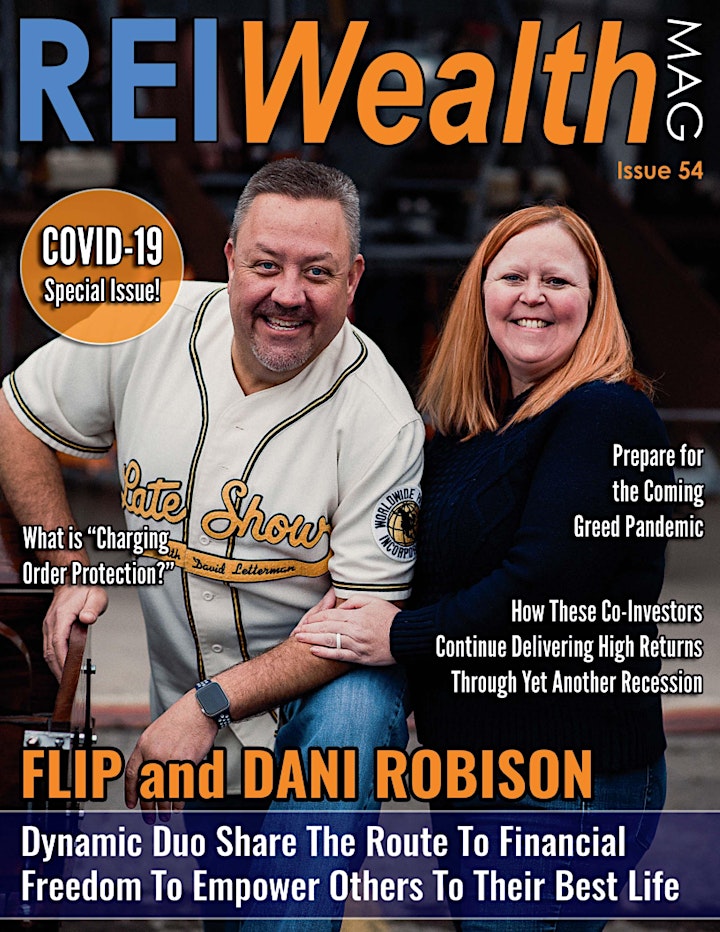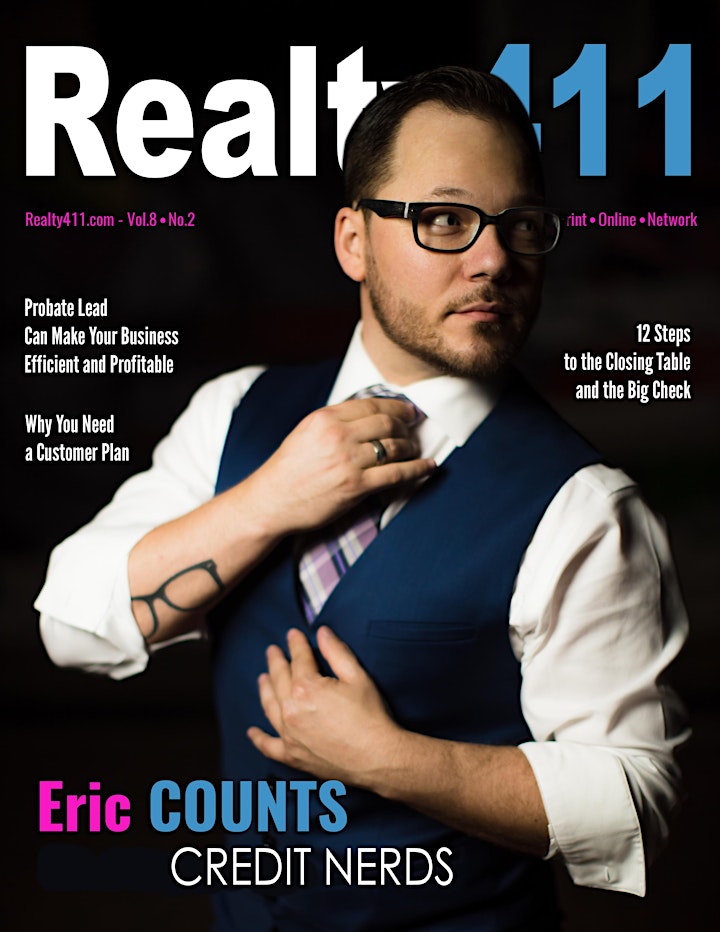 Date and Time
Location
Refund Policy
Contact the organizer to request a refund.
Eventbrite's fee is nonrefundable.