Realty411's California CA$FHLOW Conference - Celebrate Our New Issues, Network with Investors, Learn Strategies

Friday, August 26, 2016 from 10:00 AM to 6:00 PM (PDT)
Event Details
Don't Miss this Informative, Educational & Exciting Expo & Cashflow Conference!

A real estate expo created and hosted by a California accredited investor & 15-year real estate agent with 22 years experience in journalism. Realty411's publisher has owned property and invested in California since 1993 and is an active accredited investor.

>> CASHFLOW CONFERENCE

and Real Estate Expo & Mixer
Date: Friday, August 26, 2016
Time: 10 am to 6 pm

Venue: Four Points by Sheraton Pleasanton

Address: 5115 Hopyard Road, Pleasanton, CA 94588

NETWORK WITH EXHIBITORS, COMPANIES, REAL ESTATE GROUPS, CLUBS, AND SERVICE PROFESSIONALS - THIS IS THE PLACE TO BE!
 * Mingle with Companies * Meet Local Leaders & Out of Area Investors 
 NON-Stop Tips for Real Estate Success ~ Hosting Our Events Since 2008

 We Want & Can Help YOU Succeed As We Have.  Bring Lots of Cards.
Mingle with Local Leaders & Industry Professionals from Around the Nation!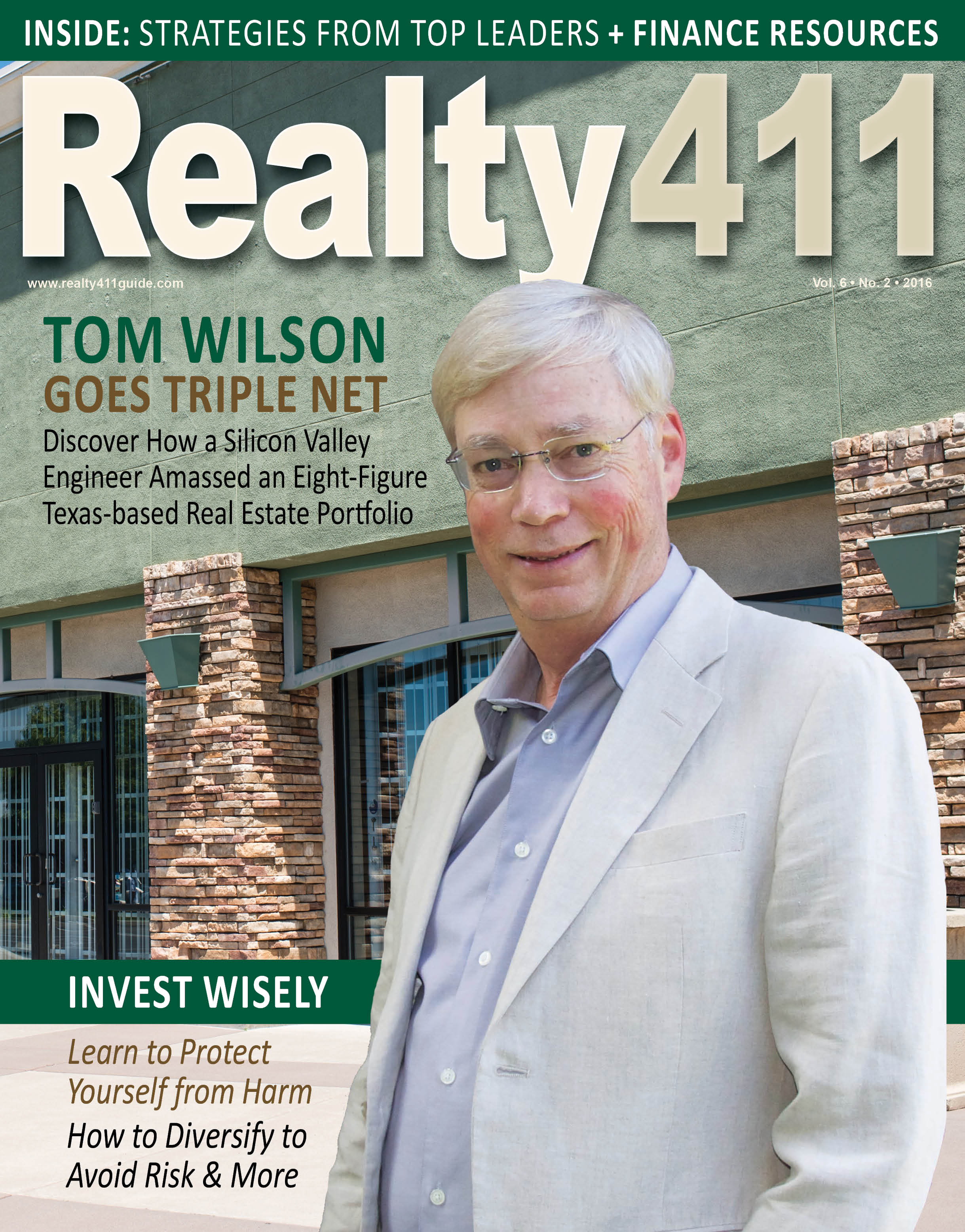 Hosted by Realty411 - Publisher of National Real Estate Magazines

Our Media Company is Based in California and Is Owned by An Agent/Investor 
Come celebrate the only national real estate investment publication, expo and network founded and based in California!

August 26, 2016 10 am to 6 pm

Registration Opens @ 9:30 am - Come Mingle!
CONTACT US TO BE A SPONSOR: 805.693.1497
or email us directly at: realty411magazine@hotmail.com

All Guests Receive Our California-based Investments Magazines
Meet Local Leaders & Industry Giants - Hosted by Active Investors

Influential Real Estate People & Business Owners Attending!

Find Potential Partners, New Friends, Build Your Circle of Influence.
Remember Your Net Worth = Your Network

---
* Plus, enjoy viewing REI Wealth Monthly, our fully-interactive digital publication developed for Apple enthusiasts by an investor from San Diego, California *

---
Celebrate Real Estate in Your Market!

Our discussions cover a wide range of topics:Commercial & Residential Real Estate *
Private Lending * Raising Capital * Networking Tips to Grow Your Influence * Strategies to Increase ROI * Gain Perspectives on TOP Local & National HOT Markets * Fix & Flips * Buy and Hold + Wholesaling, Notes & More...

We have investors joining us from many states!

YOUR NET WORTH IS EQUAL TO YOUR NETWORK

We are hosting this event to help increase your contacts
and to further your potential in this industry, so don't miss out!
Also, Inside Our Publications Discover Finance Leaders

Our VIP Advertisers in the Finance Industry Include: New American Finance, Pacific Private Money, Zinc Financial, B2R Finance, and Security National Mortgageamong others, learn about these financial resources.

Join Us to Learn About These Companies and More!
~~~~~~~~~~~~~~~~~~~~~~~~~~~~~~~~~~~~~~~~~~~~~~~~~


Learn Tips and Strategies on TOP Real Estate Niches:
Fix 'n' Flip, Wholesaling, Crowdfunding, Buy & Hold, Local & Out-of-State, Private Lending, Commercial & Residential Real Estate, Notes, Credit Optimization, Trust Deeds & More.
~~~~~~~~~~~~~~~~~~~~~~~~~~~~~~~~~~~~~~~~~~~~~~~~~
FOR INFORMATION PLEASE CONTACT US:

CALL: 805.693.1497 | 24 Voice Mail: 310.499.9545
Be sure to get your hands on our new release of Realty411 Magazine, Private Money411 and CashFlow Express either by mail, or by picking up a free copy at one of our events!
ARE YOU A VIP REALTY411 MEMBER YET? IT'S FREE CLICK HERE
In addition, we publish a digital-only monthly called REI Wealth! Don't miss this:

No matter what, please mark your calendar so you don't miss out on this fantastic real estate and finance expo. Our goal is to provide fantastic resources to help you learn about real estate or grow as an investor. We know your time is valuable, so we have wonderful books, magazines, and other gifts to give away.Start the year off right with spectacular networking!!! Build NEW friendships and business collaborations with some of the industry's TOP Leaders. Plus, guests will discover new resources to FUND deals. Joining us are incredible speakers, sophisticated investors, & VIP Industry Leaders.

Learn Investor Tips to WIN in Real Estate in 2016 at this Event, Join Us!
---
Learn From Sensei Gilliland with
BLACK BELT INVESTORS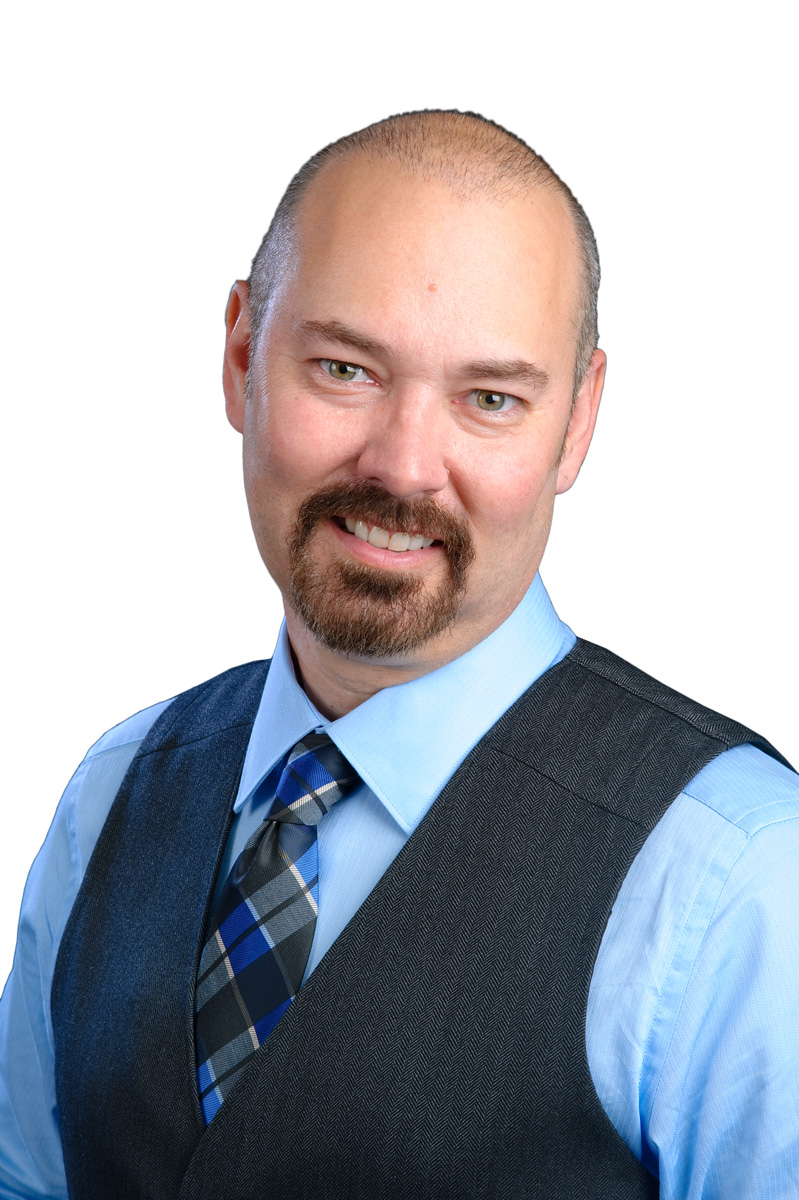 Black Belt Investors' Real Estate Master, Sensei Gilliland, has been honored as the nation's leading real estate expert and business mogul by Real Estate Wealth Magazine, and has now expanded his capacity for granting speaking engagements across the US.

Real estate investors frequently flock thousands of miles for words of wisdom from Sensei. His live training and coaching events are known for being value packed, overflowing with practical, quick to implement tactics, and energizing for both white belt and black belt level real estate investors and business owners.

Any real estate investor seeking to increase their own knowledge with a highly recognized and sought out industry will find Sensei packs a real punch when on the bill.

In a sentence, Sensei's education is - "No fluff, just hard hitting, real tactics investors can put into action effectively, delivered by a real estate master that has proven his mettle over two decades." Come hear one of the most powerful leaders in today's real estate industry.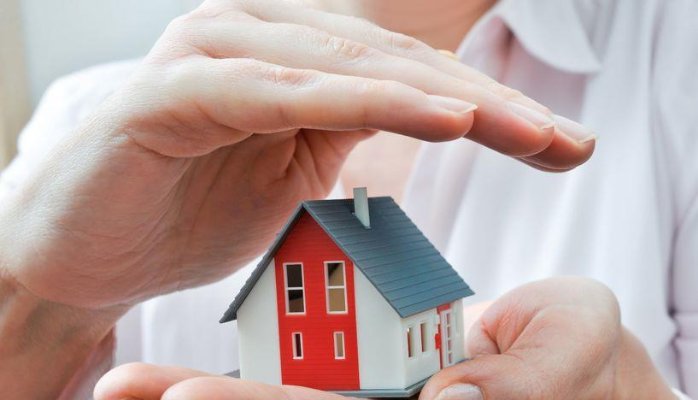 Learn From Anthony Patrick
from New Life Ventures, LLC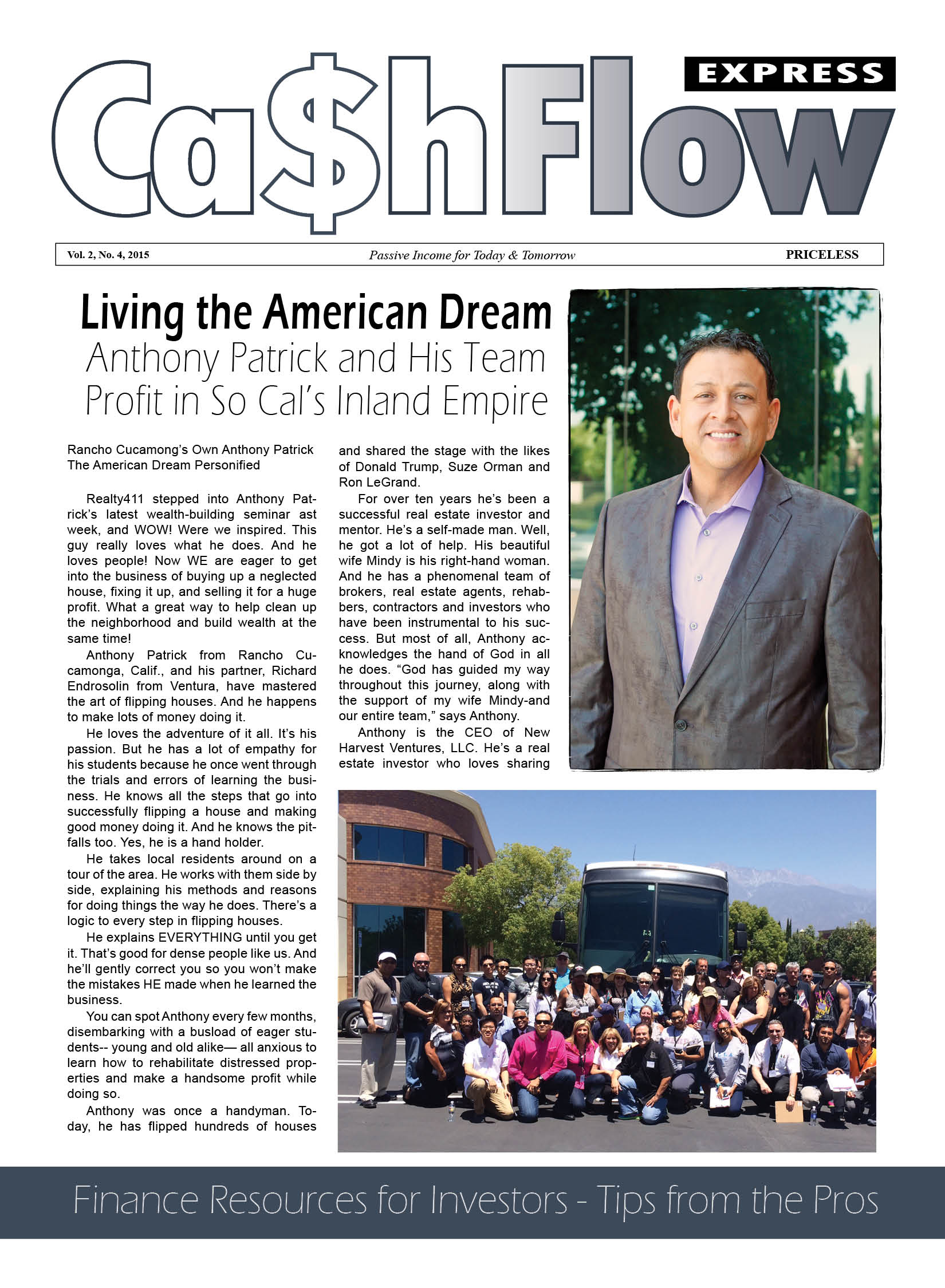 Learn How He Flips 5 to 10 Houses Monthly
Is it possible to still find deals in California? YES!
Discover some tips from Anthony Patrick, CEO of New Harvest Ventures, LLC. Anthony is a full-time rehabber in California and after hearing him speak, you'll never look at real estate the same way again!
Anthony recently appeared on the cover of CashFlow Express, our financial newspaper. Come meet him in person.
---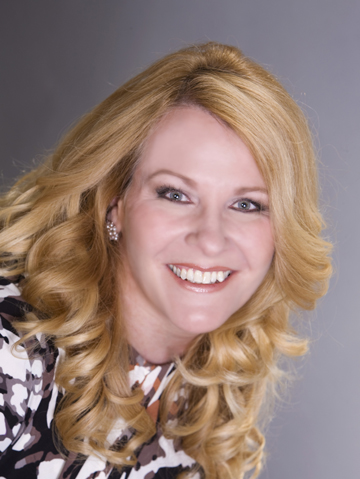 Special IRA Education

 with Kaaren Hall, President
 of uDirect IRA Services
Despite being in the midst of a recession and mortgage market collapse, Kaaren Hall founded and made a resounding success of uDirect IRA Services. The single mom discovered a strategic way to put her 20+ years in mortgage banking, real estate and property management to use. The solution was an untapped market for both her skills and for investors – self-directed IRAs.

Because self-directed IRAs can have a dramatic impact on retirees' quality of life, Hall brings her full passion to educating Americans about the little-known investment vehicle.  She has educated tens-of-thousands of investors and professionals on how to build wealth by taking control of self-directed IRAs.

She says, "Financial literacy is not taught in schools, but our future depends on understanding it. Only about 4% of U.S. investors have a self-directed IRA. Why? Because most investors and many advisors simply aren't aware of it."

Prior to her years at Bank of America, Indymac Bank and Hall's own mortgage brokerage experience, she was an on-air news and traffic reporter and radio host. Now Hall broadcasts how to invest IRAs in real estate, land, startups and more. She takes pleasure in demystifying the subject via webinars, YouTube videos, live events, social media and her free weekly newsletter.   

Through uDirect IRA, she has guided thousands of Americans through the process of diversifying their investments using self-directed IRAs. Learn more about Hall and her thriving company at uDirectIRA.com.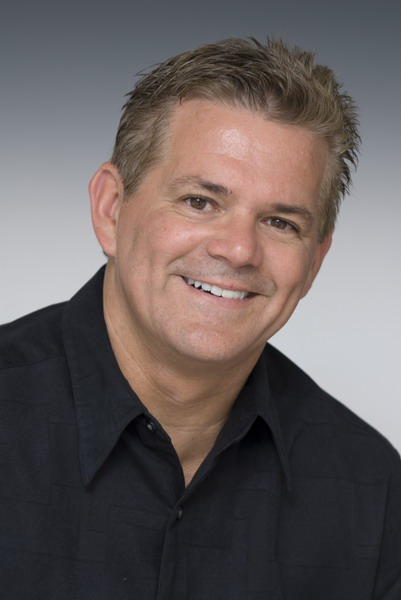 Michael Morrongiello

 "How to Create Cash Flow with Expensive NorCal Properties."
Michael Morrongiello is an active investor who specializes in Real Estate & Real Estate "Paper" investments. Widely known as having one of the most knowledgeable & creative minds in the paper business, Michael started creating paper as a result of his own Real Estate investment activities in the early 1980's. He is very active in the Buy/Sell renovation business of properties here in the SF Bay Area.

Michael is the author of; Paper into Cash – The Convertible Currency-the definitive home study course that assists you in structuring seller financed transactions while creating marketable Notes and The Unity of Real Estate and "paper" – a course book that outlines numerous real world in the marketplace transaction scenarios and solutions where Real Estate and financing techniques involving "paper" can be effectively used.

Michael is also the program director for BAWB- the Bay Area Wealth Builders Association- an educational support group for both the beginning and seasoned real estate investor.
---
Adiel Gorel - Local Investment Leader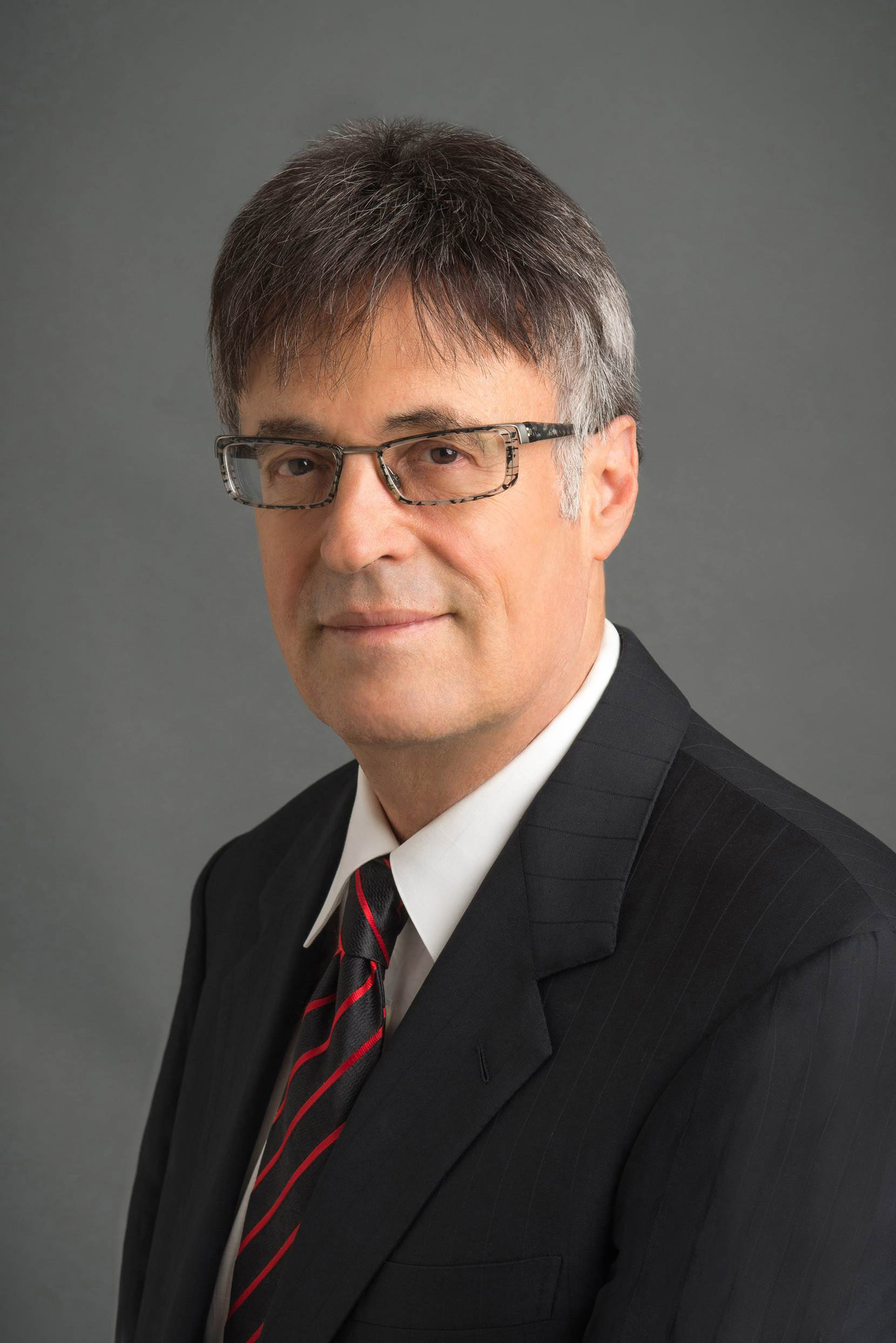 Adiel Gorel is the Founder and CEO of ICG (International Capital Group) Real Estate Investments, a Marin County, California based real estate investment company started in 1987 that assists investors in purchasing properties, and also provides guidance on lending and property management solutions.
The firm was started in 1987 and for over 30 years Mr. Gorel has dedicated his life to being "in the trenches" across the country to know first-hand what homes are available in different markets and looking at homes (in person); to ensure that the fit is right for those investors he serves. He also has face-to-face visits across the country with other brokers and affiliates he works with, in negotiating investments for his clients. To date, he has purchased over 8,000 homes for investors and has purchased nearly 600 homes with his partners/affiliates worldwide for his own portfolio. 
Mr. Gorel is also the author of "Remote-Controlled Riches—The Busy Person's Guide to Real Estate Investing." He has been profiled on ABC-TV and CBS-TV network affiliates across the country, featured in the San Francisco Examiner, Fortune Magazine and interviewed on various radio shows on his expertise in real estate investment and other related topics. Prior to working in real estate, he worked in several C-suite positions at Hewlett-Packard, Excel Telecommunications, Marlstone, Lifecare, and Lifewave.
He holds a Bachelor of Science in Electrical Engineering from McGill University in Montreal, Quebec, Canada, and a Master of Science from Stanford University in Palo Alto, California. When not traveling to secure a strong financial future for those he serves, Mr. Gorel enjoys time with his family in Marin County.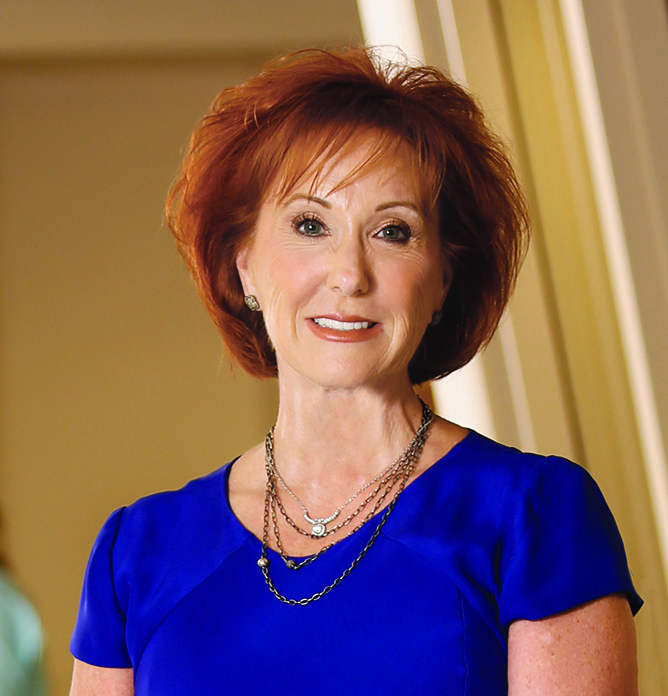 Rebecca Rice and Associates is traveling from a great distance to meet you. Rebecca and JIm Beam (both pictured below), have created a huge impact in the lives of many Realty411 fans and readers. Learn how you can benefit from learning what the wealthy already know.  

Leverage the world's most powerful financial institutions and create your own private lending machine.
I'm Jim Beam of Jim Beam Financial partnering with Rebecca Rice and Associates. We work with folks all over the country to improve their financial position using the same strategies we use. Today I will be sharing one of our favorite strategies that you will be able to use in your Real Estate Investing business.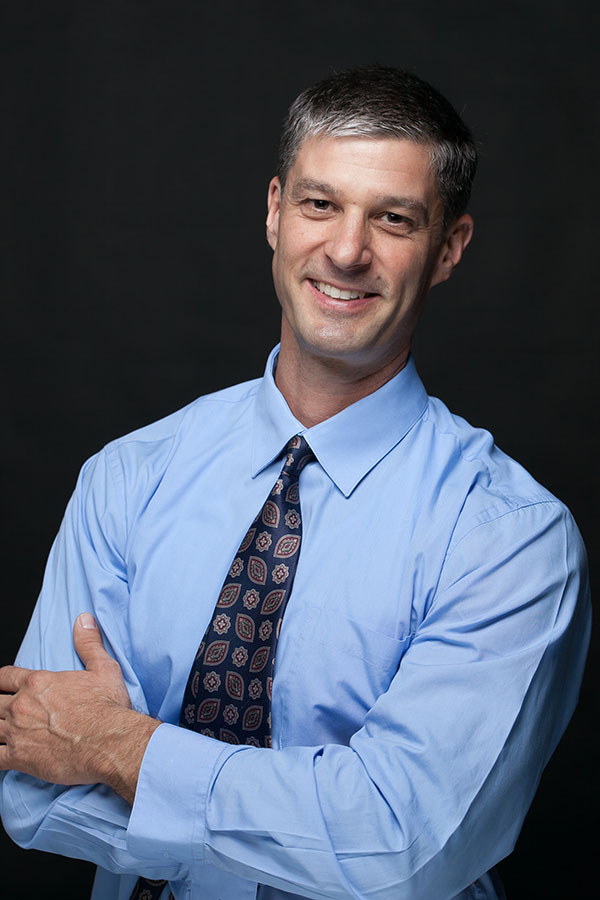 Many investors talk about leveraging. Some discuss compound interest. Fewer, if any, put the two strategies together. Iwill be sharing an amazing strategy of leveraging the world's most powerful financial institutions.This leveraging strategy, when combined with the uninterrupted compounding growth of your retained capital, will generate wealth in such a way as you have never seen before.
Come prepared to explore how banks leverage money and how you can emulate them in your Real Estate Investing. I will show you how to borrow money at low interest rates so you can invest at higher rates. AND, retain your personal capital in the safest, the strongest and the most resilient financial institutions in the world.
ATTENTION INVESTORS, AGENTS, BROKERS, BUSINESS OWNERS: We will host a BONUS SEMINAR on credit optimization after the expo! 
Learn Tips on How to Raise Your Score.
Become Educated on the Credit Rating System

Get Your Own 800+ Credit Score
with Merrill Chandler, Founder of CreditSense!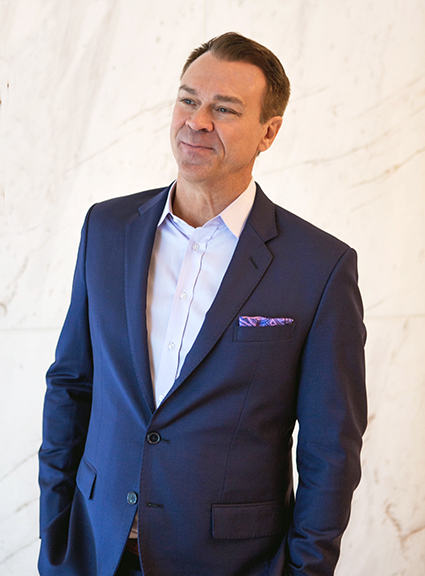 SPECIAL PRESENTATION ON CREDIT OPTIMIZATION AT 6 PM 
Confused about Your Credit Score?
Learn Tips on How to Raise Your Score.
Become Educated on the Credit Rating System
Get Your Own 800+ Credit Score
with Merrill Chandler, Founder of CreditSense!
About CreditSense
We are the creators of Credit Profile Optimization, ground-breaking technology that is radically transforming the personal and business borrowing success of entrepreneurs, real estate investors, business owners, and savvy consumers nationwide.
We've taken the mystery out of credit scoring, underwriting, and credit approvals so that we can deliver a process and proven system that lets you take charge of your credit approvals and fundability in a way that you may have never thought possible before.
Part 1: Weaponize Your Personal and Business Credit Profiles to Hit Any Lender's Funding Bullseye"
Business lines of credit and commercial loans depend on a fundable personal credit profile and Tier 1, or even 800+ credit scores. In Part 1 of this revolutionary presentation, Merrill will reveal four powerful credit transforming strategies that will help you to acquire the credit profile you need to attract lenders who will deliver more credit lines and loans than you ever thought possible- regardless of your current credit situation. Learn the fundamental strategies of underwriting criteria and how to get a yes from lenders.
Part 2: Leverage Your Personal and Business Credit Profile into Hundreds of Thousands in Business Credit Lines and Loans
The key to Wealth is the strategic acquisition and use of fundable personal and business credit profiles to qualify for and leverage OPM. In Part 2 of this powerful series, Merrill will show you not only how to acquire the lease expensive OPM available, but how to have lenders raise your credit lines - without even asking for it and without further income verification. You will also discover how to establish and "optimize" your business credit profile so that you are always in the center of the lender's funding bullseye!
NETWORK WITH EXHIBITORS - WIN PRIZES - BRING THE FAMILY
STAY FOR A NETWORKING MIXER AFTER - GROW YOUR BUSINESS! 

PLUS, MANY MORE FANTASTIC INFORMATION AND TIPS!
---
Learn Directly from Real Estate Leaders

Joining Us from Our Texas: Todd Dotson!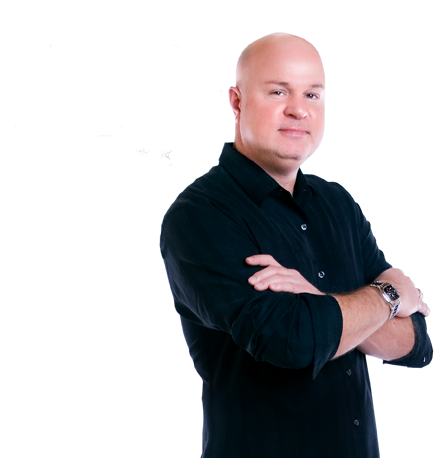 Todd Dotson was born and raised in the Bay Area and now resides with his family in Arlington, Texas. He is the founder of TIER ONE Real Estate® and the Nation's foremost authority on Getting In, Getting Out and Getting Paid. Todd brings a reality-based approach to the business of real estate investing with an emphasis on "buying and selling" to create immediate cash and a system for parlaying that into wealth.
As the developer of the Industry's first  On-Site Mentoring Program, Todd and his team have the unique advantage of having mentored students in every major market in the United States - A claim that only he and his team can make! Hands on experience allows him to seamlessly combine wholesale buying and purchase option strategies -Anywhere, USA, because in the end "The Checks Don't Lie!"™

---
We have these amazing speakers and industry leaders PLUS MANY MORE scheduled to attend this phenomenal conference. Please check back on a regular basis for further updates and information. You may also visit our numerous websites for further information, including:
REALTY411 REALTY411 EXPO and REALTY411 MAGAZINE

*please note speaker schedule to change without notice due to conflicts, weather or other circumstances beyond our control. Thank you.

WHAT MAKES US UNIQUE -

Since 2007, Realty411 has been a positive force in the real estate industry providing valuable insight, resources and information to help investors improve their lives and expand their realty knowledge and portfolios. Our only mission is to help others succeed in real estate and to be a positive example for our industry.

GROWING STEADILY AND STILL GOING STRONG -

Founded by a 22-year veteran publisher and journalist, Realty411 remains the fastest-growing publication having gone from a 12-page newsletter in 2007 to publishing nearly 200 pages of real estate news and strategies in July 2016 with their print magazine as well their online REI Wealth Monthly issue. Currently, Realty411 produces and hosts expos and events around the country. 

REPUTATION AND INDUSTRY STANDING
Realty411 takes pride in having a stellar reputation with zero complaints or rip-off reports. The publisher of Realty411 also has never had any foreclosures, judgements or bankrupticies and her entreprenurial family owns multiple businesses in Southern California. We are uniquely qualified to publish personal financial resources and insight.
Save
Save
Save
Save
Save
Save
Save
<span style="border-radius: 2px; text-indent: 20px; width: auto; padding: 0px 4px 0px 0px; text-align: center; font: bold 11px/20px 'Helvetica Neue',Helvetica,sans-serif; color: #ffffff; background: #bd081c url('data:image/svg+xml;base64,PHN2ZyB4bWxucz0iaHR0cDovL3d3dy53My5vcmcvMjAwMC9zdmciIGhlaWdodD0iMzBweCIgd2lkdGg9IjMwcHgiIHZpZXdCb3g9Ii0xIC0xIDMxIDMxIj48Zz48cGF0aCBkPSJNMjkuNDQ5LDE0LjY2MiBDMjkuNDQ5LDIyLjcyMiAyMi44NjgsMjkuMjU2IDE0Ljc1LDI5LjI1NiBDNi42MzIsMjkuMjU2IDAuMDUxLDIyLjcyMiAwLjA1MSwxNC42NjIgQzAuMDUxLDYuNjAxIDYuNjMyLDAuMDY3IDE0Ljc1LDAuMDY3IEMyMi44NjgsMC4wNjcgMjkuNDQ5LDYuNjAxIDI5LjQ0OSwxNC42NjIiIGZpbGw9IiNmZmYiIHN0cm9rZT0iI2ZmZiIgc3Ryb2tlLXdpZHRoPSIxIj48L3BhdGg+PHBhdGggZD0iTTE0LjczMywxLjY4NiBDNy41MTYsMS42ODYgMS42NjUsNy40OTUgMS42NjUsMTQuNjYyIEMxLjY2NSwyMC4xNTkgNS4xMDksMjQuODU0IDkuOTcsMjYuNzQ0IEM5Ljg1NiwyNS43MTggOS43NTMsMjQuMTQzIDEwLjAxNiwyMy4wMjIgQzEwLjI1MywyMi4wMSAxMS41NDgsMTYuNTcyIDExLjU0OCwxNi41NzIgQzExLjU0OCwxNi41NzIgMTEuMTU3LDE1Ljc5NSAxMS4xNTcsMTQuNjQ2IEMxMS4xNTcsMTIuODQyIDEyLjIxMSwxMS40OTUgMTMuNTIyLDExLjQ5NSBDMTQuNjM3LDExLjQ5NSAxNS4xNzUsMTIuMzI2IDE1LjE3NSwxMy4zMjMgQzE1LjE3NSwxNC40MzYgMTQuNDYyLDE2LjEgMTQuMDkzLDE3LjY0MyBDMTMuNzg1LDE4LjkzNSAxNC43NDUsMTkuOTg4IDE2LjAyOCwxOS45ODggQzE4LjM1MSwxOS45ODggMjAuMTM2LDE3LjU1NiAyMC
Have questions about Realty411's California CA$FHLOW Conference - Celebrate Our New Issues, Network with Investors, Learn Strategies?
Contact Realty411 Magazine
When & Where

Four Points by Sheraton Pleasanton
5115 Hopyard Road
Pleasanton, CA 94588


Friday, August 26, 2016 from 10:00 AM to 6:00 PM (PDT)
Add to my calendar
Organizer
* Event Organized by Realty411 Magazine*
Based in Santa Barbara County, Calif., Realty411.com publishes online and print magazines, e-newsletters, produces expos, and mixers around the United States. Their mission to educate and empower everyone from all walks of life to invest in real estate.
The media/marketing company is owned by a real estate investor and licensed California real estate sales agent. Realty411 currently reaches more personal investors around the nation with their in-house expos and events than any other realty investor publication in the world. Many expos are also charity events where awareness and donations are raised for numerous worthwhile organizations, which focus on children, assisting the homeless, victims of domestic violence, and animal welfare.
For information, call: 805.693.1497 or visit http://Realty411.com or
Our new expo website: http://Realty411expo.com
To contact us directly, call: 805.693.1497 or info@realty411.com
Save