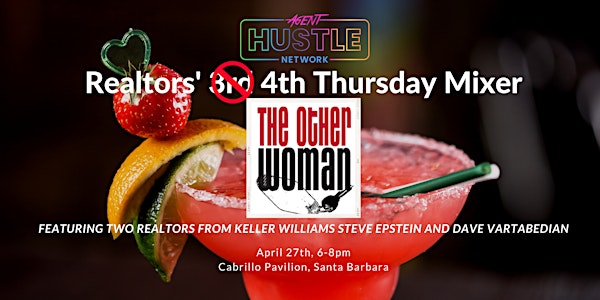 Realtors' 3rd Thursday Mixer
Celebrate Realtors' 3rd Thursday at our Mixer Event 6-8pm on the 4th Thursday of April not the 3rd! Invite your Spouse or Significant Other.
Date and time
Thursday, April 27 · 6 - 8pm PDT
Location
Cabrillo Pavilion 1118 East Cabrillo Boulevard Santa Barbara, CA 93103
About this event
Cabrillo Pavilion 1118 Cabrillo Blvd, Santa Barbara
Thursday, April 27th, 6 -8 PM
Our April of 2023 at Cabrillo Pavilion will be a pure mixer. No speakers and no panel, just a chance for local Realtors to network and have some fun. Please note the time - from 6 pm - 8 pm - is later than we usually hold our events, as befits an event devoted to business/social, rather than purely business purposes. We are pleased to announce that the local band "The Other Woman" featuring two Realtors from Keller Williams; Steve Epstein and Dave Vartabedian, has agreed to play live music for us. Bartenders will be pouring signature mixed drinks for us, and we expect to have both wine and beer sponsord as well. We also have our old favorite video sponsor, Gavin Palmer of Virtour Media, who will be running a "video booth" providing professional social media video clips for all attendees. This event is open to all real estate professionals and their spouses and significant others, so feel free to invite your unlicensed assistants, office manager, brokers, etc.
See you there!
"The Other Woman"
Featuring Steve Epstein and Dave Bartebedian of Keller Williams Santa Barbara will play classic rock and blues while we mingle.
Hosted by: Robert Warner
Robert Warner - President|Realtor, Now Realty - Brokered by eXp - Founded by Mr. Warner in Santa Barbara, CA in 2022 has quickly grown into an organization of 10 people. With five Realtors and two unlicensed assistants in Santa Barbara, one Realtor and a licensed assistant in the Santa Ynez Valley, and one Realtor in Fresno, NOWREALTY has clearly found a formula that works.
Previously Mr. Warner opened a real estate auctions office for Harcourt's International Realty in Santa Barbara in 2021, and prior to that was hired by Bill Bullock, the founder of Golden Gate Sotheby's International Realty in Larkspur, CA as a Global Real Estate Advisor in 2019.
Robert first entered the world of real estate in 2007, when he took a position as Director of Finance at Tamarack Resort, a four season ski, lake and golf resort development in the Idaho Rockies with over 2,000 permitted homesites and two entire "Villages" of commercial and hotel development sites. His duties at the resort included overseeing $380 million of equity and debt investment to achieve an outside valuation of over $2 billion.
About Agent Hustle Network:
Founded by Matthew Ma in 2021, amidst the height of the pandemic, the Agent Hustle Network was created to provide a platform for Real Estate Agents to learn, network, inspire, and uplift each other.
Since our inception, we've hosted several online and in-person events in the San Francisco Bay Area (and now Santa Barbara!) showcasing Real Estate Agents from diverse backgrounds sharing their personal challenges, triumphant successes, and lessons they've learned along the way. We aim to continue our mission of connecting passionate and dedicated Real Estate Agents with business partners, entrepreneurs, new customers, and endless resources in the community - one hustle at a time.
Who's ready to hustle with us? - Join The Agent Hustle Network Community at
Sponsors
Thank you to our wonderful sponsors!
Movegreen
Brian Chapman
O: 866.684.7336
C: 310.663.2570
brian@movegreen.com
Direct Mortgage Funding Santa Barbara
Guy Rivera
O: 805.687.6282 ext . 201
C: 805.452. 3804
rivera@dmfsb.com
www.Direct Mortgage Funding-Santa Barbara.com
The Five Star Group
Jeff McCune
C: 805.450.6950
jdm5star@yahoo.com
www.thefivestarsite.com/0/Home
Virtour Media
Gavin Palmer
C: 805.263.7995
hello@virtourmedia.com
--------------------------
This is an open event, and we welcome all agents from any brokerage, franchise, and market area to join us. Also, feel free to invite your clients, friends, colleagues, mentors and brokers to join us, and.....we'll see you there!