RealTime Conference, Nov 7-9, 2022: Creativity, Technology, Economics - The Open Metaverse Paradigm
About this event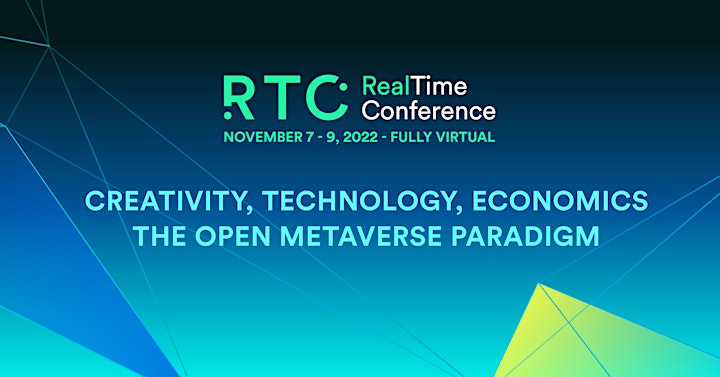 RealTime Conference: Creativity, Technology, Economics
The Open Metaverse Paradigm
November 7 - 9, 2022
After "Building the Metaverse" (April 2021) and "Populating the Metaverse" (December 2021), this November 2022 RTC continues to explore the way real-time technologies enable the creation of the Metaverse, through three different perspectives: Creativity, Technology, and Economics.
From Web 3.0 to Open Metaverse, from Virtual Production to Broadcast, from Digital Fashion to Retail & 3D Commerce, from Platform to Cloud Technologies and Infrastructure, from glTF & USD to Open Source, from Training & Simulation to Architecture, RTC brings knowledgeable leaders, experts and innovators from all over the world to learn, share, network, recruit and grow their businesses, across industries and across the globe.
Discover What's New and What's Next in:
Architecture
Broadcast
Cloud Technologies
Digital Fashion
Infrastructures
glTF
Open Metaverse
Open Source
Platform
Retail & 3D Commerce
Training and Simulation
USD
Virtual Production
Web 3.0
and more
Join Us
At this unique gathering of the real-time communities across industries. Together we will accelerate real-time's exponential growth!
Pre-Register Now for Free!
And you will soon receive more details and information about the joining the event.
Attending the RealTime Conference:
All RTC November registrants will receive an email notification when the conference platform is open. Once it is open, you'll also find a link here to access the event in our conference platform.
If you have any issues or questions, please reach out to contact@realtimeconference.com
FAQ:
What is RealTime Conference?
The World's Premiere Event for Real-Time Technologies!
RTC is the community hub to share and discover the very best of what's new and what's next with the real-time technology, tools, and applications that are rapidly transforming the ways we work, communicate, interact, and grow our businesses; remotely, collaboratively and in real-time.
Why should I attend?
If you play any part in the RealTime Community, this is the place to be. RTC produces a stunning live show, packed with real-time live demos, panels, workshops, masterclasses, and top-notch keynote speakers. RTC is about real-time, happening live in real-time, and using real-time tools.
What does my FREE RTC ticket include?
It includes access to the conference platform which includes the 3 day livestream event, networking, and recruitment opportunities.
Where is the conference?
RTC will take place live and be hosted on our conference platform (details to come soon). The best part is you can join the conference from the comfort of your own home, wherever in the world you are!
Who is attending?
RTC creates a unique opportunity for industry crossover & cross-pollination by bringing people together who learn from one another, transmit & apply that information back to their respective fields, and grow their business.
Attendees of RTC are real-time professionals (86%), decision makers (82% ), executive / management level (64%), experienced (58% have been working in their industry for over 10 years), and and work at companies that expect to include real-time solutions in their processes, products or services in the next 2-3 years (92%).
Will RTC sessions be available for on-demand viewing?
Yes, most RTC sessions will be recorded by our multimedia team and many videos will be edited for your viewing pleasure. Most videos will be available after the event to watch or re-watch after the event for registered attendees.
How can I contact the organizer with any questions?
Contact us here or at contact@realtimeconference.com
How do I become a Sponsor?
Get in touch with us here