In this RealTalk episode with Realized Worth you'll discover must-knows to excel your social impact career internally or externally.
About this event
Steer Your Career: Map Your Way to Professional Success in CSR
Whether you call it The Great "Resignation", "Reset" and "Renegotiation" or "Reshuffle", there's no disputing that employees are shaking up the workforce in a serious way. But where does that leave YOU, the Social Impact professional? What about your team?
Join this RealTalk webinar, to discuss:
Relevant ESG career trends you need to stay apprised of (both for you and your team)
How to keep yourself well-positioned in your social impact career
Critical "buzzwords" your C-suite will be talking about (if they're not already)
The best ways to be intentional about your own personal career development
We'll also share the best social impact resources you need to know about, including blogs, books, podcasts and influencers to follow. You'll leave this RealTalk inspired and psyched to dig in, connect and take control of your social impact career trajectory!
Can't make it? Register to receive a copy of the recording!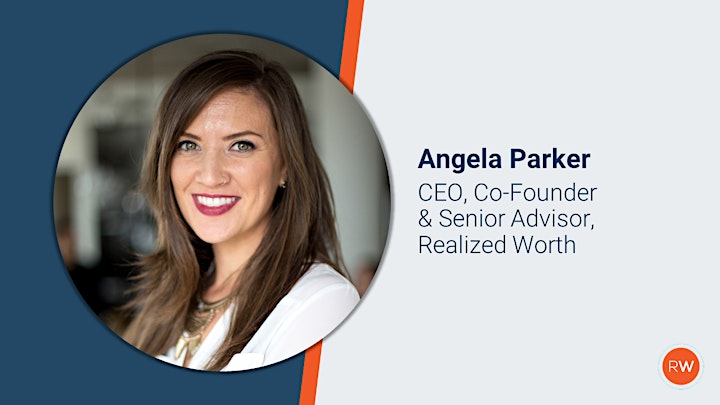 Angela Parker
CEO, Co-Founder & Senior Advisor, Realized Worth
Angela Parker co-founded Realized Worth in 2008. Angela's work focuses on the practical application of transformative learning theory in corporate settings.
Angela's background is in communications, entrepreneurship, and strategy execution. She has consulted with over 100 large companies globally, started and sold small businesses, worked directly with non-profit organizations, and provided workshops and training all over the world. Angela has been published in various books and magazines such as CSR for HR by Elaine Cohen, Cause Marketing for Dummies by Joe Waters, Volunteer Engagement 2.0 by Rob Rosenthal, Global CSR Casebook by ICEP and Codespa, the International Association of Business Communicators Magazine.
Angela earned her MBA from IE Business School in Madrid, Spain and recently completed a 3-year appointment as President of the Board for Renewal in the Wilderness.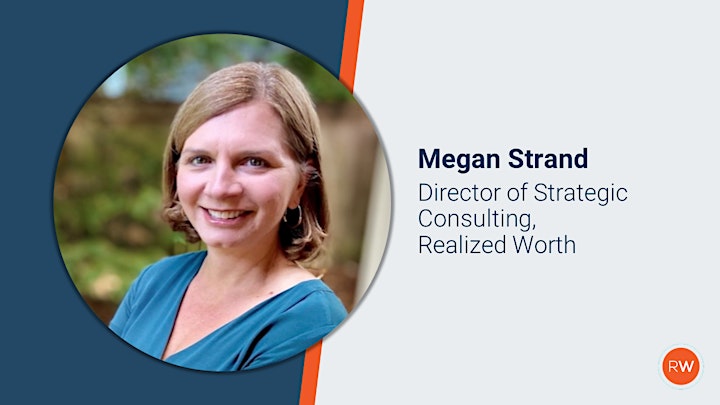 Megan Strand
Director of Strategic Consulting, Realized Worth
Megan supports clients in creating transformative volunteering initiatives, from strategy and design to execution and measurement.
Megan has a deep background in communications, marketing and project management and has worked in small business, local government and nonprofit sectors. She is known for thought leadership in the corporate social impact space, frequently appearing on industry webinars, publications and podcasts.
A former Peace Corps volunteer, Megan is dedicated to sustainable social impact and currently serves as a Court-Appointed Special Advocate (CASA), supporting children in the foster care system.
More about RealTalk
RealTalk, Realized Worth's newest webinar series, is a forum for honest conversations about the challenges and opportunities we face in corporate volunteering and CSR. Every quarter, we'll tackle tough topics, together. We can't promise solutions, but we can promise to keep it real.
Is there something else we should be talking about? Let us know by getting in touch – email us at contact@realizedworth.com.
Check out episode 1 of RealTalk to discover why your employee volunteers are bored (and what to do about it).
More about Realized Worth
We exist to create a more inclusive society by breaking down barriers between people and engendering empathy and compassion in and outside of the workplace.
Realized Worth designs corporate volunteering strategies, trains employee volunteer leaders, and implements company-wide programs. We believe that if we're ever going to see our society progress into one that is equitable, inclusive, accepting and compassionate, it's our responsibility to help make that change happen.
We do this by taking a Transformative approach to employee volunteering that drives social movements and breaks down barriers between people. Our company values and principles are what guide us through our work, influence how we make decisions and create a culture of belonging that allows us to realize our worth.