An online showing of work by the student artists of Archive Aesthetics and Community Storytelling at Yale College, Spring 2021
About this event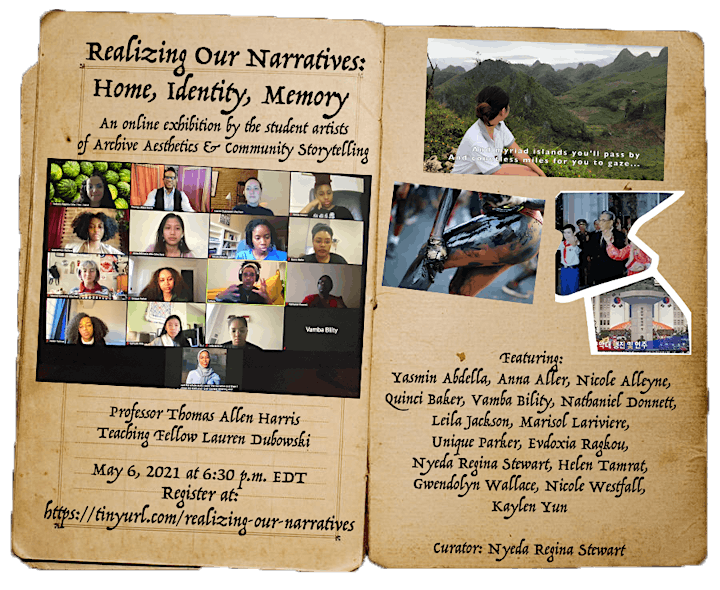 Curatorial Statement:
These short films are reflections, meditations, investigations. We, the artists, think of them as sketches-in-process. At the root of these works are our interrogations of home, identity, and memory as they relate to truth, perspective, and the insights found in between.
In order to create these deeply personal projects, each of us approached a diversity of archives. From the public to the personal and/or the inherited, we all encountered and extracted varying fragments of media. We then sculpted our selections into wide-ranging stories, impressions, and forms.
In this showing, image collages appear alongside original choreography. Text art transforms the screen into a canvas. Voices give new life to once-dormant narratives. In experimenting with and even challenging notions of the archive, we are creating our own.
— Nyeda Regina Stewart, Curator
Nyeda Regina Stewart is a writer and creative director from Brooklyn, New York. Her work explores surrealism, radical worlds, and Black cultures. You can find more of her work at: nyedas.wixsite.com/artist
Featuring:
Yasmin Abdella, Anna Aller, Nicole Alleyne, Quinci Baker, Vamba Bility, Nathaniel Donnett, Leila Jackson, Marisol Lariviere, Unique Parker, Evdoxia Ragkou, Nyeda Stewart, Helen Tamrat, Gwendolyn Wallace, Nicole Westfall, Kaylen Yun
The artists include Yale undergraduates who are majoring in a range of disciplines, such as American Studies; Film and Media Studies; and the History of Science, Medicine, and Public Health. There are also MFA candidates from Yale's professional schools of Art and Drama, as well as a student from New Haven's Wilbur Cross High School. The group and their work span the U.S. and the world—incorporating personal and family stories from New Mexico, Grenada, Ethiopia, South Korea, the Philippines, and more.
About the Class:
Archive Aesthetics and Community Storytelling is taught by filmmaker and interdisciplinary artist Professor Thomas Allen Harris in the Yale College Department of Film and Media Studies, cross-listed with African American Studies. The course draws from Harris' pioneering, critically acclaimed, socially engaged artistic practice—which remixes archives from multiple origins to challenge hierarchy within historical narratives, centering vernacular images and collaboration.
This year, due to COVID-19, the course was taught entirely online—a challenge that invited new approaches to creating work and fostering community. It also broadened possibilities for participation, such as by Teaching Fellow Lauren Dubowski, who is based in Poland, and with virtual visits from leading filmmakers around the world. This semester also integrated a new focus on emerging modes of storytelling, from web-based projects to VR experiences.
This online event is broadcast via Zoom and is free and open to all upon registration.
Link to join Zoom Webinar: https://yale.zoom.us/j/95272364616
Organizer of Realizing Our Narratives: Home, Identity, Memory