Realize Rosslyn July Walk Around
When and where
Location
1825 N. Fort Myer Drive Arlington, 22209
Description
You're invited to a Realize Rosslyn July Walk Around
Rosslyn Process Panel event to focus on views from building tops
Join the Rosslyn Process Panel and the Realize Rosslyn project team on-site for this walk around the center of Rosslyn. We will be visiting the tops of several buildings in Rosslyn to better understand some of the issues and conditions to be addressed in developing potential strategies for future building heights and forms in Rosslyn. As we travel between buildings, there will be opportunities to point out and talk briefly about some of the draft plan framework elements and alternative approaches to them.
WHAT:
A walk around central Rosslyn as part of the Realize Rosslyn planning efforts, where we will:
See

views into and out of Rosslyn from the tops of several tall buildings.

Better understand

existing and potential view corridors - such as those from the planned observation deck at the approved Central Place development.

Examine the pattern of existing building heights and transitions between the center of Rosslyn and surrounding areas.

Talk about

some of the draft plan framework elements as we pass by key locations on our walk between buildings.
WHEN:
Thursday, July 18, (5:00-7:00 p.m.)
(Please note: Meeting time has been changed since this event was originally announced)
WHERE:
Meet-up location at loading dock area of 1812 N. Moore Street building
(located along N. Fort Myer Drive, approximately 250 feet north of portal to Rosslyn Metro Station)
Arlington, VA 22209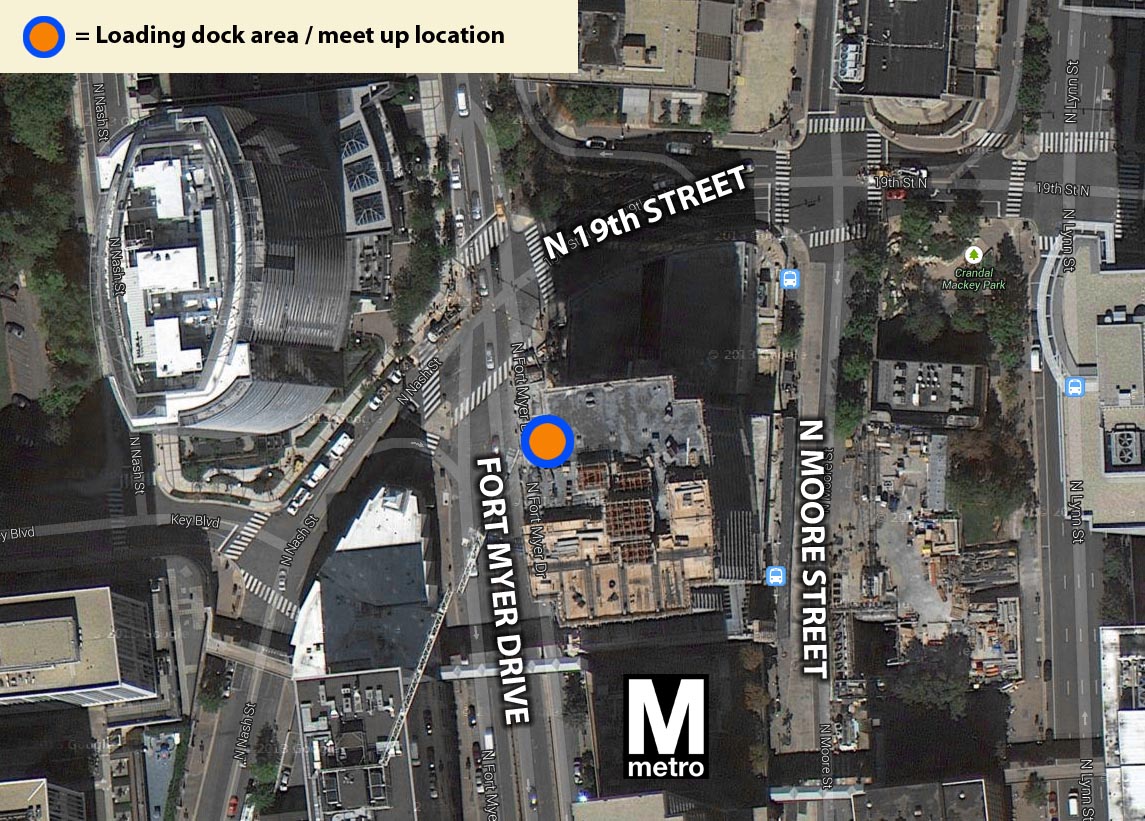 OTHER:
Also, please note that proper footwear is required for the tour –sandals, flip flops or other open toe shoes are not permitted. Hard hats, vests and glasses will be provided when visiting 1812 N. Moore Street. Also, as of now the forecast for Thursday calls for a high of 95˚F – please stay hydrated throughout the day and wear light, loose-fitting clothing as precautions during this hot weather.
Arlington, VA 22209
HOW:
Register online to reserve your space now. Space is limited, and is on a first come, first serve basis.
WHO:
The Rosslyn Process Panel

County and consultant staff members of the Realize Rosslyn project team;

Interested members of the community
All are welcome, but space is limited – online registration required.
About Realize Rosslyn
Realize Rosslyn is an ongoing effort to update and fine-tune Rosslyn's current long-range plan (1992 Rosslyn Station Area Plan Addendum). Realize Rosslyn strives to ensure that voices in Rosslyn and across Arlington join the conversation on how to transform this 1960s car-centric area to one of our region's great urban centers. The planning effort will refine the community vision for Rosslyn and create a planning framework that ensures a vibrant mix of housing, retail, office, and public space in the area.
· Subscribe to receive updates and meeting notices for the Realize Rosslyn planning effort.